SACRAMENTO, Calif. — The scene was as memorable for what happened as for what didn't: Stevante Clark, enraged, jumped onto the Sacramento City Council dais, shouting the name of his dead brother, screaming into the face of the mayor and calling the police chief a killer.
But over six minutes, captured live on video for a worldwide audience, Sacramento police did not move to restrain Clark or his unruly entourage. No one tried to remove them from the public meeting. There was not a single arrest.
Instead, Mayor Darrell Steinberg raised a hand for calm and offered the microphone to Clark, whose brother Stephon was unarmed when he was shot and killed by Sacramento police on March 18.
After Clark said his piece, the mayor quietly recessed the City Council session.
Such has been the delicate balance for Steinberg and his city in the little more than two weeks since the videotape of Sacramento police shooting Stephon Clark touched off a national furor.
Steinberg has maintained order by allowing a measure of disorder. He has publicly empathized with community anger, while also reassuring police. He has continued Sacramento's push to move past its sleepy, cow-town image, and renewed a call for the ongoing economic renaissance to be shared more equally.
Activists in the street have railed against the mayor and the Sacramento City Council for not doing more to improve police-community relations and to bring more economic development to poor neighborhoods like Meadowview, where Clark, 22, was killed.
On that day, police responded to calls about a man who appeared to be breaking into cars in the mostly black neighborhood. Officers pursued Clark into what turned out to be his grandmother's backyard. After shouting "gun, gun, gun!" two policemen fired a total of 20 shots. They found only a cell phone at Clark's side, no weapon.
Protests roiled the city in the aftermath, but judging from a day spent with the mayor this week, some residents and the city's leaders approve of his measured response.
Steinberg, former president of the California State Senate, is in his first term as mayor of the city where he began his political life as a member of the City Council. He replaced Kevin Johnson, the former NBA star who was a hero in the African-American community but decided not to run for a third term under a cloud of sexual misconduct allegations.
"I was trying to figure out who in the world could follow Kevin and I think Darrell Steinberg was the only one in the city who had a chance of doing it," said Larry Carr, an African-American councilman who represents the working-class district where Clark was killed. "He has stepped in and been in command better than anyone else could have."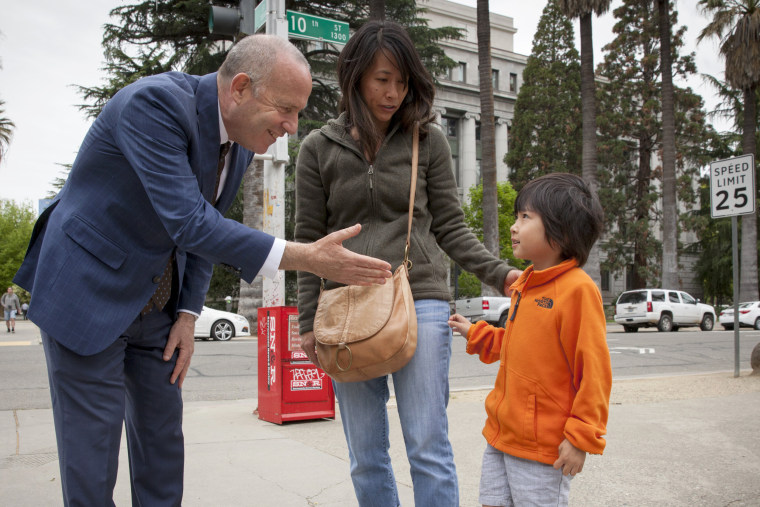 "He has done as well as he can do in this situation," said Doyal Martin, principal of Parkway Elementary School in Sacramento's low-income south end. "I think he has shown support for the community as well as for law enforcement. He has gotten himself out in front and taken responsibility for the tragedy."
Robert Mann, the brother of another unarmed African-American shot and killed by police two months before Steinberg was sworn in, said the new mayor called him just days after taking office.
"He called just to express his concern and condolences," after the Clark shooting, said Mann, adding that Steinberg's gesture meant more because he did nothing to publicize it. "I appreciate him for the work he is doing now and that he has done previously. I have seen him really looking out for people. I think he is genuine."
But there is impatience for change, and soon. "I have a son. I have a black son," said Destiny Turner, a county human services worker, during a street protest this week. "We need something to happen. We need some action. And I think [Steinberg] could be doing more."
Since the Clark shooting, the mayor's days have been a non-stop blur of meetings with outraged citizens, police roll call sessions with uneasy officers and strategy meetings with Sacramento's first black police chief, Daniel Hahn.
The mayors of New York, Los Angeles and New Orleans have reached out with their support.
After days of protracted meetings, Steinberg said he told his staff he needed to get out in the community more. "I need the inspiration and the connection," he said. "Especially now, that's the fuel for doing this work."
On Thursday morning, that meant a stop by the city's Violence Reduction Summit, which had been scheduled before Clark was killed. There, Steinberg, 58, credited the city and Hahn, a former Sacramento police officer, for keeping the peace despite waves of anger over Clark's death. The mayor also praised the police for "not arresting protesters and not escalating the tension" and citizens for "exercising their rights in largely constructive ways."
Steinberg told about 200 community workers from around the state at Thursday morning's session that he did not expect activists' anger to go away any time soon.
"If we think we are just going to get back to life the way it was, not only would that be mistaken, it would be an incredible missed opportunity," he said.
An immediate task will be studying police policy and procedure to see if changes can prevent more deadly confrontations. But, as important, according to the mayor, is a call for economic growth to be spread more equitably among the city's populace. The one-time labor lawyer pointed to a new downtown arena for the NBA's Sacramento Kings and the redevelopment of the city's riverfront and a planned tech center.
"There is still a fundamental disconnect between all that cool stuff . . . and the day-to-day struggles of people in many of our neighborhoods," Steinberg said.
Later in the day, the mayor and his aides stopped at Parkway Elementary School, where the student body comes almost entirely from a nearby housing project and all are poor enough to qualify for government-subsidized lunches. Though much of the community is furious with police, a second-grader made it clear the sentiment was not universal.
Saying he wanted to be a cop, Evontae added: "I love police officers." To which Steinberg responded: "They are very important people in our community. That is wonderful."
The everyday tasks of running a city of 500,000 have not faded with the crisis. While being driven between events, Steinberg made a quick phone call, coaxing a corporate leader to get her company to donate $3.3 million over three years to help build 1,000 "efficiency" apartment units for homeless people.
The call concluded, the mayor smiled: "She's saying 'yes,'… at least conceptually."
On the front burner, for now, however, is the Clark shooting.
Steinberg speaks daily to Hahn, the police chief. During protests, like one Wednesday that filled the street outside the district attorney's office, police officers reduce friction by staying at a distance, often a city block, away from demonstrators.
The mayor has told officers he appreciates the work they are doing, often as protesters taunt them mercilessly. Some officers have made clear they don't agree with Steinberg's view that the police, and the rest of the city's citizens, need to be cognizant of inherent racial bias that everyone carries in their hearts.
Steinberg has been careful not to pronounce judgment on the officers' actions in the Clark shooting. But he has said that other questions about police policy can be tackled immediately.
At a public event scheduled for next Tuesday, he has asked Hahn to address the first of those questions, including what training the police have in de-escalating confrontations, what protocols exist for how many rounds should be fired, what rules apply for how and when officers identify themselves during a pursuit, and what the guidelines are for muting of audio on police body cameras.
Steinberg said he thinks it's important that, if reforms are ordered, they come from Hahn.
"The chief needs to take the lead," he said, "because the answers need to be owned, not only by the chief but by the entire department."
While the mayor is an unabashed liberal who gained a some acclaim earlier in his political life for helping to forge a compromise that closed a record $46 billion deficit in the state budget, nothing could have fully prepared him for the city's current crisis. Steinberg said, however, that past experiences have taught him that "people will not panic if you don't."
"So as I look at my obligations through all of this," he added, "I am confident I can deliver."