More than a hundred people gathered in downtown Sacramento, California, Saturday to call for an end to police violence that they say too often results in the deaths of unarmed African-American men.
The gathering marks the second weekend of protests since Stephon Clark was fatally shot by Sacramento police officers in his grandmother's backyard on March 18.
His family members said Saturday that they will not give up their calls for justice.
"He will not be another name added to a list," said Jamilia Land, a close friend of the Clark family. "We are too strong. We are too united. And it's time for things to change."
Clark's death has led demonstrators to take to the streets, at times blocking intersections and bringing traffic to a standstill. While remaining largely peaceful, some vowed Saturday to continue to protest until the two officers accused of killing Clark are held accountable.
A vigil and demonstration was held on Saturday night near a sheriff's department facility to protest what organizers called police brutality. Organizers said the sheriff's department directed police from a helicopter before Clark was fatally shot.
Video appeared to show a woman struck by a sheriff's department vehicle moving amid a crowd during Saturday night's demonstration. A fire department official said a woman in her late 40s was transported to a hospital with minor injuries. A sheriff's official referred questions to the California Highway Patrol, and an official with that agency confirmed that there were minor injuries to a pedestrian from a collision involving a sheriff's department vehicle during the vigil.
"The situation seems to happen quite often that somebody that looks like me is not going to go home," Curtis Gordon, Clark's uncle, said at a rally Saturday afternoon in Sacramento. "You really can't internalize that unless you live it."
Land asked that the country be respectful of the family in their time of grief, especially Clark's older brother Stevonte.
"Stevonte has lost two of his bothers. Stevonte has lost his older brother, he has lost his baby brother, and now he is losing his mind," she said.
Saturday's rally also recognized Robert Mann, who was fatally shot by Sacramento police in 2016.
Land later added, "We are living in communities that are like war zones."
Matt Barnes, a former Sacramento Kings basketball player who was a pallbearer at Clark's funeral, held a "moment of unity" for Clark's two young sons, and announced his plans to start a college fund in their honor.
The city's investigation into Clark's death continues. Sacramento police have said that there is a joint investigation being conducted by the police department and the California Department of Justice.
On Friday evening, a march began at City Hall and continued through downtown Sacramento, according to the Associated Press.
The protests have been buoyed by the support of Black Lives Matters, national figures like National Action Network founder and president Rev. Al Sharpton, who is also an MSNBC host, and local NBA basketball teams. The Sacramento Kings gained national attention for taking part in the demonstrations.
At a community event in support of black youth on Friday, Kings shooting guard Garrett Temple said Clark "could have been any of us," NBC Bay Area reported. Barnes and fellow former player DeMarcus Cousins offered to pay for Clark's funeral.
Clark, 22, was shot eight times by two officers and nearly all of the bullets hit him from behind, according to the results of a private autopsy report released on Friday.
Dr. Bennet Omalu, who conducted the autopsy on Tuesday at the request of Clark's family, said at a press conference on Friday that the bullets struck Clark seven times from behind on his right side and once from the front. His death "took anywhere from three to 10 minutes."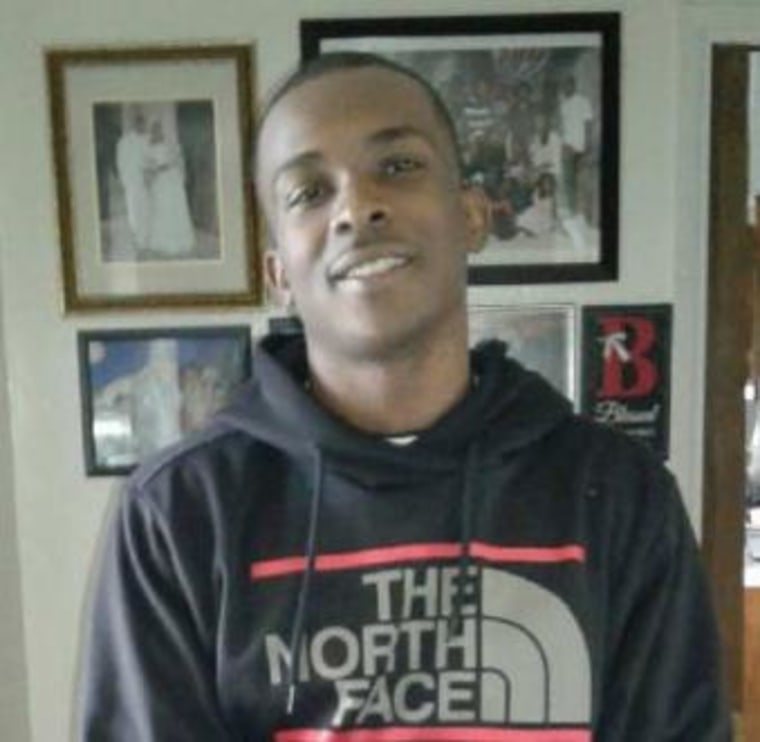 Video from a law enforcement helicopter showed Clark running from police. He is then seen attempting to crawl away once he is shot.
Police said that two Sacramento officers fired a total of 20 shots at Clark on March 18 after receiving a 911 call that a man had smashed car windows. Officers believed Clark to be the suspect and chased him to his grandmother's backyard. In body camera footage released March 21, the two unidentified officers can be heard yelling at Clark to stop and surrender. They then yell, "Gun! Gun! Gun!" and open fire.
Only Clark's cellphone was found on his body.
According to the autopsy, Clark died due to a combination of blood loss, acute respiratory arrest and hypoxia, meaning that not enough oxygen reached his brain.
Sacramento Police Chief Daniel Hahn told NBC News last week that the officers believed they were in danger and reacted accordingly.
"The officers responded to a call," Hahn said, "and ultimately were able to see the subject they believed was responsible for the breaking into the cars that they were there for. They felt their lives were in danger and they fired."
But Sacramento Mayor Darrell Steinberg said that the city would have to investigate the incident.
"We have an obligation to everyone involved, including the family of Stephon Clark, to wait for the full findings and results from the official autopsy and investigation," Steinberg said in a statement Friday after the results of the private autopsy was announced.
"As the Mayor of our city, I assure the community and the public that we will aggressively seek answers to all the questions the community is rightfully asking," Steinberg said. "As important, we will aggressively seek appropriate change to the protocols and training that led to this unacceptable outcome."