HONOLULU — A deadly fungus threatens one of Hawaii's most beloved and important species, the ʻōhiʻa tree, and those believed responsible for spreading the disease are now being asked to help save it — tourists.
The native ʻōhiʻa is sacred to Hawaiians as a cultural touchstone and ecological underpinning for the state's lush forests and abundant wildlife. The flowering evergreens that can tower to 85 feet comprise 80 percent of the state's canopy, covering 1 million acres, and its nectar sustains birds and insects found nowhere else on Earth.
Now, public agencies and private citizens are trying to avoid biological and economic catastrophe by proclaiming war against a deadly fungal disease coined "rapid ʻōhiʻa death," or ROD, that is swiftly destroying the trees. What's more, invasive species like the miconia tree, native to North and South America and called the "green cancer" of Hawaii's forests, are choking out the ʻōhiʻa.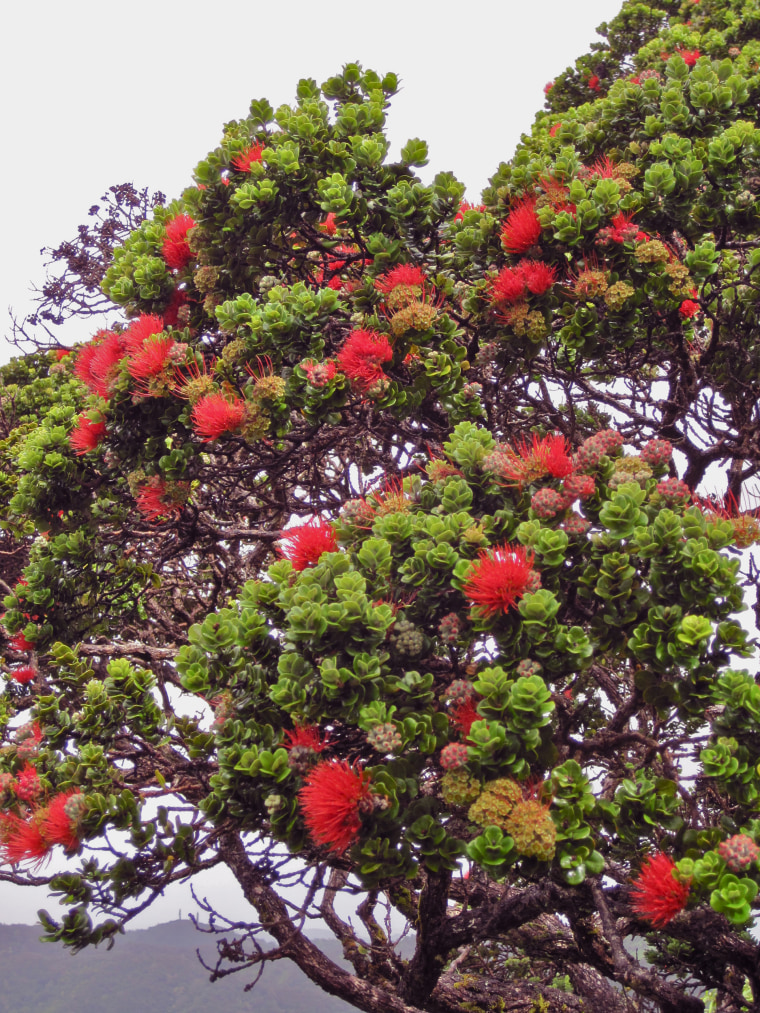 "The disappearance of these trees would have a major impact on Hawaii," said Clyde Imada, a botanical research specialist at the Bishop Museum of natural and cultural history in Honolulu. "Recreationally, outdoor forest experiences in natural areas will be significantly altered.
"Birds, insects and plants will be direly affected," he continued. "The 'ōhi'a forest experience can't be re-created with substitute species."
More than 2 million ʻōhiʻa trees have been killed by ROD, according to the U.S. Forest Service, and about 135,000 acres show symptoms of the disease that was first identified on the island of Hawaii, also known as the Big Island, in 2014. Two years later, the state imposed a quarantine to prevent ROD from spreading to other islands. It didn't work. The most aggressive form of the fungus was found on Kauai late last year.
Manakō Tanaka, a Hawaiian culture expert at the Oahu Visitors Bureau, said the ʻōhiʻalehua tree and its blossoms have always been "the first to sprout up after lava flows that wipe forests out."
"And so it's become synonymous with the bravest of warriors who were the strongest and first into battle."
The tree is also associated with Laka, the goddess of hula, its flower used in leis for the traditional Hawaiian dance. In 2016, for the first time in more than 50 years, many hula schools were forced to forgo their adornments because of diminishing ʻōhiʻa stock.
"It would be heartbreaking to only be able to show pictures of the tree and its flowers to future generations," Tanaka said. "Losing the ʻōhiʻa lehua would be like losing a reference encyclopedia into the past."
Nobody knows exactly how it was brought to Hawaii in the first place, said Sam Gon, senior scientist at The Nature Conservancy of Hawaii. It could have been via introduced plants bearing the disease, he said, "but it is clear that our current biosecurity is inadequate to deal with the influx of new pests and diseases."
Experts believe the fungus may have been carried between the islands by unwitting tourists, perhaps on their shoes or hiking boots. It can also be transmitted by dirty tools, woodland animals or the wind.
"There is speculation that travelers between the islands are responsible for bringing this disease to Kauaʻi from Hawaii Island," Gon said. "Either because they were uninformed or uncaring about the need to sanitize their gear. As ROD could have a devastating effect on our environment and economy, and we need to reform travel practices between the islands."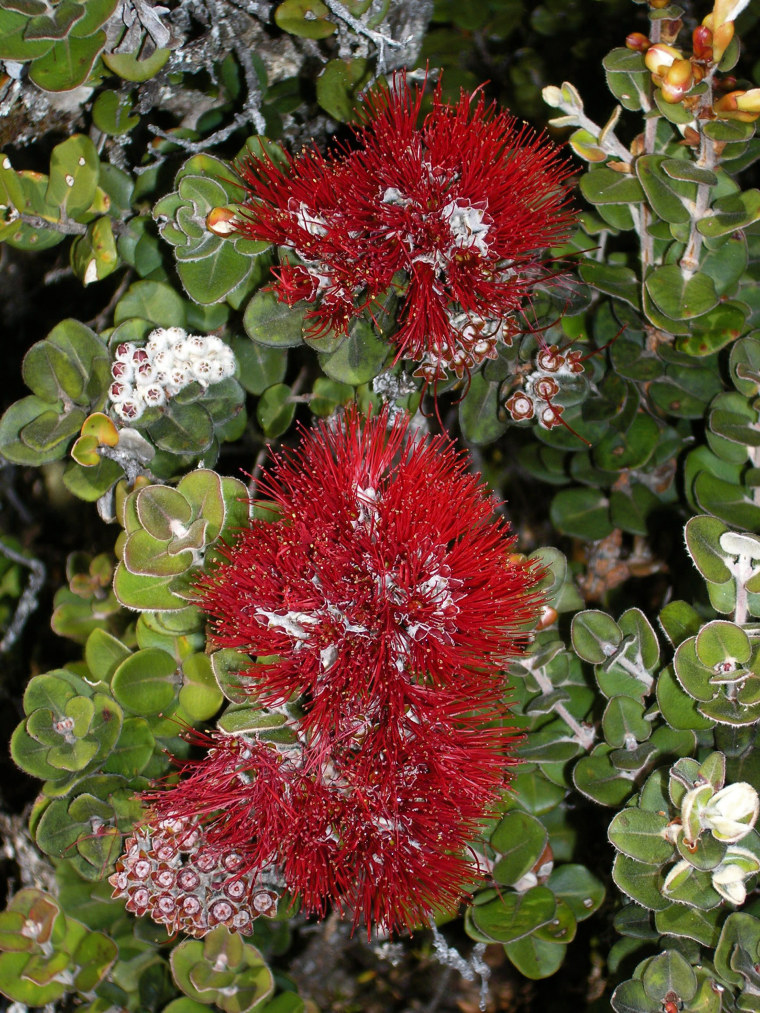 The federal government has attempted to stop the fungus and tackle invasive species by imposing a quarantine on Hawaii Island and carrying out extensive tests to learn how the fungus spreads, but it has yet to find a solution. Hawaiian organizations, communities and scientists are now stepping in.
Gunstock Ranch, a horse riding stable and tourist destination on Oahu, is replanting native trees, although not the ʻōhi'a yet. After conducting a survey on 80 acres of its land in 2016, and finding just two native species, owner Greg Smith established a Hawaiian "legacy forest," where visitors can plant trees and monitor their growth online.
"Our hope is that as our guests plant and dedicate a tree they will form a new connection to the land and Hawaii and leave knowing that they made a difference," Smith said.
Some tourism companies are sending staff members to workshops to learn how to protect native species through improved biological sanitation practices. Joshua Nipp, founder of Off the Beaten Path travel company, hopes to establish a bio-sanitation certification program for tour operators.
A coalition of state agencies called the Coordinating Group on Alien Pest Species is pushing for stronger regulations and tracking of biological products entering Hawaii.
Tanaka said tourists can play an important role in staving off ROD, particularly on islands like Oahu, which has not yet been infected with the fungus. He said they should always make sure their shoes are clean and free of debris and seeds, and he urged visitors to stay away from areas marked off-limits to protect delicate ecosystems.
"There is a proverb in Hawaiian, 'I aliʻi ka 'āina, i kauā ke kanaka.' It means, 'The land is chief, and men are its stewards,'" Tanaka said. "Sometimes, though, I fear that we may be moving to a world where people think it is the other way around."