The maverick attorney who has agreed to represent an University of Oklahoma frat at the center of a racial uproar will find himself squaring off against an old opponent.
Lawyer Stephen Jones, who is best known for defending Oklahoma City bomber Timothy McVeigh, once ran unsuccessfully for the U.S. Senate against David Boren — who went on to become OU's president and who shut down the Sigma Alpha Epsilon frat house this week.
Jones, a Republican, tried to unseat Boren, a Democrat, from his Senate seat in 1990. Boren, who had previously served as Oklahoma's governor, swatted away the challenge, taking 83 percent of the vote.
In a statement Friday afternoon, Jones said that he was hired by the chapter's board of directors five days after OU evicted the members because two students were caught on video singing a racist song that vowed "there will never be a n----- SAE."
"These young adults have rights, and we must protect those rights," the attorney said. "We want to be certain that due process rights and First Amendment rights of speech and association are protected."
It's the latest example of Jones taking on an unpopular client.
His firm biography notes that he worked as Richard Nixon's personal research assistant in 1964 before he became president — but his other legal work has been all over the political map.
Jones represented a college student who waved a Viet Cong flag on campus in the 1970s, and was fired by his firm as a result. He also went to bat for Yippie radical Abbie Hoffman, who was accused of trying to start a riot with a speech at Oklahoma State University.
In 1995, he was appointed to defend McVeigh after other lawyers dropped out because they knew some of the bombing victims. McVeigh was convicted and put to death.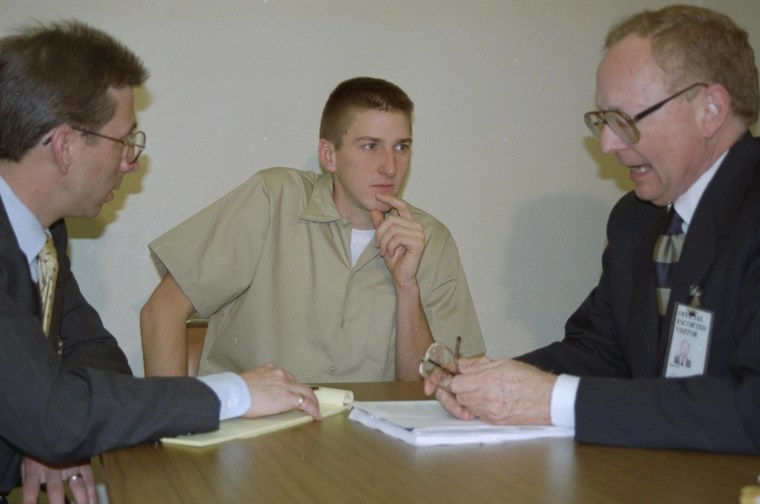 The McVeigh case brought national attention to Jones. In several profiles, a former law partner, Alec Naughton, bragged that he had once given him two black eyes after a court case that put them on opposite sides.
McNaughton could not be reached for comment because he is serving life for stabbing his second wife to death in 2009.
Jones likes to call himself a "county-seat lawyer" who works out of sleepy Enid instead of Oklahoma City, but he's an outsize personality swathed in pinstriped suits. And he admits he knows a little something about saying the wrong thing.
"I'm not a shrinking violet," he told People magazine in 1997. "Sometimes I trip over my own lip."
NBC News' Charles Hadlock contributed to this report.