WAILEA, Hawaii — As 1 in 5 American adults wonder how to pay off their combined $1.6 trillion in student debt, Sallie Mae executives and sales team members wrestled with a different question: Between meetings, how should they spend their time on their five-day paid trip to the luxury Fairmont resort on Wailea beach in Maui?
Sallie Mae brought more than 100 of its employees to Hawaii in August to celebrate a record year — $5 billion in student loans to 374,000 borrowers. The company said it didn't pay for employees' families to attend, but some did tag along.
"We said, 'Hey, look, Maui is a pretty nice spot.' And so if you wanted to stay a few days or want to bring family, that's up to you," Ray Quinlan, CEO of Sallie Mae, told NBC News on the grounds of the Fairmont Hotel.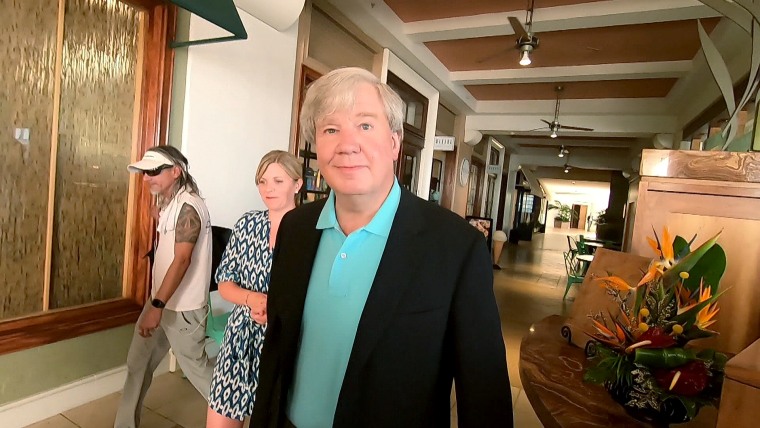 Quinlan, in a walk-and-talk with NBC News, said the trip to Maui was not an "incentive trip."
"This is a sales get-together for all of our salespeople," he said, adding the publicly traded company has been taking retreats like the Maui one since it was founded in the 1970s to service federal education loans.
Since then, the lender's trajectory has changed, now offering private loans. But in 2014, the company split into two: Sallie Mae Bank, which offers private loans, and Navient, a newly formed offshoot which services and collects loans, including those that Sallie Mae sold. Sallie Mae's borrowers, however, have said the company doesn't treat them nearly as well as it does its sales team.
Paige McDaniel, 39, took out a federal Sallie Mae student loan to pay for her undergraduate degree 20 years ago. Six years later, before the Sallie Mae split with Navient, she took out a private loan with the company to pay for her grad school.
"I thought they were the same kind of loans," McDaniel, of the Denver suburb Elizabeth, said. A mother of two, she borrowed $120,000 for her tuition at Lakeland College for a master's in business administration, to help with the cost of living as she worked through school.
The agreement, which included a warning to read it before signing, said the interest rate was variable, but she says she doesn't remember being told the rate was much higher on the private loan.
After graduation, Sallie Mae expected McDaniel to pay "well over $1,500 a month," she said.
"When I told them that, you know, I couldn't afford that, could we make some payment arrangements, they essentially said, 'So sorry, we'll put a lien on your house and garnish your wages if you don't make those payments,'" McDaniel said.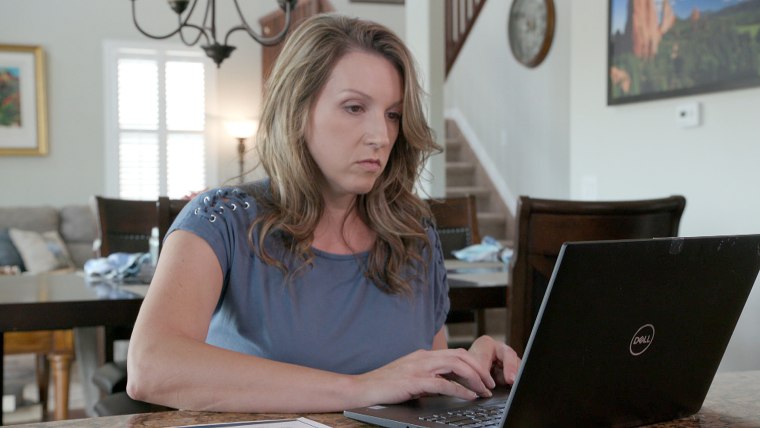 Now, McDaniel owes $304,000, even though she declared bankruptcy to protect her house after being unable to make her payments. She's hired an attorney to sue Navient, arguing that bankruptcy should have cleared her debt because it was a private loan.
"There's no way anybody can ever dig themselves out from underneath that," McDaniel said. "They just don't see that there are families on the other side of this. It's not just my generation cause I have the loans, it affects my children. How am I going to send them to college?"
McDaniel's experience isn't an outlier.
The attorney general of Illinois sued Navient and Sallie Mae in 2017, accusing the company of deceptive subprime lending, a failure to offer proper repayment options, and faulty collection practices.
"We worry about private student loans," said Ashley Harrington, senior policy counsel on student debt at the nonpartisan Center for Responsible Lending (CRL). "They don't have the same protections for borrowers" that federal loans have, she said.
Harrington said private student loans often employ subprime lending practices and give loans to people who will likely be unable to pay them back, adding the issue disproportionately affects black, Latino, Native American and female students.
Black undergraduate students with debt are unable to afford their loans at five times the rate of white bachelor's degree graduates, a 2019 study in part done by the CRL found.
"Sallie Mae had a big part in creating a place where we are in the student debt crisis," Harrington said, and student debt stalls people from buying homes and starting a small business, dragging the economy.
Sallie Mae says it's not liable in McDaniel's suit, saying the current bank wasn't making loans when she took hers out.
"We believe Navient — a separate and independent company from Sallie Mae — is responsible for all liabilities that are at issue," the company said in a statement to NBC News.
But putting the blame on Navient doesn't square with the company's own advertising. On its website, Sallie Mae advertises 43 years of "helping America pay for college," ⁠— more years than McDaniel has even been alive.
Navient told NBC News the AG's suit is "baseless," and said it had no comment on McDaniel's case. Referencing allegations that it gave out private loans knowing students wouldn't be able to repay them, the company insisted all loans were issued in "good faith."
In Hawaii, Sallie Mae's lawsuits and controversies seemed lost in the sand.
"So we've had good years, we've had bad years," Quinlan said. The conference, in Sallie Mae's eyes, was a "recognition of the hard work" of the sales team.
Beachside, employees planned and strategized for the upcoming year, were awarded prizes, and soaked up the sun.
"We do it every year," Quinlan said.
CORRECTION (Oct. 17, 2019, 7:00 p.m.): An earlier version of this article misidentified the company that Paige McDaniel plans to sue. It is Navient, not Sallie Mae. It also misstated in a photo caption when McDaniel took out loans. It was 14 years ago, not six.