As storm after ferocious storm wallops the country this winter, many cities have been forced to ration resources amid a shortage of the road salt used to melt snow.
Many communities from the Midwest to the Mid-Atlantic that have already been pounded by above-average snowfall and bone-chilling temperatures have nearly depleted their supply of salt, leaving streets treacherously slippery.
By the end of January, for instance, the Pennsylvania Transportation Department had burned through 686,000 tons of salt — upwards of 200,000 tons more than used during an average year, according to the Associated Press.
In Illinois, Chicago's supply is holding up, but the suburbs are hurting.
"If we don't get the salt, at some point people are going to be sliding all over the place like what you saw in Atlanta," Julius Hansen, the public works director in the Chicago suburb of Glen Ellyn, told the AP, referencing the motorists stranded in the South last week.
The rapidly shrinking supply of salt has sent prices skyrocketing as officials stretch resources thin and scramble to find alternatives — like the processed sugar beet molasses being tested in Pennsylvania's Butler County.
Store owners, too, are getting squeezed. "We're just continuing to get crushed by these storms. With major rock salt shortages, it's starting to get scary out there," Anthony Scorzetti, a hardware and paint manager for Braen Supply in Wanaque, New Jersey, told Reuters.
"I have people calling from all parts of the East Coast looking for it, and we just have nothing."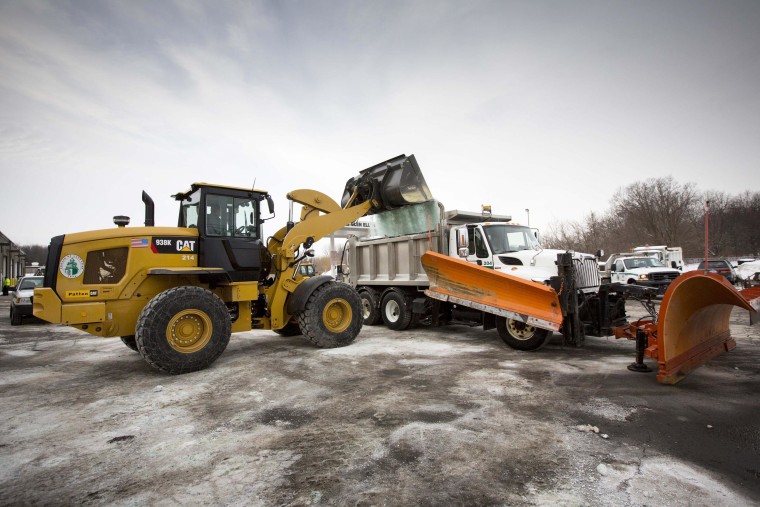 — Daniel Arkin, NBC News