Opponents of same-sex marriage are gearing up for the next chapter of  their campaign in advance of Supreme Court rulings in two landmark  cases on whether gays and lesbians can wed, saying they may pursue an  amendment to the U.S. Constitution defining who can tie the knot if the decisions aren't in their favor.
Same-sex marriage has been fought over at the ballot box in almost every state, debated in many state legislatures, and become the subject of several court battles for nearly 20 years. The nation's highest court  is expected to rule on challenges to two laws: a federal statute limiting recognition of marriage to that between a man and a woman (the  Defense of Marriage Act, or DOMA) and California's ban on same-sex marriage (Proposition 8).
"There's a sense of anticipation," said Peter Sprigg, of the Family  Research Council, which has worked  with other groups to block same-sex marriage. "It's likely the decisions will determine the landscape for where we go  from here, so I certainly don't believe that the debate is going to be over, but the terms of the debate and sort of the lay of the field, will probably be very different at the end. 
Groups like the Family Research Council have been meeting to discuss state legislative responses, as well as messaging and public relations' reactions after the court delivers its decisions, said Sprigg and Maggie Gallagher, a leading opponent of same-sex marriage and a senior fellow at the American Principles Project. Meetings were planned for after the rulings to plot strategy, said Gallagher.
John Eastman, chairman of the National Organization for Marriage, which has plowed tens of millions of dollars into more than 30 votes  on state constitutional amendments banning gay marriage, wouldn't elaborate on the strategy meetings. But he said "every possible scenario  and outcome and gambit are being considered because this fight is critically important."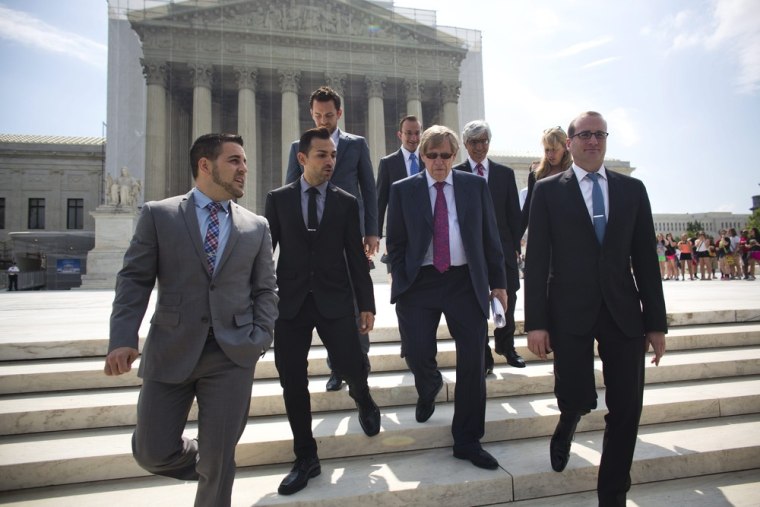 "If the Supreme Court … manufactures a right to same-sex marriage out of the Constitution, then the remedy would be a constitutional amendment," he said Friday.
The Family Research Council has supported a marriage amendment  in the past, Sprigg said.
But Eastman doesn't think they'll need to go for the amendment. "I  don't think it's going to be necessary because I don't think the Supreme Court's foolish enough to go there," he said. "They recognize what harm  they've caused to our body politic when they did something similar to  that in 1973 (Roe v Wade) and that issue still infects our politics. You  can't run for dogcatcher in this country without that issue being part of the campaign."
For same-sex marriage opponents, the work of the anti-abortion camp to fight back against the high court's decision over the decades may provide some lessons, said Ryan Anderson, a fellow at The Heritage Foundation.
"[Anti-abortion advocates] engaged in a multi-pronged  campaign. Part of it has been legal and political, part of it has been cultural," he said, noting incremental strategies like abortion waiting  periods and laws about transporting minors across state lines that were aimed at "trying to overturn the overarching holding of Roe."
"I think for the marriage movement it won't be as strenuous of a climb provided they don't hand down a decision that looks like Roe," he added. "I think over time -- even if there is a bad decision in California -- that  could also be overturned in the light of new evidence, in the light of new  findings as to what the impacts of redefining marriage are on marriage rates and on parenting, and outcomes for children. … There would be  reasons to reform marriage laws." 
The framing of the debate itself was another strategy the groups would have to look at going forward, Sprigg said. Supporters of same-sex  marriage have said it is a question of equality. 
"One of the points of frustration for me has been that the supporters of same-sex marriage want to portray the opponents of it as motivated  entirely by hostility towards gay and lesbian people as individuals and that's completely untrue," he said. "We are concerned about preserving  the institution of marriage and making sure it continues to perform the  important social functions that it has always performed."
Regardless of how the court decides, the anti-gay marriage camp believes the issue is best decided – and would be decided – by the public  at the ballot box. If the court allows leeway for the states to continue to vote on the matter, opponents of same-sex marriage plan to keep up the  fight in those venues. More than 30 states ban gay marriage, while 12 plus the District of Columbia allow it.
"I don't think that the Supreme Court can settle a question as deep as what is marriage," Gallagher said. "The future will be written. I don't  think anything is inevitable."