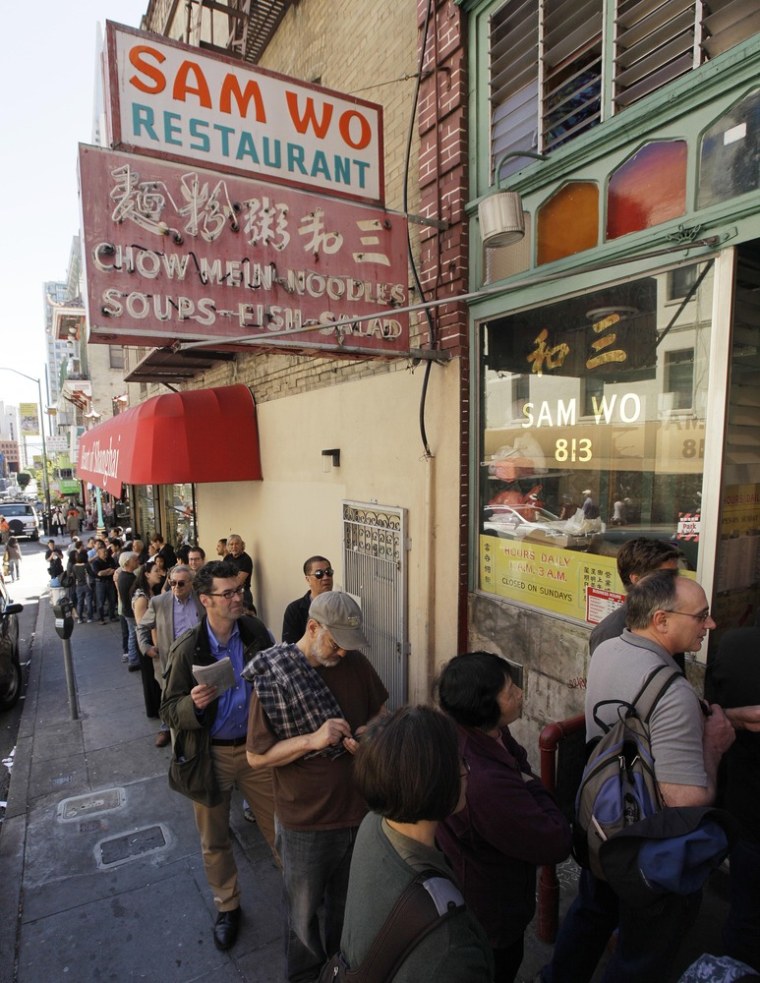 SAN FRANCISCO -- Heartbroken customers lined up for meal at a closing San Francisco institution — a 100-year-old Chinese restaurant once known for having "the world's rudest waiter." Diners of decades past say he would verbally abuse patrons, slam down dishes, and chastise complainers. 
Sam Wo, a Chinatown hole-in-the-wall that typified the kind of ethnic eateries for which the city's culinary scene was lauded before it became a trendy haven for foodies, planned to serve its last customers late Friday and into early Saturday.
On Friday, saddened patrons lined down the block to get a seat at one of the eight lunch tables and to mourn the loss of another San Francisco institution over bowls of won ton soup.
"I know change is good, but sometimes you want to hold onto the happy memories," said customer Darlene Lee, 71, who had been coming to the restaurant for 60 years and said its inexpensive fare was comfort food that reminded her of going home.
For those who did not grow up dining at Sam Wo, it became a cultural mainstay in the 1970s through reports by the late San Francisco Chronicle columnist Herb Caen and the "Tales of the City" novels of Armistead Maupin.
Both men immortalized the restaurant by writing about the antics of Edsel Ford Fung, the waiter who was known for verbally abusing patrons and slamming dishes on tables.
"The Soup Nazi is the Dalai Lama compared to Edsel Ford Fung," said longtime patron Sam Begler, as he tucked into pork rolls and chow mein. "He is the Don Rickles of restaurants."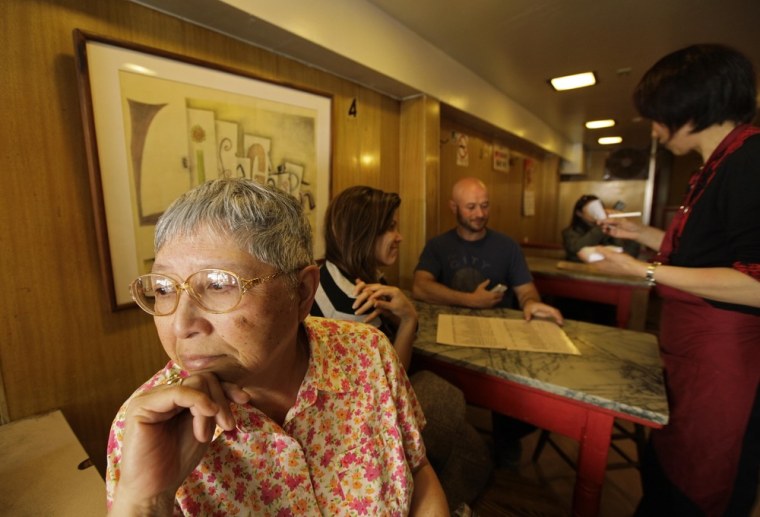 Fung died in 1984 at age 57, but for a long time a sign listing the restaurant's house rules maintained his gruff demeanor. Among its warnings: "No Booze ... No Jive, No Coffee, Milk, Soft Drinks, Fortune Cookies." 
Begler, a caterer who had been dining at Sam Wo since 1976, recalled how Fung would refuse to serve people he didn't like the looks of and chastise customers who dared to complain when they were brought the wrong dishes. It was never quite clear whether his crustiness was genuine or an act, but it was always an experience, especially for locals who wandered in to take advantage of the restaurant's 3 a.m. closing time.
Another devoted customer who showed up to savor the last-day atmosphere, Michael Lyons, said it seemed odd for city inspectors to crack down on Sam Wo's managers now for failing to institute modern food safety techniques, when the restaurant's old-fashioned methods, such as chopping and preparing meat dishes on a wood table near the front door, was part of its charm.
"It's always been a litmus test in a new relationship," Lyons said about people he took to the restaurant. "If they can appreciate the humble character of a place like this, they passed the test."