When the Macy's Thanksgiving Day Parade steps off Thursday morning, a balloon dubbed Trixie the Dog will bounce above a crowd of 3.5 million wide-eyed New Yorkers and tourists.
On the jammed streets down below, eight real dogs will be hard at work keeping the crowds safe by using their ultra-sensitive noses to sniff out the merest whiff of explosives.
They're called "vapor wake" dogs and they're a key part of the NYPD's sweeping plan to make sure the worst thing that happens on Thanksgiving is an overcooked turkey.
"Those dogs work on the displacement of air past your body, so I would smell your perfume or cologne, and the dog would smell the explosives emanating from one's body," said Chief Jim Waters, head of the department's counterterrorism operation.
"So as opposed to walking up to a package and sniffing the package, they can work a large crowd area by just having the right wind direction."
The Labradors are a new piece of a massive anti-terror effort that includes unprecedented precautions.
For the first time, every cross street along the parade route will be blocked off, extra insurance that a vehicle cannot be used to attack the crowds as in the deadly July assault in Nice, France. Eighty-two sanitation trucks filled with as much as 16 tons of sand will serve as barriers, police said.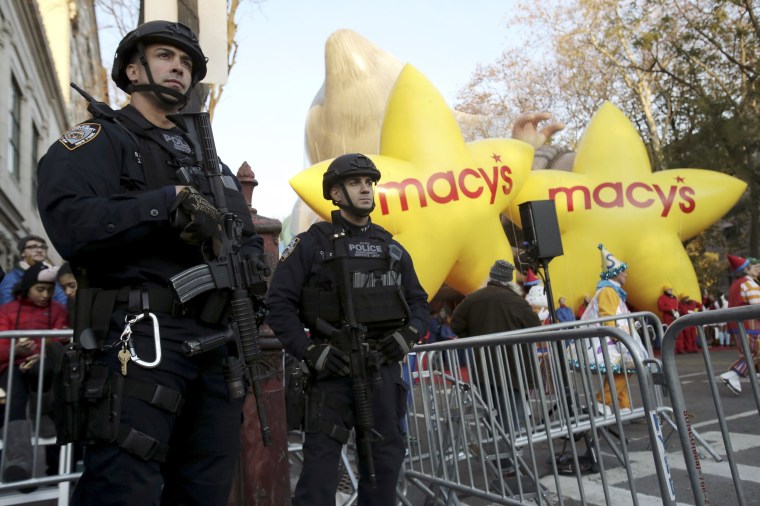 This is also the first year that the NYPD's fully trained Critical Response Command will be working the parade, its elite officers armed with long guns and a year of intense drilling.
There are more than 500 officers in the command, a fraction of the 3,000 cops who are assigned to the parade detail. Radiation detectors, police helicopters and a fairly large plain-clothes officers component will also be present.
"This year we're going to see a bit more of a robust counterterrorism presence," Waters told NBC News.
"There's been a lot of rhetoric and propaganda from ISIL (ISIS) and from al-Qaeda recently...and we don't take any chances here in New York City."
Related: ISIS Supporter Talked About Times Square, Feds Say
In a press conference Wednesday, New York Mayor Bill DeBlasio said the extra security does not have to do with the election, but because of international worries — though officials have stressed there is no specific, credible threat against the parade.
Desire for increased security came earlier this month when ISIS urged its supporters in the West to use rented trucks in Nice-style attacks and wrote in its English-language magazine that the parade would be "an excellent target."
But NYPD Commissioner James O'Neill remained more than confident that the city's police force had safely secured the area and encouraged New Yorkers to attend the parade.
"Come to the event," he said. "This is what the NYPD does. We get paid to keep people safe, and we'll keep people safe tomorrow.