Sandra Day O'Connor, the first woman to serve on the Supreme Court, announced Tuesday that she had been diagnosed with the beginning stages of dementia "some time ago," and likely has Alzheimer's disease.
"As this condition has progressed, I am no longer able to participate in public life," O'Connor, 88, wrote in a letter released through the court and addressed to "friends and fellow Americans."
O'Connor, who served on the Supreme Court for nearly 25 years, from 1981 to the beginning of 2006, said she wanted to use the letter to, "while I am still able, share some personal thoughts."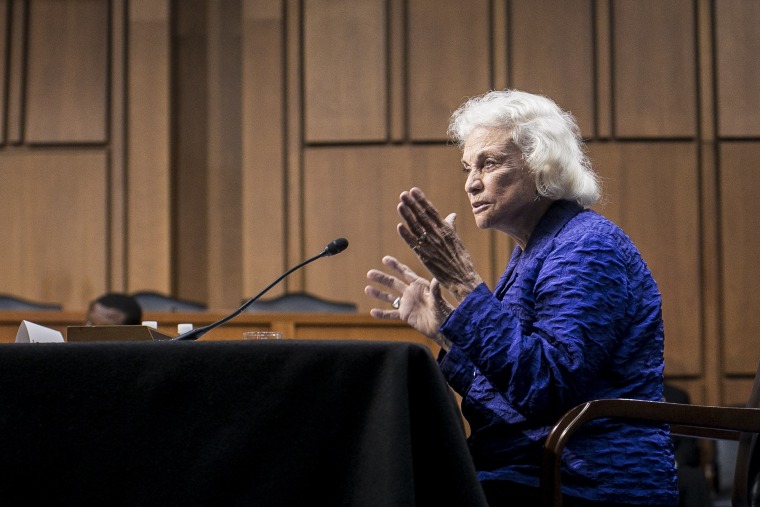 "While the final chapter of my life with dementia may be trying, nothing has diminished my gratitude and deep appreciation for the countless blessings in my life," she wrote. "As a young cowgirl from the Arizona desert, I never could have imagined that one day I would become the first woman justice on the U.S. Supreme Court."
"Not long after I retired from the Supreme Court twelve years ago, I made a commitment to myself, my family, and my country that I would use whatever years I had left to advance civic learning and engagement," she wrote. She said she started her organization iCivics, which teaches civics to middle and high school students, for that reason.
"I can no longer help lead this cause, due to my physical condition," she wrote.
O'Connor was nominated by President Ronald Reagan, and confirmed unanimously by the Senate. She argued with the majority in a number of landmark cases.
She joined the court's 5-4 decision upholding state restrictions on second trimester abortions, but she later voted to affirm Roe. V. Wade's core holding that women have a right of access to abortions.
She wrote the court's 2003 decision upholding affirmative action in college admissions.
And in 2000, she and four other justices ruled that challenges to the results of the presidential election in Florida be stopped, ceasing recount efforts and cementing George W. Bush's election.
O'Connor's decision to retire was in part because of a need to help her husband, John O'Connor III, who had himself been diagnosed with Alzheimer's disease. He died in 2009.
The same year, the Alzheimer's Study Group, which O'Connor was a part of, released "A National Alzheimer's Strategic Plan," offering solutions to confront the "grave and growing challenge" of Alzheimer's, and urging government to act.
"Just as President John F. Kennedy, in 1961, dedicated the United States to landing a man on the moon by the end of the decade, we must now set a goal of stopping Alzheimer's by 2020," O'Connor wrote in a co-authored New York Times opinion piece in 2010, urging Congress to pass legislation dedicating resources to Alzheimer's research and treatment.
"We must deploy sufficient resources, scientific talent and problem-solving technologies to save our collective future," the piece said. The bill was passed by Congress in December of that year, and President Barack Obama signed it into law in January 2011.
"Our hearts go out to Sandra Day O'Connor & her family. Driven by the experience of caring for her husband as he battled dementia, Justice O'Connor played an important role in making Alzheimer's the national priority it is today," the Alzheimer's Association's chief policy officer, Robert Egge, said in a statement Tuesday.
An estimated 5.7 million Americans have Alzheimer's, according to the association. Every 65 seconds, someone in the U.S. develops the disease, and the Alzheimer's Association estimates that by 2050, the number of cases will nearly double.
One in three senior citizens dies with the disease, which is the sixth leading cause of death in the United States. African American and Hispanic populations have a much higher prevalence of Alzheimer's.
On Monday, O'Connor's son, Jay O'Connor, told The Associated Press that his mother's "memory was starting to be more challenging, so the time came to dial back her public life." He added that hip issues keep her bound mostly to a wheelchair, and close to her Phoenix home. She is no longer giving interviews.
In a statement Tuesday, Chief Justice John Roberts said: "Justice O'Connor is of course a towering figure in the history of the United States and indeed the world. She broke down barriers for women in the legal profession to the betterment of that profession and the country as a whole."
"Although she has announced that she is withdrawing from public life," Roberts said, "no illness or condition can take away the inspiration she provides for those who will follow the many paths she has blazed."
"It's all right to be the first to do something, but I didn't want to be the last woman on the Supreme Court," O'Connor said in 2012. Three women — Justice Ruth Bader Ginsburg, Justice Sonia Sotomayor and Justice Elena Kagan — currently serve on the Supreme Court.