NEWTOWN, Conn. — "Twelve-fourteen" is shorthand for enduring pain in this town.
Say those numbers and a knowing look passes across the faces of residents who were here when Adam Lanza murdered 20 first-graders and six school staffers at Sandy Hook Elementary School with a Bushmaster AR-15 rifle.
Say those numbers and the past is cleaved into before and after, the way "9/11" still does for many Americans.
On Thursday, it will be five years since Newtown became the unwilling epicenter of an ongoing national tragedy — the mass killing of innocents by gunmen armed with high-powered weapons.
Some things have changed since then in this old New England town, which was built by English colonists on land purchased from the Pootatuck Native American tribe back in 1705.
Several thousand more people, undeterred by what happened on Dec. 14, 2012, now call Newtown their home.
Related: How the Sandy Hook massacre changed school security
The scene of Lanza's horrific crime is no more, and a new school has arisen in its place. The white frame house with green shutters on Yogananda Street where Lanza lived and claimed his first victim — his mother — has been demolished.
But Newtown is still coming to grips with its bitter legacy.
City leaders and residents say they refuse to be defined by the shooting. And yet, as interviews reveal, it is a town still mending. It is a town in which many are dismayed that the murders of so many children failed to stop the epidemic of deadly mass shootings that continues to plague America.
Mary Ann Jacob, a Sandy Hook library clerk who is credited with saving the lives of 18 fourth-graders, likened Newtown to "an old-fashioned scale."
"Sometimes it's heavier with grief, sometimes it's lighter," she told NBC News. "But it's always sort of on your shoulder and right there."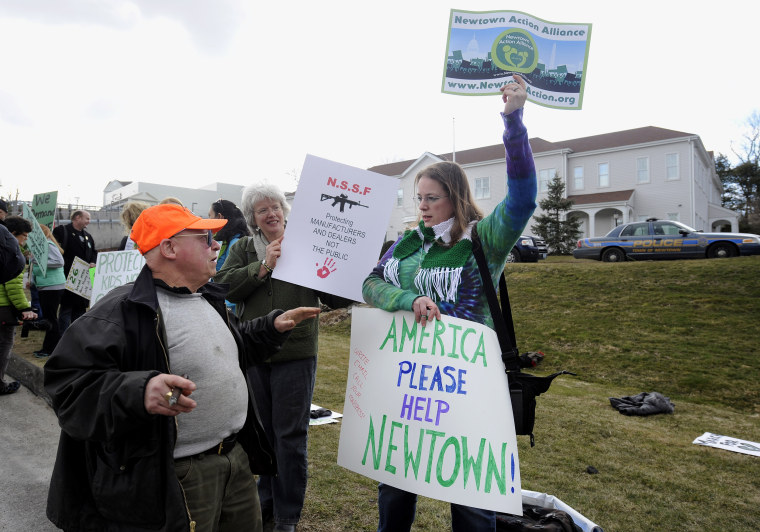 Michael Kehoe, who was chief of police and one of the first witnesses to the aftermath of the massacre, echoed Jacob.
"Because I'm retired, I don't have to help prepare the community for the anniversary," Kehoe said. "But I'm aware of 12/14. I can't help being aware."
Earlier this month, the city held its annual tree lighting. In the years after Lanza, it became a kind of unofficial reminder for many about how the unthinkable had happened just as Newtown was gearing up for what for many should be the happiest time of the year.
"Sometimes it's heavier with grief, sometimes it's lighter. But it's always sort of on your shoulder and right there."
This year, the city is also hosting a photo exhibit at the municipal center to mark the day. But beyond that there will be no speeches, no official memorial service.
"The community will engage in private reflection and remembrance," said Lorrie Rodrigue, the town's interim schools superintendent.
But there will be a poignant moment for anybody within earshot of downtown Newtown. At 9:36 a.m. Thursday, the same time that Lanza started shooting, the bells at St. Rose of Lima Roman Catholic Church will start ringing.
They will be rung 26 times, once for each victim.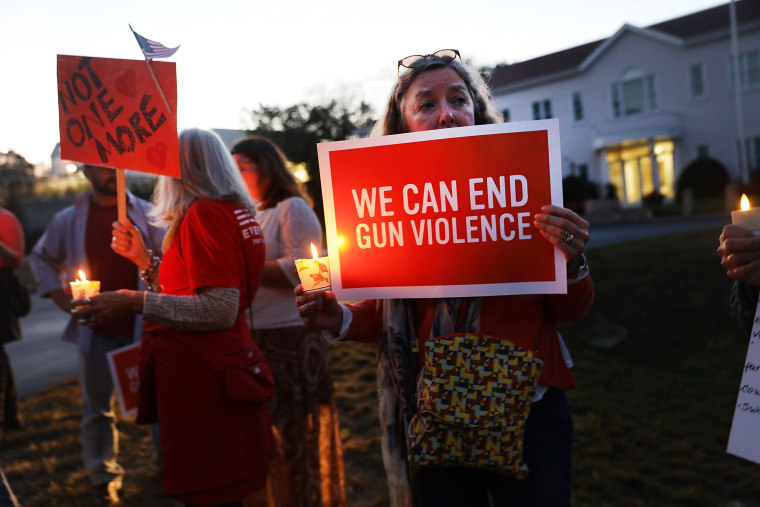 Kehoe remembers what he saw in the classrooms not long after Lanza ended the rampage by shooting himself in the head.
What he doesn't remember are the nightmares that followed.
Related: List of deadliest mass shootings in U.S. modern history
In the chaotic weeks after the shooting, as Kehoe was leading his traumatized officers and trying to keep the peace in a town turned upside down by tragedy, he would scream in his sleep.
"I don't recall them at all," the former Newtown police chief said, when asked about the terrifying dreams. "I think it was just shouting."
It was his wife, Laraine, who heard the screams and urged him to get help.
The 45 other Newtown police officers under his command were also coping with the stress.
"Can't we stop this as a society? We Americans seem to have cornered the market on these kind of mass killings."
"I think that we were exceptionally busy, and that kind of kept us focused on the real work at hand," the former chief said. "I think internally we were suffering in some ways. ... I think the rank and file and staff really showed their mettle by doing their jobs as best they could."
Kehoe, who joined the department in July 1978, retired in January 2016. Six months later, he was on a plane to Dallas to help that city's police force deal with trauma after five of their officers were killed by a gunman.
Imparting the lessons he learned in Newtown to other cops has become Kehoe's new calling. Some 15 percent of police officers will suffer post-traumatic stress in their careers, which can lead to depression, anxiety, alcoholism — even suicide, he said.
Related: Police officer with PTSD from Pulse massacre loses job
"There has been a cultural change in the way police officers deal with things like this," he said. "It used to be grab a few beers and suck it up. Now, we get help."
Kehoe credits his wife and the counselors with helping him come to grips with his trauma.
"I don't think today I have any issues," he said.
But every time there is a mass shooting, like the recent church massacre in Texas, Kehoe admits he feels a pang.
"I kind of reflect on that and say, 'Boy I know what they are going through,'" he said. "I always think about the first responders and the family members and the victims."
He said it troubles him that what happened in Newtown keeps happening elsewhere in America.
"Can't we stop this as a society?" he asked at one point. "We Americans seem to have cornered the market on these kind of mass killings."
Of late, Kehoe has been very conscious of the calendar. He said five years passed in the blink of an eye.
How will he mark the day? "I will try to make it as normal as possible," he said. "I learned that you have to adapt to a new normal. Obviously the event changes you. But I will try to keep it normal, with a soft reminder that on this day 26 people lost their lives. And I will say a prayer for them."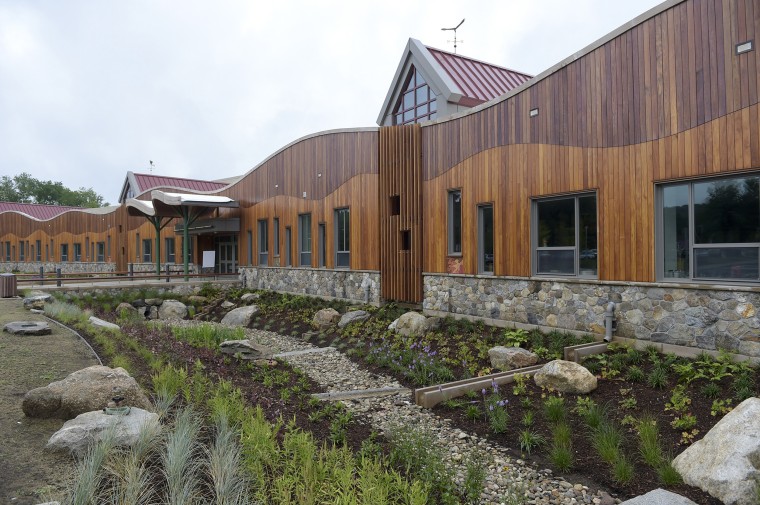 "I hate the word anniversary," said Erin Nikitchyuk, a Sandy Hook parent. "This is not something that we celebrate."
It is a sentiment that is widespread in Newtown. And for Nikitchyuk, 48, Dec. 14 is an unwelcome reminder of how close she came to losing her son, Bear, who is now 13 years old.
"He was in third grade," she recalled.
Related: FBI released 1,500 pages of documents on Sandy Hook massacre
On the day of the shooting, she said, Bear and a classmate got picked to walk the attendance sheets to the principal's office — a prized job for the kids at Sandy Hook Elementary School.
They "turned around to go back down the hall when the window behind the entrance into the school was shot out, a couple of yards behind them."
Pandemonium ensued and Bear and the girl he was with were directly in the line of fire.
"As fate would have it, one of the teachers saw through her narrow window him standing in the hallway waiting for the girl he was with to catch up," she said. "And she opens her door and pulled them to safety."
The teacher, Abbey Clements, has been hailed as a hero.
Nikitchyuk says Bear has been able to put the shooting behind him.
"One of the things that people don't realize about this kind of grief is it's not always just the screaming and crying till it's running down your face kind of grief. There's very subtle ways that it changes you, too."
"I'm not sure how much of that is natural resilience and how much of that are the tools that his therapist helped him with. I don't know why we were so lucky," she said. "We have lots of people in town who are still struggling every day with anxiety and fear."
This time of year, Nikitchyuk said, many in Newtown put on a brave face. And because so many people have moved into town since the shooting, "we're a very different place than we were five years ago."
But the grief is still there, she said.
"One of the things that people don't realize about this kind of grief is, it's not always just the screaming and crying till it's running down your face kind of grief," she said. "There's very subtle ways that it changes you, too."
"I know, for example, that many of us haven't been able to read a book since the shooting," she said. "I think only in the last nine months or so have I actually been able to pick up a book and read it because your whole brain is different."
Like other Newtown residents, Nikitchyuk is dismayed that the murders weren't a catalyst for gun-law reform, such as banning high-powered rifles like the one Lanza used. She said she has no use at all for the so-called truthers who popped up on social media — and have even ventured into Newtown — to peddle the bogus theory that the massacre was staged by the government to push gun control.
"I fortunately have not had to face them," she said. "But I do know that they've harassed people, families, and they're just not welcome."
This is how Mark Barden remembers his 7-year-old son Daniel, one of the 20 first-graders killed on 12/14.
"He was a smart, articulate little boy with a very developed sense of compassion and awareness of others," he said. "And I mean everything from picking up worms off the sidewalk and putting them in the grass so the sun wouldn't bake them and holding doors for strangers and connecting with fellow classmates. He spent his whole day kind of reaching out to other people and being a good citizen."
Now Barden is doing the same.
He channeled his grief by founding a group with other heartbroken Newtown parents called Sandy Hook Promise, whose mission is advocating for sensible gun control and preventing massacres like the one that claimed his son.
Barden, who grew up in Yonkers, New York, said both he and his Bronx-bred wife, Jackie, "were exposed to gun violence before."
"She had a gun battle happening right in front of her front steps," Barden said. "We were held-up at gunpoint in another city together, and we never thought that we should do anything about it. Shame on us."
He added, "It took the greatest tragedy for us to finally wake up and say this is not going to fix itself."
Since Sandy Hook, there have been more than 1,500 mass shootings in the U.S. that have claimed more than 1,700 lives — many of them children, according to the Gun Violence Archive.
Each time it happens, Barden mourns anew.
"I feel defeated," he said. "I feel like I let those people down. I feel like I'm trying to honor Daniel, do this good work in his name. I feel like I've failed."
Related: Gun control is a public health issue, experts say
Barden said that he was shocked in 2013 when the Democrat-led attempt to tighten firearms laws and ban assault weapons was scuttled by the National Rifle Association and its Republican allies in Congress. He said after the proposed legislation failed, Vice President Joe Biden called him to tell him he was sorry.
It was after that debacle, Barden said, that they realized a change of tactics was needed.
"We started examining the drivers of change, and we realized that we had to reach people a different way," he said.
Five years after the shooting, Sandy Hook Promise is operating programs nationwide that are aimed at preventing school shootings by educating parents and teachers about mental health while continuing to push for what Barden calls "sensible" gun safety laws.
"We have brought bullying down to near zero in many schools," he said.
Come Thursday, though, Barden will do what he does every year on the anniversary of the shooting, as well as on Daniel's birthday and other significant dates in his son's all-too-short life — hold his wife and other two children close and lay low until it passes.
"I do find the weight of the significance of these dates," he said.
Eight of the 20 slain children and one of the murdered staffers were part of Monsignor Bob Weiss' flock at St. Rose of Lima. And every year since, Weiss has celebrated a memorial Mass in their memory.
This year, Weiss is handing off that responsibility to the bishop.
"I guess I just still feel deeply the emotion of this," he said. "I just knew that there's no way I could really be an effective celebrant or homilist that night."
On that awful morning, Weiss said he was celebrating Mass when he was summoned to the school by a call from a state trooper.
"I know the families have asked us not to call it an anniversary. That has a different connotation. So we're calling ours, you know, a celebration of remembrance."
"It was very much like walking through a war zone," he recalled. "I got up to the front of the school and one of the state police officers asked me if I would like to come in and give a blessing."
It would be the first of many Weiss would deliver as his town was engulfed by grief and he found himself and his faith tested like never before.
"We had many of the wakes here in the church and then we had the burials and it went on for almost seven days," he said. "The town just pulled itself together and it was so present to all those families."
After the funerals were over and the reporters left, Weiss said he and his flock were tested again.
Many longtime parishioners began fleeing the town. Others struggled with alcoholism. He saw marriages break up because of the stress.
In the last two years, Weiss said, Newtown has turned a corner. He said he has started seeing new faces at Mass.
"Five years later there are definitely new families moving in," he said. "There is a new spirit here."
When the shooting started, Mary Ann Jacob kept her cool and blocked the door to the library with a file cabinet, then huddled inside a supply closet with students for an hour until a police officer arrived.
Then they crawled out of the library to safety.
"You know, it still seems almost surreal that something so horrific happened in the elementary school that I worked in and where my kids went to school," she said.
But every time Jacob goes to the movies, the dread she felt that day comes roaring back, and she finds herself feeling trapped and checking for exits.
"The weirdest part about it is, I look at the floor and think, 'Wow, that floor's really gross and I have to get down on the floor,'" she said. "It's weirdly rational."
Related: Fact check: No, more guns won't prevent mass shootings
While Jacob has been hailed for her quick thinking, she says it was dumb luck that saved her and her charges.
"We survived because we were lucky, not because we did some extraordinary thing," she said.
Maureen Will was supervising dispatchers at Newtown's tiny 911 call center when the first reports of shots fired at Sandy Hook began coming in. Within minutes, the trickle turned into a torrent and Will was forced to pitch in and help the two overwhelmed dispatchers on the day shift.
"We took over 300 calls an hour on our landline phones," said Will. She said that because other schools had gone into lockdown, they got calls "from parents, teachers who were on field trips, people that we knew who had kids in the school."
Dispatchers even got calls from police officers "who had children in our schools," she said.
That broke their hearts.
"You can't tell them anything, and they'd call you by your first name," she said. "It was very difficult for us to maintain a professional demeanor. … But we did what we had to do, and it just seemed to go on for hours."
It was only later that what happened hit them.
"I remember shutting my door and I called my best friend," Will said. "I said to her 'I need help,' and I broke down."
For Will, what happened at Sandy Hook literally hit home.
"I don't just live across the street from where the original school was," she said. "I went to that school. My daughter went to that school."
Will said she will be at her post on Thursday, and she'll be listening for the bells of St. Rose.
"For me, the bells mean hope, rebirth, part of my Catholic upbringing," she said. "The bells say what we need to say."
Erin Calabrese reported from Newtown, Connecticut, and Corky Siemaszko from New York City.