Buzzers for the front door. Security cameras. Bulletproof glass.
These are among the physical reinforcements that have become more common in schools across the country in the five years since the tragedy at Sandy Hook Elementary, as more and more schools try to address security concerns.
Experts say the Dec. 14, 2012, massacre in Newtown, Connecticut — which left 20 children and six staff members dead — prompted the wave of alterations to school buildings.
"After Sandy Hook, you saw a tremendous increase in the number of buzzer systems," said Dr. Amy Klinger, director of programs and co-founder of the Educator's School Safety Network, a nonprofit that supports safer schools. By requiring that visitors be buzzed in by a receptionist or other staff member, schools say they're adding a layer of control about who can gain access.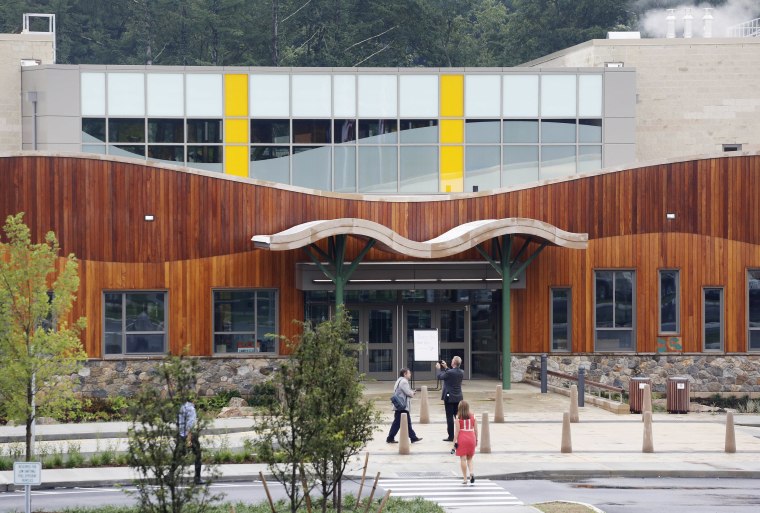 Adding security features comes with challenges, though: They can be costly for cash-strapped schools — Klinger said the buzzer system alone can run about $5,000 — and they can make school feel less than inviting.
"We want to always be looking at that balance between helping kids feel safe at school, and be safe at school, but not feeling like they're going to school in a prison environment," said Mo Canady, executive director of the National Association of School Resource Officers, a nonprofit for school-based law enforcement officers.
Related: Professor who suggested Sandy Hook was hoax sues college
That was the goal in Newtown, where the school district demolished the original Sandy Hook Elementary out of respect for the victims. Last year, a new school opened elsewhere on the same property; Consigli Construction Co., which built the $50 million school, has billed it as a national model for the "school of the future."
The new Sandy Hook school has a nature theme, with two "treehouse spaces" — glass-enclosed wings that jut out over the school's expansive courtyard. Inconspicuous security features, such as doors that can be easily locked from the outside or inside, bullet-resistant windows, and bioswales outside the building that absorb water for plants while also keeping visitors at a distance, are sprinkled throughout the property.
"The new building was very thoughtful and very sensitive," Matthew Consigli, president of Consigli Construction, said. "We wanted to make sure that we introduced and implemented security features that aren't readily apparent to the children."
"We want to always be looking at that balance between helping kids feel safe at school ... but not feeling like they're going to school in a prison environment."
Experts point out that structural reinforcements are only part of the solution, and in some cases, may even detract from other crucial safety measures. They urge schools to combine security equipment with other tools, like regular lockdown drills, having a school crisis team that holds meetings throughout the year, and keeping open lines of communication with local first responders.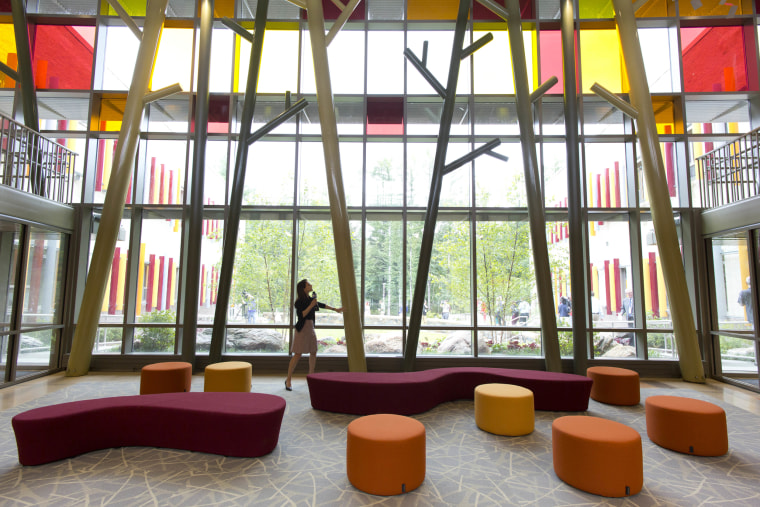 "Many people have just pursued security equipment and hardware as a quick fix, something that's visible and tangible that they can point to to parents and local media," said Kenneth S. Trump, president of National School Safety and Security Services, a Cleveland-based consulting firm that helps schools prevent and prepare for crises. "Oftentimes, the best security is invisible."
Related: Fear, and big sales, propelled record-breaking Black Friday gun checks
Lockdowns, in particular, can be effective, as a shooting last month in California showed. When a gunman in the Rancho Tehama Reserve killed four people and targeted an elementary school, he was thwarted from getting into the school after staff initiated a lockdown, authorities said.
"It appears that because he couldn't make access to any of the rooms — they were locked — that he gave it up and re-entered the vehicle and then went on his killing spree and took it to the streets," Tehama County Assistant Sheriff Phil Johnston said. "So I really want to say that the quick action of those school officials, there is no doubt in my mind based on the video that I saw, saved countless lives and children."
But facility upgrades don't always stop tragedy altogether. A shooting last week in a New Mexico high school killed two children despite teachers going on lockdown and pushing a panic button as the gunman was shooting, according to local reports.
And even Sandy Hook had some physical barriers in place: The gunman, Adam Lanza, however, was able to easily breach the buzzer system there.
School safety consultants all stress that mass shootings in schools are exceedingly rare. Still, they urged administrators to focus as much on preventing an attack as to what their response would be.
Related: Sandy Hook lawsuit could be decided by a slingshot
"The only way you're going to reduce this is training, and that training has to incorporate not only faculty, but parents," said Heidi Wysocki, co-founder of First Defense Solutions, which offers training on how to minimize casualties in active shooter situations. She cites the "Know the Signs" programs from Sandy Hook Promise, the nonprofit led by several families of victims in the school shooting, as a good guide.
While training staff members and drilling students on how to handle an attack is important, they said it shouldn't be at the expense of preparing for a more likely emergency: what to do if a noncustodial parent tries to pick up a child, for example, or if a student has a serious health emergency.
"We are doing active shooter training to the exclusion of everything else," Klinger said. "Statistically, you're probably not going to have an active shooter."