Saniyya Dennis, the New York college student who disappeared last month, died by apparent suicide, officials said Thursday.
"It appears that this poor girl took her own life," Erie County District Attorney John Flynn told reporters during a morning news conference.
While authorities have not located the 19-year-old's body, they were able to reach that conclusion based on a timeline of her last hours.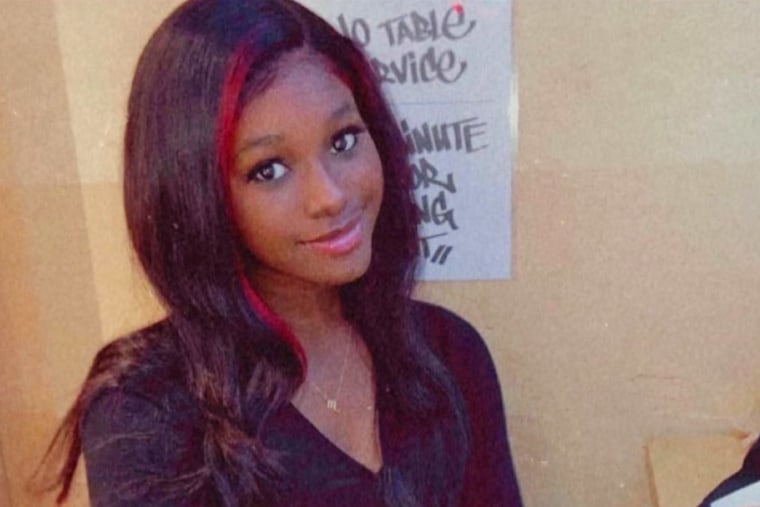 Flynn said on the afternoon of April 24, Dennis got into an argument with her boyfriend in New York City over the phone. After trying to contact him 59 times to no avail, she called another male friend in New York City and talked about killing herself, the DA said.
The two remained on the phone for several hours before she later told the male friend she had reconsidered. About 11 p.m. ET, Dennis was seen leaving her dorm room at State University of New York College at Buffalo.
Shortly after, Flynn said, she was captured on campus surveillance video leaving her dorm. Dennis walked toward a garbage can on campus and threw away "personal items that would lead someone to believe that she was not returning to the dorm," he said. It was unclear what the personal items were.
According to the DA, video from the Niagara Frontier Transportation Authority showed she rode two different buses going toward Niagara Falls. She was by herself.
Dennis was last seen on New York State Park Police cameras shortly after midnight walking toward Goat Island, where her phone last pinged, Flynn said. Around 12:18 a.m., the male friend warned in a text that he would call police if she did not call him in 30 seconds.
The male friend called Dennis, who picked up and said she was going to jump off a bridge, according to the DA. After talking for about an hour, Dennis later told him she was on the bus returning home, which, according to phone records, the DA said was not true.
Investigators said her cellphone left the network about 1:20 a.m. April 25, which means it was either destroyed or powered off.
The male friend and Dennis' boyfriend did not immediately report her suspected disappearance, according to the DA. Her family members reported her missing to Buffalo State police on April 26, which prompted a widespread investigation.
Multiple law enforcement agencies and numerous volunteers were involved in a search for Dennis following her disappearance. Dogs were trained to pick up her scent. They stopped picking up the scent near Goat Island, Flynn said.
"I feel awful for the parents," he said. "As a father of five, this is difficult."
He added authorities may never find her body because of the rocks below the area where her scent was last picked up.
"There is a possibility that if we believe what happened happened, we may never find her body," he said. "That's a possibility."
Dennis' parents were notified of the investigation's findings Wednesday afternoon, the DA said.
Efforts to reach Dennis' family at phone numbers listed for them were unsuccessful Thursday.
During a news conference on Friday, Dennis' family members said it was uncharacteristic of her to suddenly disappear.
"My daughter is a Black honor roll student at the college and has no tendency of doing nothing," Calvin Byrd, Dennis' father, said. "We're all baffled as to what's going on."
Keyora Dennis, Dennis' sister, said this was "not of her nature."
"Saniyya worked two jobs. She was a mechanical engineer major. She was very focused on her studies," she said. "She was a good friend, a good person. She has a good heart."
Despite the evidence, the DA said the search for Dennis will continue.
If you or someone you know is at risk of suicide please call the U.S. National Suicide Prevention Lifeline at 800-273-8255, text TALK to 741741 or visit SpeakingOfSuicide.com/resources for additional resources.