Crews rushed Wednesday to contain a growing oil spill that has befouled a nine-mile stretch of scenic California coastline just before the Memorial Day holiday.
The estimated size of the spill, about 20 miles up the coast from Santa Barbara, ballooned to 105,000 gallons Wednesday after the Coast Guard made a morning flyover to get a better sense of the scope.
An onshore oil pipeline broke Tuesday and spilled crude into a storm drain that empties into the Pacific Ocean. Plains All American, the company that owns the pipeline, said it "deeply regrets" the spill and was working to limit the damage.
Read more from NBC Los Angeles
"This is a disaster. It's a worst nightmare scenario," Janet Wolf, a Santa Barbara County second district supervisor, told reporters Wednesday morning.
"Time is of the essence," she added. "We have fishermen who cannot go out there and fish."
Later Wednesday evening, California Gov. Jerry Brown declared a state of emergency in Santa Barbara County over the spill. The move frees up emergency state funding and resources to assist the cleanup.
The spill was discovered when people reported a foul smell near a state beach Tuesday afternoon. Authorities found a half-mile slick in the Pacific Ocean that later spread to four miles and then diverged into two slicks at a total of nine miles.
People who live nearby were concerned about wildlife. "We are just kind of looking at the lay of the land here, and it's just devastating," Josh Marsh told NBC Los Angeles.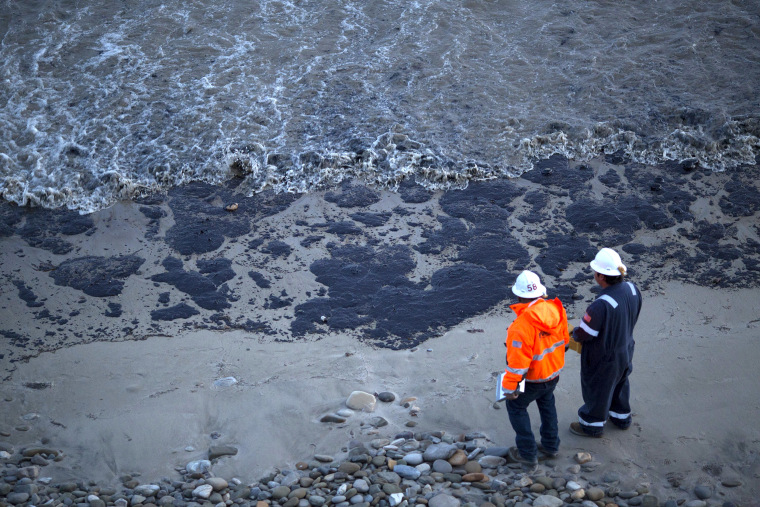 Refugio State Beach was evacuated and will be closed through the weekend, and warnings were issued for another beach nearby. Officials could not say whether the beaches would be open in time for the holiday weekend. Campers were forced out of a nearby state park.
"We smelled something like burning rubber," camper Ricardo Garcia told NBC News.
In 1969, an estimated 3 million gallons of oil spilled along the same stretch of coastline. That spill was the largest in American history to that point and helped give rise to the environmental movement.
A Plains All American spokesman told reporters Wednesday that the busted pipeline was inspected two weeks ago, but the company had not yet gotten the results of the review and was still unable to say why the break occurred.
SOCIAL
— Erin McClam with The Associated Press