Ryan Donohue always believed the "bad stuff" would catch up with his mother.
Last month, Donohue learned that his mom, Sarah Hartsfield, had been indicted on a murder charge in the death of her husband, nearly five years after she killed another romantic partner in a shooting that was deemed justified at the time.
"It's unreal seeing my mom in that jumpsuit now," Donohue, 22, said in his first interview since the indictment on Feb. 3. "I've waited for it my whole life."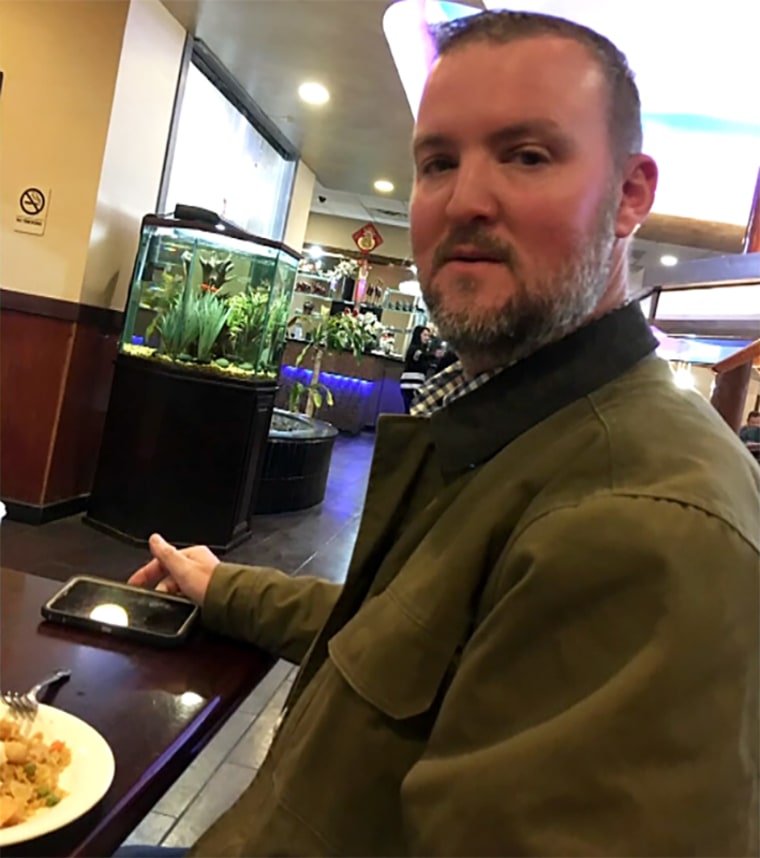 Sarah Hartsfield was charged with first-degree murder in the death of Joseph Hartsfield, 46. Her fifth husband died in January, more than a week after he was hospitalized near Houston. His cause of death hasn't been released. He may have had too much insulin in his system, an affidavit in support of a search warrant says. 
Sarah Hartsfield has pleaded not guilty and is being held in lieu of $4.5 million bond. Her lawyer didn't respond to multiple requests for comment; he has previously said Hartsfield maintains her innocence "and will assist in the investigation of her husband's untimely death."
More on murder suspect Sarah Hartsfield
Authorities haven't identified a possible motive. 
In Facebook messages shared with NBC News, Hartsfield complained to a friend about her husband's "financial irresponsibility" and said she had "nothing left."
Years earlier, in 2018, Hartsfield fatally shot a man her son said she had been engaged to, and officials ruled that she did so in self-defense. But six days after Hartsfield's arrest this winter, a Minnesota prosecutor announced that he was re-examining the death of the fiancé, David Bragg.
Growing up with Hartsfield
Hartsfield, 48, has been married five times since the mid-1990s. Her children — Donohue and his three sisters — are from her third and longest marriage. According to Donohue, a postal worker, his family has followed a grim path that includes allegations of abuse and doomed relationships, two deaths and allegations of a murder plot.
One of his sisters confirmed his account; fearing backlash, she asked not to be identified. His father declined to comment. 
Donohue said that his mother grew up in Sedalia, Missouri, a small town about 90 miles southeast of Kansas City, and that when she was younger, she was in and out of foster care. Donohue knew both sets of her foster parents and considered them grandparents, he said. 
After two failed marriages in the 1990s, Hartsfield married Donohue's father in 1999, he said. They'd met in Alaska and were later stationed together at Fort Hood, Texas.
Both were in the Army. Christopher Donohue, who served from 1996 to 2020, retired as a master sergeant, an Army spokesman said. Hartsfield served from 1997 to 2017 and left the service as a sergeant first class, a spokeswoman said.
Ryan Donohue was mostly raised in an upscale neighborhood in Belton, Texas, between Austin and Waco. "From the outside looking in, things were great," he said.
"We grew up in an environment where how you were presented meant everything," he said, adding: "You always said 'yes ma'am.' You never questioned anything."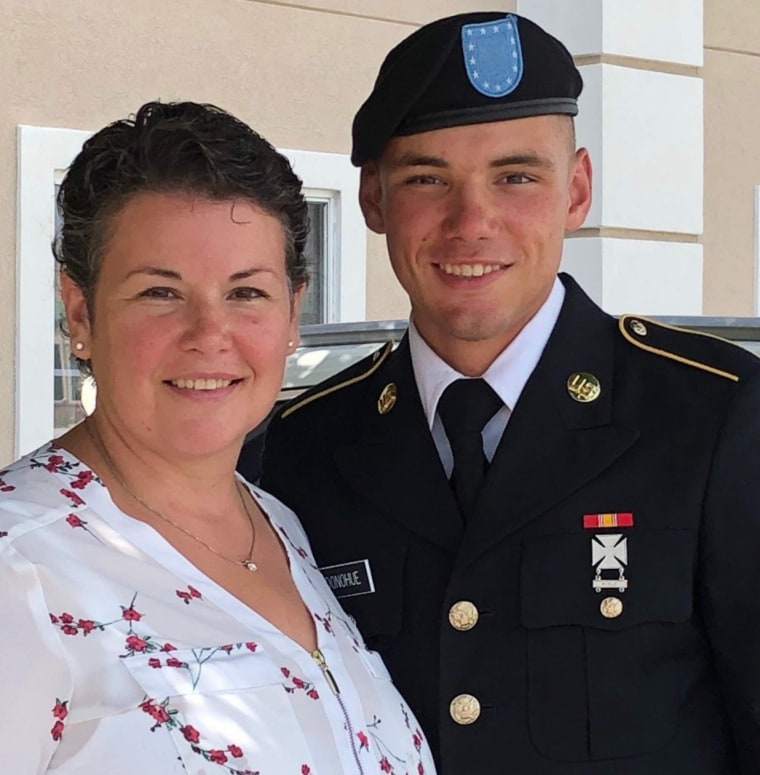 He described his mother as the smartest person he knows — someone who could change the world if she "put her brain to doing the right thing." She was also physically and mentally abusive, he said. When his father tried to protect him and his siblings, Ryan Donohue said, "my mom made his life a lot harder."
A longtime friend of Ryan Donohue's, who asked not to be identified for fear of his safety, recalled that as a kid, Donohue would miss school for long stretches and say he had been sick. 
Years later, the friend said, Donohue confessed that he'd actually been bruised so badly that he couldn't go to school.
"It would be easy to say, 'Why didn't you call child protective services and get out of the situation?' But it was more than physical abuse. It was psychological," the friend said, recalling another confession from Donohue: "She'd literally line the kids up and tell them: 'There's nothing you can do. Go try and tell someone. They won't believe you.'"
Donohue never reported the abuse, which he said lasted into his mid-teens. His mother later apologized and said she'd been hard on her children because "your dad made me unhappy," Ryan Donohue recalled.
Hartsfield's lawyer, Keaton Kirkwood, didn't respond to requests for comment about the abuse allegations. In a statement to NBC affiliate KPRC of Houston last month, he said: "We adamantly denounce the misinformation that has been provided to the public regarding her past." 
Donohue said he moved to South Korea in 2016 with his father. Two years later, Christopher Donohue filed for divorce from Hartsfield, court records show, and Ryan Donohue said he returned to Texas to live with his mother and sisters.
Self-defense shooting reopened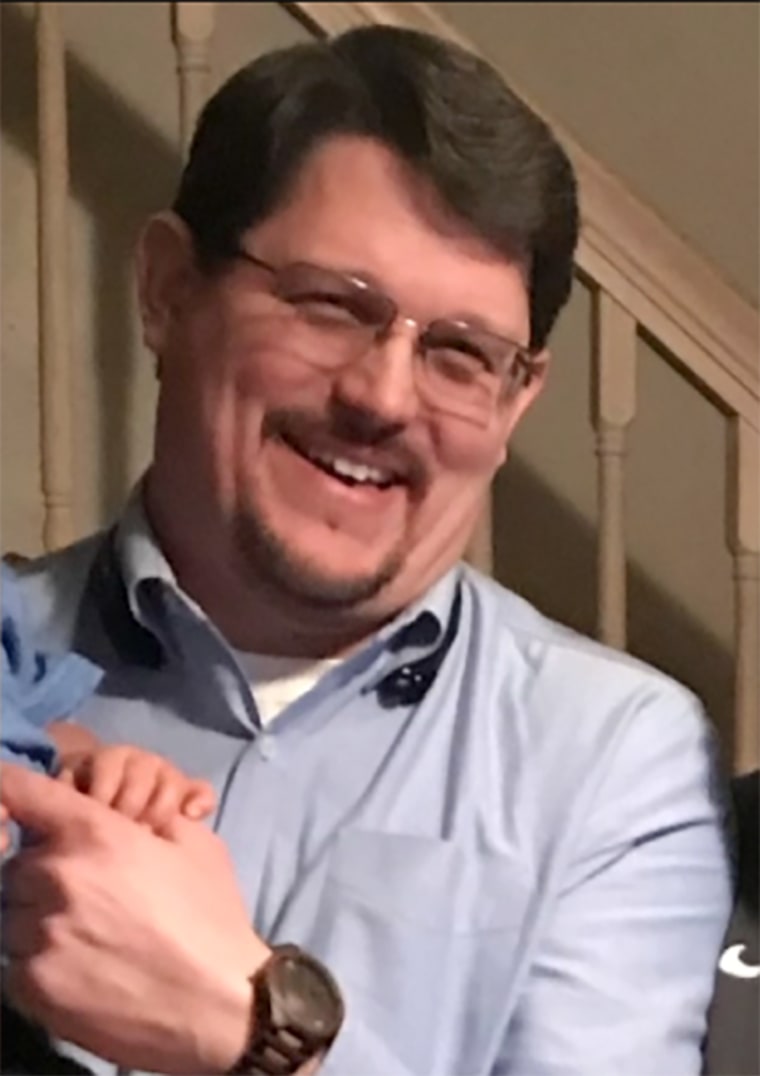 By March 2017, Sarah Hartsfield was in a new relationship with David Bragg, a former Air Force mechanic who was working as a contractor at Fort Hood, her son said.
In December of that year, Ryan Donohue recalled, his mother told him her new boyfriend had a well-paid solar contract in Minnesota and the family would move there within days. (His older sister was no longer a minor and stayed in Texas.)
They moved into what Donohue described as a large "fixer upper" in Douglas County, a rural area roughly 150 miles northwest of Minneapolis. The couple were briefly engaged, Donohue said, but the relationship deteriorated. 
Donohue said he clashed with his mother's fiancé, whom he described as physically abusive and who he said once slammed him into a wall after he had a disagreement with a sister about whose turn it was to use the bathroom. 
His sister recalled their mother's saying that Donohue, then a junior in high school, "deserved it" after "he got in David's face."
In another instance, after an argument over homework, Donohue said, Bragg knocked him down the stairs and pointed a rifle at him as he ran down the driveway. Another sister, who asked not to be identified over fears of being publicly linked to her mother, heard the altercation over the phone and confirmed Donohue's account. 
Bragg's brother, Daniel, said in a text message that he didn't believe his brother was abusive but added: "If there's any truth to it, that's incredibly sad."
On May 9, 2018, Hartsfield fatally shot Bragg in their home.
Donohue said his mother told him she had gone home to grab clothes for his sisters when Bragg became upset and believed she was leaving him for her ex-husband, who had traveled from South Korea to Minnesota to surprise his sister on her birthday. 
"I took the beating of my life for letting my child see her father," Hartsfield said at a bail hearing this month.
She said that Bragg opened fire and that had she not dived to the floor, he would have struck her in the head.
"I blindly fired," she said. "I didn't aim."
Citing forensic testing and witness accounts, the Douglas County district attorney found that Hartsfield acted in self-defense and declined to file charges. 
After Hartsfield was indicted in February, the prosecutor said the case was "active" again. As of Friday, the case was still being investigated, a spokeswoman for the prosecutor said.
Bragg's family has challenged Hartsfield's account, saying in February that the man she described was "not the David we all knew and loved," adding, "His death was very random, and the circumstances that surrounded his death seemed farfetched, and almost made up." 
Donohue is still wrestling with his mother's account of the shooting. At one point, he said he believed her; at another, he said he wasn't sure.
"To be real, from the outside looking in, it's gotta be a crazy coincidence to go through this not once but twice in less than five years," he said.
After the shooting, Sarah Hartsfield married her fourth husband, David George. For a time, the couple lived in the home where Bragg had been killed, Donohue said.
Was ex's new wife a target?
Donohue's father also remarried, and court records show the aftermath of his divorce from Hartsfield turned increasingly hostile. In 2021, Christopher Donohue leveled an alarming accusation: His ex was plotting to have her new husband kill his new wife, according to an affidavit in support of a request for a restraining order he filed in the Texas county where they were divorced.
He alleged that the plot was aimed at derailing his efforts to get custody of their two minor children, "so that I would be too busy dealing with the death to focus on fighting for my girls anymore," the affidavit cites Christopher Donohue as saying.
Hartsfield's new husband is alleged to have told Christopher Donohue that she had given him a gun and was pressuring him to carry out the act, the document says.
"He told me he would lie to her about why it hadn't happened yet," the affidavit quotes Christopher Donohue as saying.
The FBI investigated, the affidavit says, and a federal agent asked a Sierra Vista, Arizona, police detective to monitor Christopher Donohue's home with a "close patrol," a department spokesman said. 
No charges were filed, the spokesman said.
The FBI hasn't responded to requests for comment. Efforts to reach George, Hartsfield's fourth husband, have been unsuccessful. At the bail hearing, Hartsfield said George retracted the allegation, which she accused him of having made for "retaliation purposes."
Two months after Christopher Donohue signed the affidavit, a judge issued the restraining order barring his ex-wife from contacting him and his family for two years. 
Even before the order was issued, Hartsfield had filed for divorce from her fourth husband, according to the records.
Ryan Donohue said that when he asked his mother about the allegations, she denied them, saying George was "a monster who lied about everything and was in cahoots with your dad to take away the girls." 
'Between her and God'
Donohue met his mother's fifth husband only twice, he said, and the last time he saw her was in December, when she visited his apartment in San Antonio. The trip was supposed to be brief, but it stretched into weeks and ended badly, Donohue said, with his mother scolding his roommate after he complained that she'd left a mess on their stovetop.
Knowing Hartsfield was armed, the roommate locked himself in his room until she left, Donohue said.
Donohue is grappling with how to feel about his mother's arrest. He doesn't know whether he's supposed to feel sad, he said; often he feels nothing. 
"If there is a conviction and she pretty much gets the ultimate punishment, whatever happens next is between her and God," he said.