An unexpected dissenting voice came out Friday against a Trump administration brokered deal to keep a Carrier plant in Indiana and save around 1,000 jobs.
Former Republican vice presidential nominee Sarah Palin in an op-ed for the Young Conservatives website called the deal, which was reportedly negotiated by Vice President-elect Mike Pence, an example of government intervention that could lead to "crony capitalism."
Palin said in the op-ed "I am ecstatic for Carrier employees!" But she wrote that while she didn't yet know the full terms of the deal, the negotiation could signal an abandonment of fiscal conservatism and stimulus packages that, if pursued, would mean the country is "doomed."
Carrier Corp. had planned to move a factory in Indianapolis to Mexico, taking 1,400 jobs with it.
Under the proposed deal with Carrier's parent company United Technologies, the company would receive $7 million in financial incentives over 10 years in exchange for a guarantee that Carrier would retain at least 1,000 jobs and invest $16 million into its Indiana operation, a source familiar with the talks has said.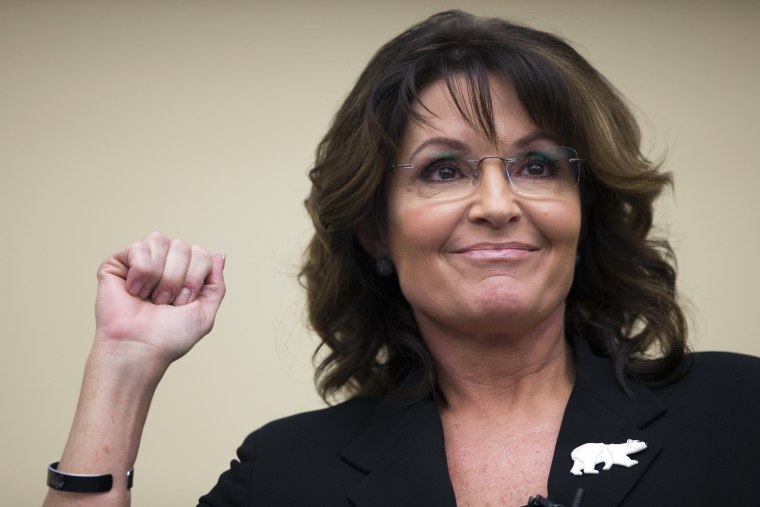 The deal was touted by Donald Trump, who has pledged to keep jobs in the United States.
Palin, the former governor of Alaska, said in the op-ed that the package could encourage other businesses to threaten to leave the country in order to receive similar breaks, effectively motivating industries to blackmail the government.
"Republicans oppose this, remember? Instead, we support competition on a level playing field, remember?" Palin wrote. "Because we know special interest crony capitalism is one big fail."
Palin wrote that she was hopeful the Trump administration is aware of the pitfalls of what she called "burdensome federal government imposition."
"Gotta' have faith the Trump team knows all this. And I'll be the first to acknowledge concerns over a deal cut by leveraging taxpayer interests to make a manufacturer stay put are unfounded — once terms are made public," Palin wrote in the op-ed.
A request for comment from Trump's transition team was not immediately returned.
Palin has supported Trump and endorsed him in January during the primary campaign. Palin has been in touch with Trump transition officials about a possible role in the new administration, sources close to Palin have told NBC News.
Others have worried that the incentives given to Carrier could encourage other companies to threaten to leave the U.S. in the hopes of getting a deal from the government.
Sen. Bernie Sanders, the former Democratic presidential candidate, wrote in a Washington Post op-ed that "United Technologies took Trump hostage and won."