Sarah Palin has been in touch with Trump transition officials about a role with the incoming administration, according to sources close to the former Alaska governor. While there is no confirmation what specific position she might be interested in, her son-in-law has dropped a hint.
Dakota Meyer, a Medal of Honor recipient married to Palin's daughter Bristol, posted his appeal on Facebook, including a video that makes a glossy pitch for Palin as an advocate for America's veterans.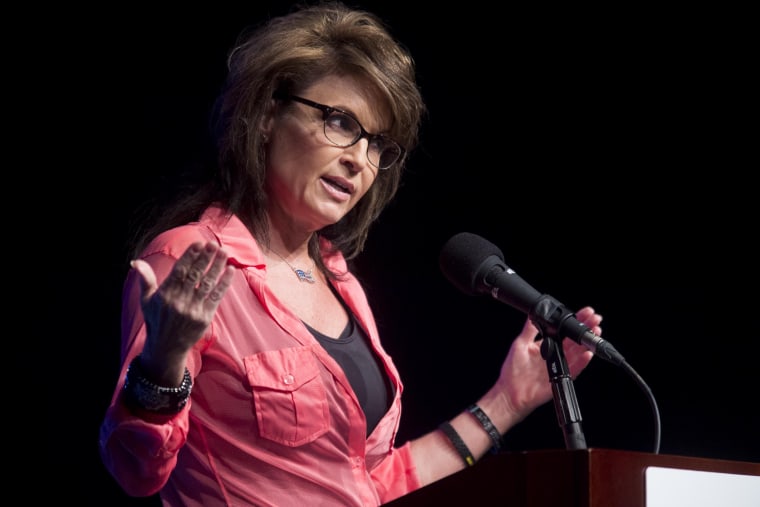 "Governor Palin has relayed to the Trump transition team her offer to continue helping the next President either in the public or private sector," a Palin adviser said.
However, Trump transition officials declined to comment on what position, if any, for which Palin might be considered.
Related: 'Drain the Swamp'? Trump's Potential Cabinet Fills Out With Washington Insiders
The role of veterans affairs secretary remains unfilled. Other early Trump endorsers, former Sen. Scott Brown and House Veterans Affairs Committee chairman Jeff Miller, have also been described as in the running for the cabinet position. Trump transition sources also say a "CEO type" with military experience has been considered.
Palin was among the early voices for Trump and notably endorsed him instead of her ally Sen. Ted Cruz, who had courted her support. Palin campaigned with Trump a few times in the early phase of the campaign season. Trump and Palin also appeared together at the United States' Capitol for a high-profile rally against the Iran deal.
Palin also has a connection to Trump's inner circle. Steve Bannon, who is headed to the West Wing, directed a 2011 film about Sarah Palin called "The Undefeated" which documented her rise from local politics to becoming governor of the 49th state. Of course, Palin became a national figure when she was selected as Sen. John McCain's running mate for his 2008 presidential bid. She effectively ended her career in elective office the following year when she resigned from her position as governor in the summer of 2009.
Her advisers point to her consistent advocacy on the part of veterans with her public persona and social media megaphone.
"Sarah Palin has been an advocate for veterans throughout her entire career and knows we owe a debt of gratitude to past and present service members for protecting the freedom we cherish," the adviser said. "She is proud to have been a very early supporter of a candidate who shares her belief in energizing our economy, securing our nation, and honoring our commitment to veterans.