Track Palin, the eldest son of former governor and Republican vice presidential candidate Sarah Palin, was arrested Friday after allegedly attacking someone at his home, state police said.
Palin, 29, of Wasilla, Alaska, was arrested on suspicion of domestic violence, interfering with a report of domestic violence, and resisting arrest, among other allegations, according to a report released Saturday by Alaska State Troopers.
During the assault, when a female acquaintance attempted to call police, Palin took her phone away, the report stated.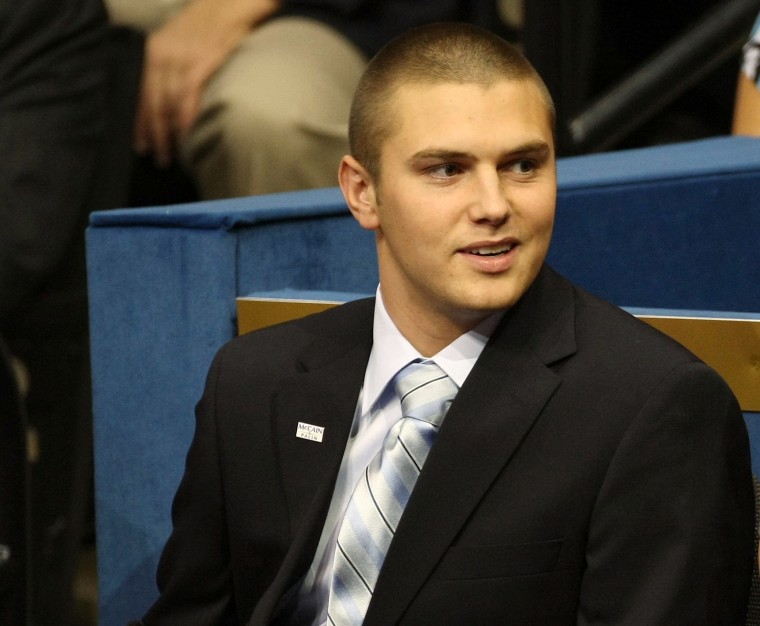 Palin was taken to Mat-Su Pretrial Facility after his arrest, according to NBC News affiliate KTUU, where he was being held on $500 bond.
In a court appearance Saturday, Palin said he was "not guilty, for sure," KTUU reported.
Palin could be charged with three Class A misdemeanors, punishable by up to a year in prison and a $25,000 fine, and a Class B misdemeanor, which is punishable by one day in jail and a $2,000 fine, according to KTUU.
Sarah Palin did not immediately respond to a request for comment. It was not immediately clear if Palin had retained an attorney. Alaska State Troopers also did not immediately respond to a request for more information.
Track Palin was arrested last year on suspicion of domestic violence against his father.
He was charged with felony burglary, assault in the fourth degree and criminal mischief for causing property damage in Wasilla, Alaska, according to court records. Palin's father, Todd Palin, was listed as the "victim" in the case, which is currently before Veteran's Court, KTUU reported.
Palin also was arrested in January 2016 in Wasilla and charged with assault, interfering with a domestic violence report and misconduct involving weapons.
Palin's girlfriend told the officer that he "struck her on the left side of her head near her eye with a closed fist," sending her to the ground, according to court documents.
Palin pleaded guilty to misconduct involving weapons for possessing a weapon while intoxicated, online court records show, but the domestic violence charges were later dismissed by prosecutors.
Sarah Palin suggested at the time that her son's arrest stemmed from post-traumatic stress disorder after a year-long military deployment in Iraq.