Sarah Palin, the former governor of Alaska and 2008 Republican vice presidential nominee, sued The New York Times on Tuesday alleging that the newspaper defamed her in an editorial that appeared to link her to political violence after the shooting of House Republican Whip Steve Scalise earlier this month.
The Times said it would "vigorously" fight the action.
Scalise, R-La., and three other people were wounded on June 14 by a gunman who fired a volley of shots at Republican lawmakers practicing in Alexandria, Virginia, for the annual congressional baseball game.
In an editorial titled "America's Lethal Politics" — an unsigned piece by the paper's editorial board — the newspaper included language from a political action committee associated with Palin among examples of "how vicious American politics has become."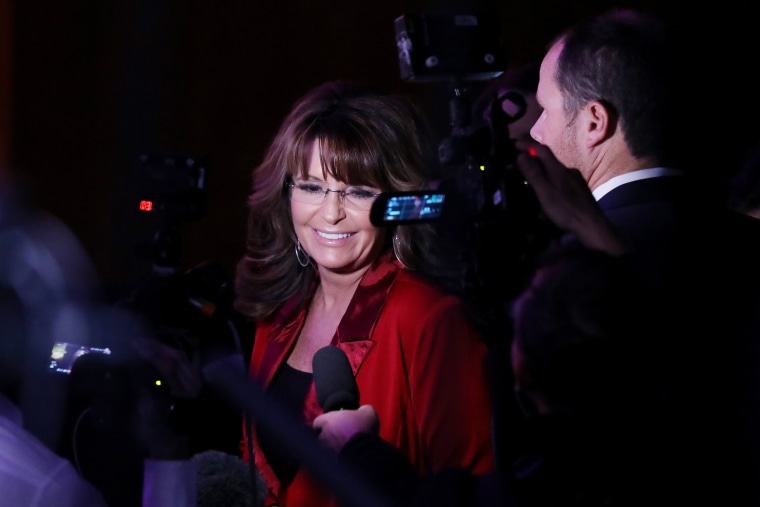 Citing the 2011 shooting of Rep. Gabrielle Giffords, D-Ariz., in Tucson, the editorial said: "Before the shooting, Sarah Palin's political action committee circulated a map of targeted electoral districts that put Ms. Giffords and 19 other Democrats under stylized cross hairs."
Palin strongly objected to the editorial in a Facebook post, calling it "sickening" and characterizing it as an attempt "to destroy innocent people with lies and more fake news."
In fact, writings by the gunman in the 2011 case, Jared Loughner, made it clear that he'd been planning the attack for a long time before the Palin map was circulated. Moreover, the map didn't depict Giffords and the other Democrats themselves in cross-hairs — only outlines of their congressional districts.
The Times soon corrected the editorial, saying there was no link between political rhetoric and the 2011 shooting, as well as clarifying its depiction of the map. The correction didn't mention Palin by name.
In the lawsuit (PDF), filed in U.S. District Court in Manhattan, lawyers for Palin accused The Times of having published "a statement about her that it knew to be false" and of following up with a correction that didn't sufficiently make up for "the falsehoods that the paper published."
"The underlying premise of the Palin Article is that there is a 'sickening' pattern of politically incited violence against members of Congress and that this pattern stems from Mrs. Palin's direct and clear incitement of Loughner's 2011 shooting in Arizona," the suit argues.
"But The Times fabricated this supposed 'pattern' and Mrs. Palin's role in it, resurrecting a debunked connection between Mrs. Palin's political activities and Loughner's 2011 rampage in Arizona. By doing so, The Times implicitly attacked the conservative policies Mrs. Palin promotes and drove its digital advertising revenues at Mrs. Palin's expense," it says.
The Times told NBC News in a statement Tuesday night: "We have not reviewed the claim yet but will defend against any claim vigorously."
Palin's lawsuit also cites research that includes MSNBC among news outlets described as having referred to Palin hundreds of times, purportedly to promote a "left-leaning" agenda. (MSNBC is a division of NBCUniversal News Group, the parent company of NBCNews.com.)