This holiday season, the Illinois State Capitol is celebrating both Santa and Satan.
A statue designed and funded by the Satanic Temple of Chicago is on display in the statehouse in Springfield along with a Christmas tree, Nativity scene, and a menorah.
The resin sculpture, which the Satanic Temple has dubbed a "Snaketivity," depicts a hand holding an apple, with a snake wrapped around it. The arm and hand are 18 inches tall, said Dave Druker, the press secretary for the Illinois Secretary of State's office, which maintains the capitol building.
The figure rests on a 4-foot tall base that reads "Knowledge is the greatest gift."
When Chicago's Satanic Temple announced the design on Instagram last month, the group said they were "bringing a message to the Illinois state capital that religious freedom means freedom of representation for ALL religions... not just the ones that don't offend Christians."
The group launched a GoFundMe page with the goal of raising $1,500 to cover construction, transportation and installation costs.
"Please consider what you may do to help us bring Satan to Springfield!," the page read. The group raised $1,700.
The Satanic Temple has chapters all over the country. According to their website, the goal of the group is to "encourage benevolence and empathy among all people, reject tyrannical authority, advocate practical common sense and justice, and be directed by the human conscience to undertake noble pursuits guided by the individual will."
The statue will remain in the capitol until Dec. 29. Illinois residents have mixed feelings about its presence, according to NBC affiliate WMBF.
"I suppose it is their free speech rights to do that, so I can't deny that. But do I agree with it? Absolutely not," said Garret Moffett. "I can't disagree with the statement in itself but when it's coming from a satanic or a cult group, my response would be that everything about Satan is a lie."
Druker told NBC News that when the Satanic Temple of Chicago applied to display the statue, "our attorneys felt that there's no question that it's a First Amendment issue, and this group had a right to express their thoughts."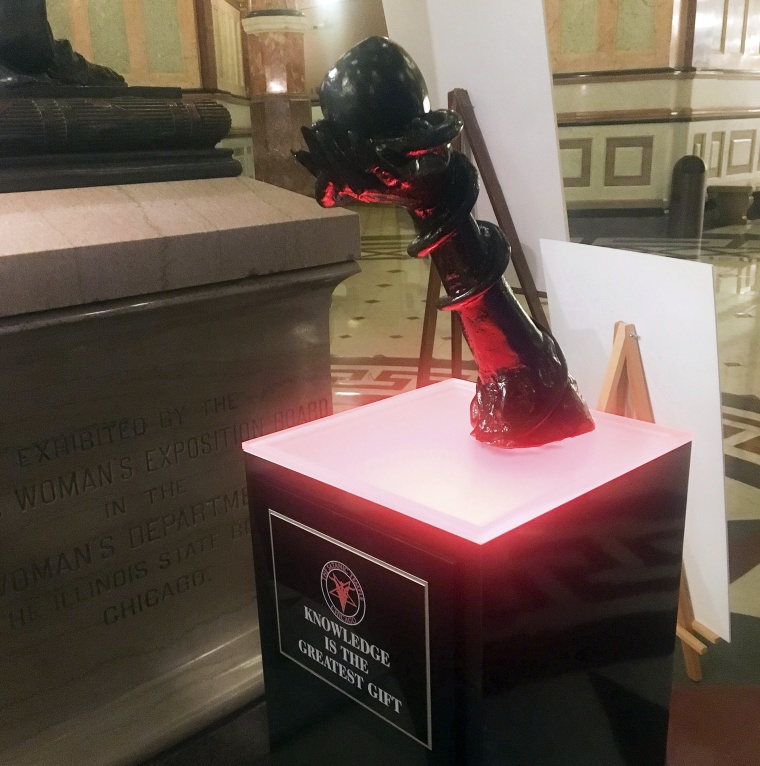 Another holiday-season display in the capitol is a statement from the Freedom from Religion Foundation, which reads in part: "Religion is but myth and superstition that hardens hearts and enslaves minds," Druker said.
And for years, he said, "we had a young man from Springfield who submitted a Festivus pole, and we had that one up too," referring to a decoration for a holiday created by the character of Frank Costanza on "Seinfeld."