Two Saudi Arabian sisters who had been living in Virginia and were discovered dead and bound together near the edge of New York's Hudson River were likely alive when they entered the water, investigators said.
The bodies of Tala Farea, 16, and Rotana Farea, 22, were found in the river along Manhattan by the New York Police Department on Oct. 24. They were bound in duct tape together at their waists and feet, facing one another, and both fully clothed.
Suicide remains "a leading theory," a law enforcement official told NBC News. But a previous suspicion that the sisters jumped from the George Washington Bridge seems unlikely since their bodies lacked signs of trauma associated with a fall from that height.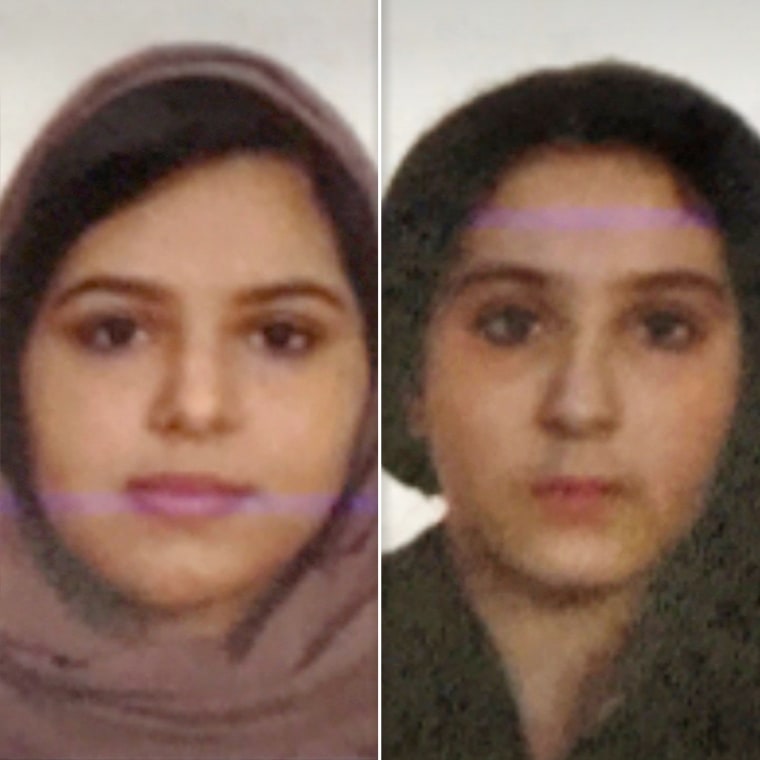 The sisters were last heard from on Aug. 24 and reported missing on Sept. 12, according to a statement from the Fairfax County Police Department in Virginia.
Police said their mother told detectives she had received a call from an official at the Saudi Arabian Embassy the day before the bodies were discovered. The embassy was ordering the family to leave the U.S. because her daughters had applied for political asylum, the mother said. Tala and Rotana had moved to the U.S. from Saudi Arabia with their mother in 2015, according to The Associated Press.
"We are out to get justice for those two girls and find out exactly what happened," New York Chief of Detectives Dermot Shea said Tuesday.
A statement from the Saudi Consulate General in New York said the State Department and the Embassy of Saudi Arabia in Washington were also investigating the sisters' mysterious deaths, and the consulate had "appointed an attorney to follow the case closely."
Both sisters were students in Washington, along with their brother, the statement said.
Rotana was enrolled at George Mason University, but left in the spring, the school said in a statement.