Before he gave Alex Murdaugh two consecutive life sentences for murdering his wife and younger son, South Carolina Circuit Court Judge Clifton Newman admonished the former lawyer for his lack of remorse and said he must reckon with his conscience and the "monster you've become."
"Remind me of the expression you gave on the witness stand ... 'Oh, what tangled web we weave.' What did you mean by that?" Newman asked Friday in a packed Colleton County Courthouse.
"I meant when I lied," Murdaugh, 54, said. "I continue to lie."
Click here to follow live coverage.
Murdaugh spoke in court only briefly and did not address his role in what happened to his wife, Margaret, and their younger son, Paul, when they were fatally shot June 7, 2021, at the family's estate.
He has proclaimed his innocence since a grand jury indicted him in the murders last year, and prosecutors alleged he killed them to gain pity before being exposed for a slew of financial crimes.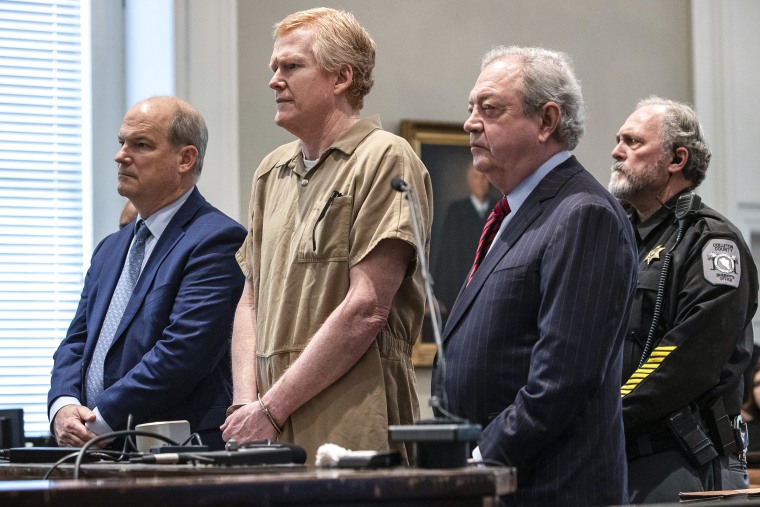 At his trial, Murdaugh took the stand and admitted lying repeatedly to investigators and said he was dishonest about his alibi on the night of the murders because of his addiction to pain pills and general paranoia.
"I respect this court, but I'm innocent," Murdaugh, shackled in a tan jail jumpsuit, told the judge at his sentencing. "I would never under any circumstances hurt my wife, Maggie, and I would never under any circumstances hurt my son, Paul Paul."
"It might not have been you," Newman responded. "It might have been the monster you've become when you take 15, 20, 30, 40, 50, 60 opioid pills. Maybe you become another person. I've seen that before. The person standing before me was not the person who committed the crime, though is the same individual."
Lead prosecutor Creighton Waters told the court Friday that there would be no victim impact statements ahead of Murdaugh's sentencing.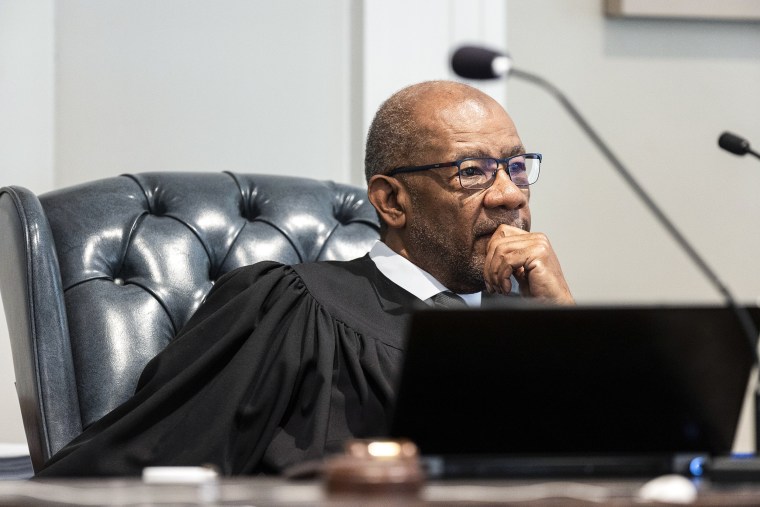 Murdaugh's defense lawyers told NBC News they planned to appeal the conviction. Throughout the roughly six-week trial, they objected to several of the court's rulings, including the admission of Murdaugh's financial crimes into evidence.
At the sentencing, Newman noted Murdaugh's lineage as the scion of a powerful legal family in South Carolina's Lowcountry and how they had run in the same legal circles.
Murdaugh was a personal injury lawyer and part-time prosecutor before being disbarred last summer. His family's name runs so deep in the Lowcountry that a portrait of Randolph "Buster" Murdaugh Jr., his late grandfather and a top prosecutor for 46 years, had to be taken down from a back wall of the courtroom during the trial.
A portrait "I had to have removed in order to ensure a fair trial was had by both the state and the defense," Newman said.
"As a member of the legal community and well-known member of the legal community, you've practiced law before me and we've seen each other in various occasions throughout the years, and it was especially heartbreaking for me to see you going from being a grieving father who lost a wife and son to being a person indicted and convicted of killing them," the judge added.
"And you've engaged in such duplicitous conduct here in the courtroom, here on the witness stand and as established by the testimony," he said.
Newman added that several witnesses placed Murdaugh at the crime scene despite his claims that he wasn't there, and that only "necessitated more lies and continue to lie."
"Within your own soul, you have to deal with that," he said. "And I know you have to see Paul and Maggie during the night times when you're attempting to go to sleep. I'm sure they come and visit you."
"All day and every night," Murdaugh responded.
"They will continue to do so," the judge said, adding, "A gregarious friendly person caused their life to be tangled in such a web, such a situation that you yourself spun. And it's so unfortunate because you had such a lovely family."