A school bus collided with a transit bus and another vehicle in Baltimore Tuesday morning, killing six people, police said. No children were on the school bus at the time.
The crash happened around 6:30 a.m. ET, when the school bus hit a Mustang, struck a traffic pillar and then continued into oncoming traffic — where it crashed into the transit bus, Baltimore police said.
"It basically ripped the entire driver's side off the vehicle," police spokesman T.J. Smith said at a press conference. "It literally looks like a bomb exploded in the bus."
The school bus driver was among those killed. The other five fatalities were on the Maryland Transit Administration bus, Smith said.
Ten other people were taken to hospitals with injuries ranging from minor to critical, Smith added, including an aide who had been on the school bus, and the Mustang driver.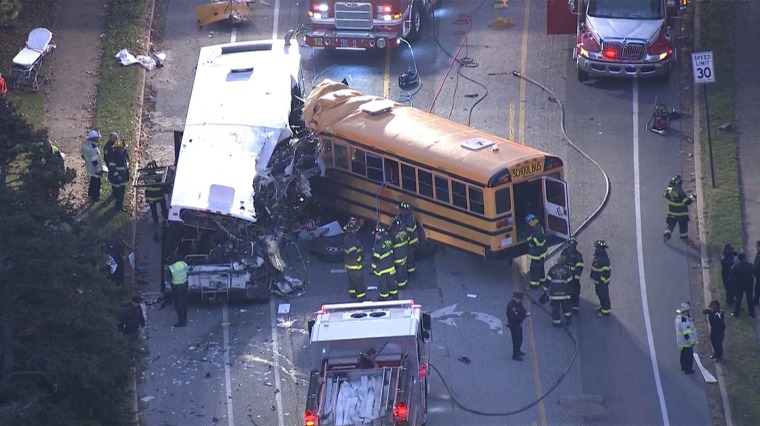 Police don't know what caused the bus to lose control.
"Something catastrophic took place, and it's something that we're continuing to investigate," Smith said.
The victims' identities were not immediately released.
The incident occurred in the city's southwest, as the school bus driver was on his way to pick up students.
Maryland Gov. Larry Hogan said he was prepared to offer state assistance to investigators if necessary.
"Our deepest condolences go out to the victims and their families in the wake of this tragedy. We will continue to pray for those who were injured, as well as the first responders who worked swiftly and continue to care for the injured," he said in a statement.