Meredith Blackwood's typical workday begins at 7:30 a.m. in a classroom full of third graders — and ends as late as 11 p.m. in a factory across town.
Blackwood, 27, is a teacher at Cayce Elementary in Cayce, South Carolina, where she made $36,000 for the 2018-19 school year. Her husband, Chancen Blackwood, 30, a teacher in the same school district, made $35,000.
The Blackwoods live in a state that pays teachers one of the lowest starting salaries in the country.
With annual raises that have so far been small, their combined incomes don't cover their monthly bills. So when an unusual income booster at a local drug manufacturer arose several months ago, they took it, joining hundreds of other South Carolina teachers forced into long workdays just to get by.
After their school day ends, on weekends and during school breaks, the Blackwoods don red scrubs and hair nets and join the assembly line at Nephron Pharmaceuticals in neighboring West Columbia, which, since March, has given part-time work to more than 650 teachers.
The teachers' responsibilities vary. Some days they check syringes for imperfections; other days they package drugs to be sent to hospitals or assemble the boxes the drugs go into. They typically work in four-hour shifts.
For the Blackwoods, it adds to an already packed day of working extra jobs at school to make ends meet.
Meredith, who this year was named Teacher of the Year at her elementary school, works at her after-school program and summer school, and Chancen coaches football in addition to being a strength and conditioning coach and teaching health and physical education classes at Brookland-Cayce High School. Over the summer, he's also designing training programs for student-athletes in his school's weight room.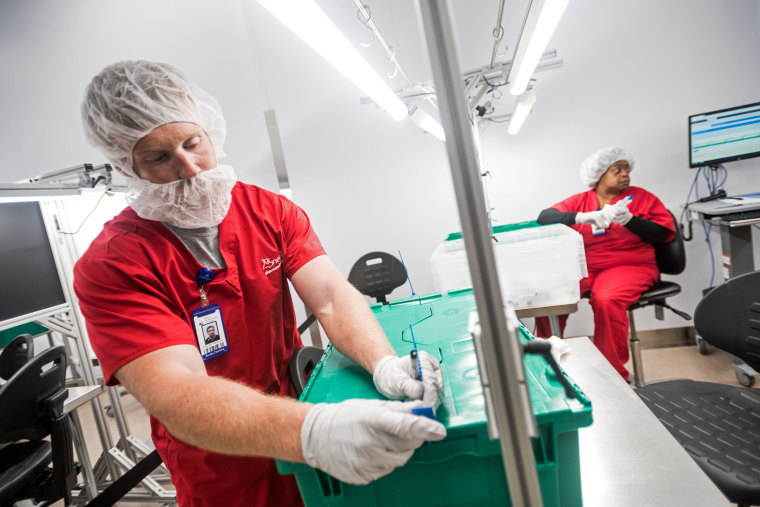 But none of their gigs on school grounds pays them as much on an hourly basis as Nephron, where they make $21 an hour.
In interviews with almost a dozen educators who moonlight at the factory, teachers said the work doesn't utilize their skill sets, but offers money that they couldn't turn down. Some spoke of using the extra cash to pay down debt, make car payments or save for big trips they had always hoped to go on. Others said it gave them a chance to put money in the bank, something they were not able to do from teaching alone.
"I never would have thought in a million years that I would be wearing a hair net and rubber gloves and working in this factory," said Heather Herndon, 56, a kindergarten teacher at Rocky Creek Elementary School in Lexington, South Carolina, who is using the extra money to start a nest egg toward her retirement.
"I'm trying to take advantage of it, but some teachers try to work so much at Nephron to augment their income that they're exhausted and can't really do their job. So I'm cognizant of that."
South Carolina, like many other parts of the country, is struggling to retain its teachers, largely because state lawmakers have resisted several efforts to give them substantial raises.
Those in the profession are finding it almost impossible to make a living wage, and out of necessity, are taking on odd jobs after their school day ends, whether it's laboring at factories, checking tickets at concert venues, or working retail jobs to bring in a little extra cash.
"I love what I do. I never got in it for the money. But that was before I realized how many bills there are."
For Meredith Blackwood, who is using her Nephron money to pay down the $15,000 she and her husband have in student loans, being a teacher is about the relationships she builds with her students, many of whom come from low-income families. She felt deeply connected to the 27 eight- and nine-year-olds in her class this year. But her salary has posed a problem.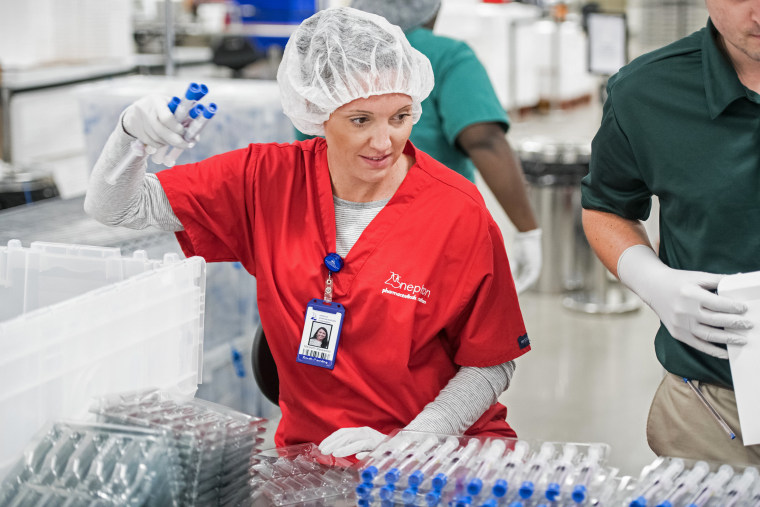 "With what we're making, there's not a lot of extra money," Blackwood said. "I love what I do. I never got in it for the money. But that was before I realized how many bills there are."
Small improvements in a state where pay is particularly low
Across America, the teaching profession is in crisis.
In the past year, overworked educators from California to the Carolinas have staged mass protests over classroom sizes that are too big, textbooks that are falling apart, and pay that is inadequate.
Their desperation is perhaps most evident in South Carolina, a state with a public school system that has consistently ranked among the bottom in the country.
The state also pays notoriously little: $50,182 for the average teaching salary in 2017-18 — about $10,000 less than the national average — and an average starting salary that until recently, was stuck at $33,148, according to the National Education Association, which represents more than 3 million teachers and education support professionals. Only three states pay new teachers less.
Teachers in South Carolina say that even accounting for the state's low cost of living, the salary is not adequate, especially given that it's lower than what neighboring states pay.
This has resulted in a teacher shortage in the state.
More than 5,300 teachers left South Carolina's public schools ahead of the 2018-19 school year, while just over 1,640 received a teaching degree, according to the Center for Educator Recruitment, Retention and Advancement, a nonprofit that aims to grow the teaching profession in South Carolina.
But there have been small improvements this year.
In June, Republican Gov. Henry McMaster signed a budget that increased beginning teachers' salaries to $35,000, and gave other teachers a four percent or more raise. That amount, compared to last year's salaries, would move South Carolina's starting salary from fourth lowest to 12th lowest.
And lawmakers are working to make other reforms: in January 2019, the state's Republican House Speaker, Jay Lucas, proposed a sweeping education policy overhaul bill that would reduce the amount of state-mandated testing, hire an education "czar" who would oversee improving education at every grade level, and consolidate the state's smallest school districts to give them a chance to spend more per student.
But some teachers say these are not the types of reforms they need. SC for Ed, a 30,000-member grassroots education advocacy group, says it wants higher salaries that are not compromised by higher health care costs; better working conditions, such as protected classroom planning time during the school day and smaller class sizes; and more equity and funding statewide, so all school districts reap benefits.
"We're thankful this was taken up. We just wish there was a different process to have teachers involved in the beginning," said Dottie Adams, a SC for Ed board member and an eighth grade science teacher in Columbia.
Lucas' bill passed the House but stalled in the state Senate, and is expected to be taken up again in January's legislative session. In the meantime, Lucas and Rita Allison, a Republican who chairs the state House Education Committee, will be meeting with teachers to further understand what they need from the state, a spokesperson for Lucas said.
Advocates hope they will look into more ways to reform the entire education system.
"Teachers and school principals should have a lot more autonomy and flexibility to build the schools in the way that they want to design the curriculum and spend budget resources and things like that, and we have systems that don't really allow for that flexibility and innovation," said former middle school teacher Josh Bell, who is now the executive director of the Charleston Coalition for Kids, which works to elect school board members who will deliver the best outcomes for students in Charleston, South Carolina.
"We're asking teachers to move mountains in their classrooms and come up with a really outstanding plan to meet the need of students," Bell said, "many of whom are far behind."
A history of not providing 'minimally adequate' education
The state has a troubled history with education, experts say, with problems that date back centuries, starting with the period when it deprived education to black children due to anti-literacy laws passed in the slavery era. Even today, the state fails many black students: In 2017, the most recent year of data available, only 27 percent of all eighth grade students were considered proficient in their reading achievement level, which included 37 percent of all white students but just 11 percent of all black students, according to data from the South Carolina Department of Education.
Similarly, the same year, 26 percent of all fourth graders in the state were proficient in math; 37 percent of all white students at that grade level tested proficient, while only 12 percent of black students did.
In 1999, the state Supreme Court found that legislators were depriving poor, rural school districts of a "minimally adequate education" — an underwhelmingly low bar for public schools. While some changes were made at the pre-kindergarten level, the state did very little else to improve education across the board, according to Jon Hale, a University of South Carolina associate professor whose research focuses on education history.
Ramifications of the case were explored in a 2018 series by The Post and Courier in Charleston, which found that state leaders' refusal to make education reforms had led South Carolina's academic standards to continue slipping as other nearby struggling states, such as Louisiana, Tennessee and Mississippi, overhauled and improved their schools.
The paper also found that a third of South Carolina's high school graduates are unprepared for most jobs, according to state test results. And certain rural and poor districts, still saddled with the effects of being underfunded for decades, do not have even a dozen career-ready grads out of the entire graduating class.
Booming businesses but no money for public schools
What sets South Carolina apart from some neighboring states, which have no major industries to support public services including education, is that the Palmetto State is a business hub. Its tourist spots bring in millions of dollars every year. And the state is home to major factories owned by some of the biggest companies in the country, including Boeing Co., Daimler and Mercedes-Benz.
But the tax breaks that lure big businesses to South Carolina have come at a cost to the state's public schools, to the tune of $318.2 million a year, according to the Post and Courier.
Experts say there have been other financial factors that have prevented South Carolina from improving its schools.
A 2006 law, Act 388, eliminated homeowner property taxes for school operations that most states use to fund their schools, substituting it with a 1 percent tax on home sales dedicated to schools. But the math from the law, which went into effect in 2007, just as the U.S. housing crisis proliferated, has not worked out.
"The sales tax is not a sufficient replacement for the property tax. The sales tax does not generate the hundreds of millions that it was supposed to," Hale said.
On top of the funding troubles, the state also has no collective bargaining rights for its teachers. With no unions, Hale said "a culture of fear, intimidation and silence" has pervaded the profession.
That has changed in recent months. On May 1, SC for Ed organized a rally, inspired by walkouts around the country, in which thousands of South Carolina teachers marched to demand reforms to the state's education system.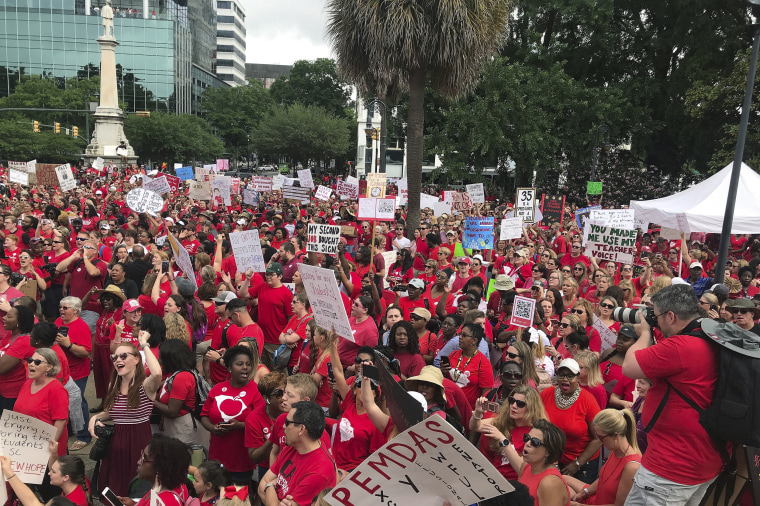 "Teachers are fed up," said Lisa Ellis, a high school journalism and media teacher in Columbia who has taught for 18 years and who started the SC for Ed Facebook group. "You're in the classroom all by yourself and you're responsible for 18 to 30 human beings, and that can be very overwhelming. The Facebook group helped them realize they're not alone, and gave them the courage to speak out."
Committed to teaching at all costs
Nephron Pharmaceuticals does not want to lure teachers away from the profession. The educator program was created by the drug manufacturer's female CEO and president, Lou Kennedy, whose mother was a teacher; it caps teachers' hours at 40 a month. Kennedy said her goal is to show "how much we should respect teachers and how much they mean to us" and show legislators that teachers need more money and support.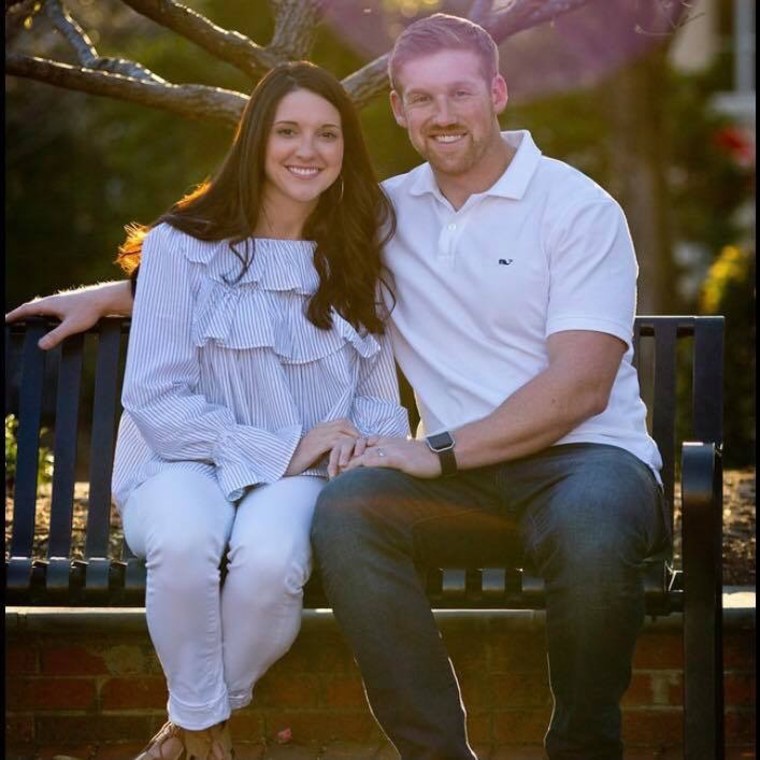 Despite the challenges to their jobs, the Blackwoods have no plans to leave their profession. In the winter, Meredith Blackwood hopes to start her master's degree, which, upon completion, will raise her annual income by about $6,000 a year.
They have managed to stretch their incomes for the time being. Once they pay off more of their student loans and the mortgage on a starter home they purchased a couple of months ago, they would like to start a family.
In the meantime, the couple is doing whatever it takes to reduce their debt. And Meredith Blackwood has never wavered in her commitment to her students.
"I feel like every day when I come to school, my students need me, regardless of whether I've been at Nephron the night before. I know when I walk in this building the next morning, they need me," she said. "I love the students. I do it for them, and I hope to make an impact on their lives."
CORRECTION (July 12, 2019, 9:20 a.m.): A previous version of this article misstated where Cayce Elementary school is located. It is in Cayce, not West Columbia, S.C.