The music executive accused by Taylor Swift of unfairly trying to control her songs said Friday that his family has received death threats, which he suggests have come from the pop star's loyal fan base.
Scooter Braun, whose company, SB Projects, owns the rights to Swift's first six studio albums, appealed to the singer in an Instagram post early Friday, saying he fears for the safety of his wife and children.
"Since your public statement last week there have been numerous death threats directed at my family," Braun wrote. "I came home tonight to find my wife had received a phone call threatening the safety of our children."
Swift, who is set to be honored Sunday as artist of the decade at the American Music Awards, has claimed that she was told not to perform her greatest hits by Braun and Scott Borchetta, chief executive of her former label, Big Machine Records.
Last year, Swift and Big Machine Records parted ways when she signed with Universal Music Group. Big Machine Label Group was acquired by Braun's holding company in June.
"Scott Borchetta and Scooter Braun have now said that I'm not allowed to perform my old songs on television because they claim that would be re-recording my music before I'm allowed next year," Swift posted Nov. 14.
Swift, who has 85.1 million followers on Twitter and 123 million on Instagram, urged her fans to reach out directly to Braun and Borchetta.
"I just want to be able to perform MY OWN music," she wrote. "That's it."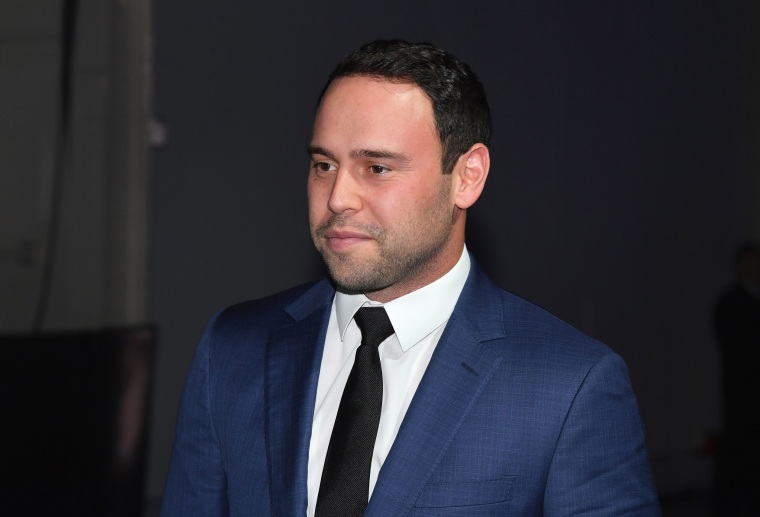 SB Projects said the music is cleared for Swift to perform at the awards show.
Braun in his post Friday said, "I am certain there is no situation ever worth jeopardizing anyone's safety."
"I assume this is not your intention but it is important that you understand that your words carry a tremendous amount of weight and that your message can be interpreted by some in different ways," Braun continued. "While disappointed that you have remained silent after being notified by your attorney 4 days ago of these ongoing threats, I'm still hopeful we can fix this."
NBC News reached out to Swift's representatives Friday for a response but did not immediately hear back.