Videos released by Charlotte police showing the fatal shooting of Keith Scott give rise to more questions about why the father of seven was gunned down by an officer, one of Scott's family members said Saturday after the videos and other information were made public.
"We are delighted as family that the videos were released — our goal from the beginning was to get the absolutely unfiltered truth," said Scott's brother-in-law, Ray Dotch.
Related: Charlotte Police Release Video From Keith Lamont Scott Shooting
"Unfortunately, we are left with far more questions than we have answers," Dotch said. "It does not make sense to us how this incident resulted in the loss of life."
Police on Saturday released two videos showing the moments leading up to and when Scott was shot. Neither video shows whether or not Scott had a firearm in his hand during the incident, Charlotte-Mecklenburg Police Chief Kerr Putney said before the videos were released. He said other evidence concluded that Scott was in possession of a gun.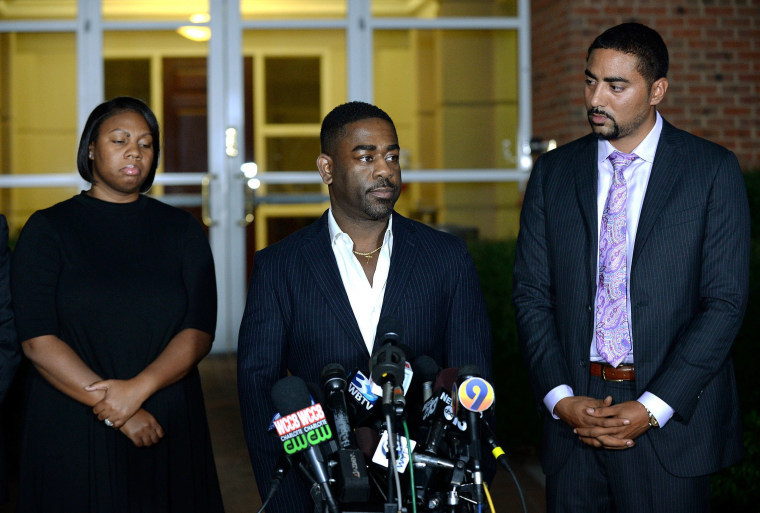 Police also released photos of a gun and an ankle holster that police said Scott was in possession of at the time of the shooting. Police said Saturday a lab analysis determined the presence of Scott's DNA and fingerprints matching Scott were found on the gun.
Scott's family has maintained that he wasn't holding a gun when he was shot Tuesday, which set off four nights of protests in the city.
Related: Why Viewing Bodycam Video Isn't Easy Under New N.C. Law
Scott's wife, Rakeyia Scott, who on Friday released a video she took of the moments leading up to the shooting, has seen the police video and "doesn't see him having a gun," said Justin Bamberg, an attorney for the Scott family.
"When I look at the dashcam footage, I don't see anything there that would lead to him losing his life," Bamberg said.
"Mr. Scott steps out of vehicle, does not appear aggressive towards any law enforcement officers, does not make gestures or motions as if he's arguing with anybody, does not lunge at the officers, he has his hands by his side," Bamberg said.
Scott's family claims he had suffered a traumatic brain injury, and his wife can be heard on her video yelling that to police before he was shot.
"One of the things that disturbed me is the failure of the police to use all the resources at their disposal. ... This isn't last time the police department will encounter a brain injury," said attorney Charles Monnett at the news conference after the video was made public.
Police had earlier in the week declined to release police video of the encounter.
"I have decided that we're at a stage where I can release additional information without adversely impacting [the State Bureau of Investigation's] investigation," Charlotte-Mecklenburg Police Chief Kerr Putney said at a news conference Saturday afternoon. "Prior to this point, it would have had an impact."
"The footage will not prove anything true or not it, only can support the physical evidence," he said, adding that new evidence as a whole would provide "the most complete puzzle" that police could offer.
The Scott family was permitted to view the police video Thursday.
Protests have been held in Charlotte each night since Scott was shot. North Carolina Gov. Pat McCrory declared a state of emergency and activated the National Guard after protests turned violent Tuesday and Wednesday, and Charlotte Mayor Jennifer Roberts put in place a midnight-to-6 a.m. curfew. Demonstrations Thursday and Friday were peaceful.
Marchers hit the streets in Charlotte again Saturday. Bamberg said the Scott family was "strong" and encourages protesters to "express your voice, but do that in the appropriate way."