The Supreme Court appears torn over the use of race in college admissions and may not be ready to make a decision without more information.
Several justices on Wednesday asked about the value of ordering more hearings in a case from Texas that they've now heard twice. Additional evidence might determine whether the use of race is necessary to increase diversity at the University of Texas.
The justices rehashed many of the same arguments they discussed three years ago in the case of Abigail Fisher. Justice Anthony Kennedy — who's crucial to the outcome — said there's information "we should know and don't know."
Their skepticism about the issue was on display during more than 90 minutes in a packed courtroom.
Conservative Justice Antonin Scalia questioned whether some minority students are harmed by the policy because it helped them gain admittance to schools where they might not be able to academically compete.
"There are those who contend that it does not benefit African Americans to get them into the University of Texas where they do not do well, as opposed to having them go to a less-advanced school, a slower-track school where they do well," Scalia said referencing an amicus brief.
Other justices had similar questions.
"What unique perspective does a minority student bring to a physics class?" Chief Justice John Roberts asked at one point, challenging a part of Texas' argument that says their program is needed to increase diversity at the classroom level.
Opponents of affirmative action in college admissions are hoping they can cripple the positive discrimination measure — if not outright kill it.
The University of Texas at Austin says students learn better when there's diversity on campus and within racial groups. But lawyers for a woman who was denied admission to the school say that's too vague a standard to justify distinctions based on race.
Potentially complicating the outcome, Justice Elena Kagan is sitting out the case because she worked on it at an earlier stage at the Justice Department, before joining the court. Her absence creates the possibility of a 4-4 split. That would resolve the case in Texas' favor, but say nothing about the issue nationally. The other three liberal justices appeared solidly in favor of the Texas program.
The Supreme Court gave a limited victory to the university two years ago, agreeing that campus diversity is a worthy goal. But it instructed the Fifth Circuit Court of Appeals to review whether considering an applicant's race in college admissions was necessary to achieving it.
Related: More than 160 Asian-American Groups File Briefs in Support of Affirmative Action
When the appeals court ruled in favor of Texas, opponents went back to the Supreme Court, and the justices agreed to take another look — even though the student, Abigail Fisher, graduated from a different university three years ago and is well past having a direct stake in the outcome.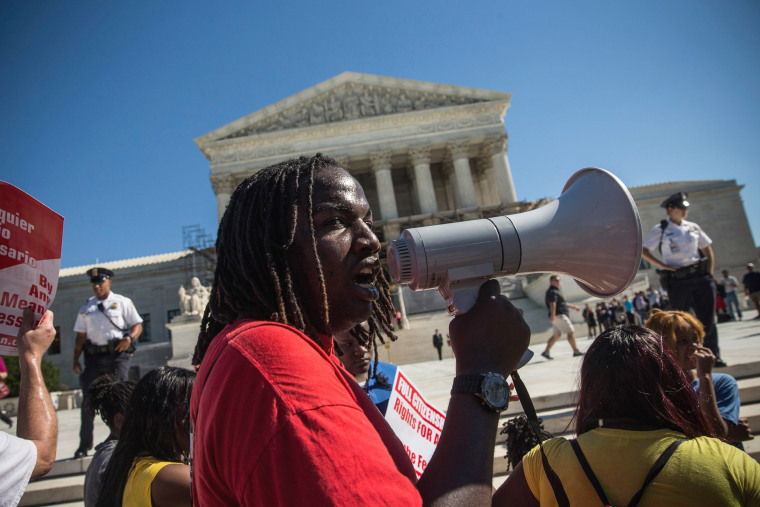 "The very fact that this conservative Supreme Court reviews every decision upholding the program leads you to believe that the justices are very skeptical, and limitations on affirmative action are coming," says Tom Goldstein, publisher of SCOTUSblog and a Washington, D.C., lawyer who argues before the court.
Racially segregated by law for its first 70 years — the school did not admit the first African-American until 1950 — the University of Texas at Austin has tried several means of increasing minority enrollment. A state law now guarantees admission to students in roughly the top 10 percent of the graduating class of any Texas high school.
To fill the remaining slots, about one fifth of each entering class, the school considers several other factors, including an applicant's race.
Related: Appeals Court: Texas Can Use Race in Admissions
Fisher and affirmative action's opponents argue that the Top Ten plan has increased minority enrollment and created a racially diverse campus. In order to justify considering an applicant's race, they argue, the university should have a concrete goal, because racial classifications must pass a rigid legal test.
"UT has never been clear about precisely why it needs to use racial preferences," says Bert Rein, a Washington, DC lawyer representing the opponents.
While the university has asserted that it wants to achieve diversity within racial groups on campus, "the use of race as a factor in admissions can distinguish students only as to one trait — race," Rein says, adding that the school "has failed to show that race-neutral means could not achieve this supposed interest."
In response Washington, D.C., lawyer Gregory Garre, representing the university, says it seeks "minority students — and students of all races — from different backgrounds, with different experiences, and different perspectives. That is the essence of diversity."
The Top Ten percent plan can go only so far, Garre says, because the Texas public school system remains largely segregated, with overwhelmingly Hispanic schools in the San Antonio and Rio Grande valleys and predominantly African-American schools in Houston and Dallas.
The school says it seeks the flexibility to admit minority students who — though they were not in the top 10 percent of their classes — have valuable experiences, such as an African-American student who was a student body president in a mostly white school.
Related: How Does the Supreme Court Pick Cases?
"Just as overcoming adversity may distinguish an applicant, minority or otherwise, so too may showing an ability to cross racial lines and maneuver outside one's 'bubble'," Garre says.
The NAACP agrees. It says eliminating affirmative action "would set in concrete a caste system in which black and Latino UT students likely would be the products of underfunded and underperforming Texas high schools, while white UT students would likely be derived from better funded and better performing high schools."
Many of the nation's highly selective universities, from Yale in the East to Stanford in the West, have filed friend-of-court briefs urging the court to uphold affirmative action. So have 45 Fortune 500 companies and 36 former leaders of the US military, who argue they need leaders who come from a diverse background.
The Supreme Court's decision is expected by late June.