The U.S. Supreme Court seemed divided Wednesday over whether immigrants held in detention for lengthy periods deserve the chance to argue for their release on bond.
And depending how the incomplete bench of eight justices is swayed, legal experts predict the outcome stands to severely impact president-elect Donald Trump's vows to detain and deport more immigrants than ever before.
The lives of thousands of undocumented immigrants and even those here legally are on the line as they await a decision and, in the meantime, fight orders of deportation.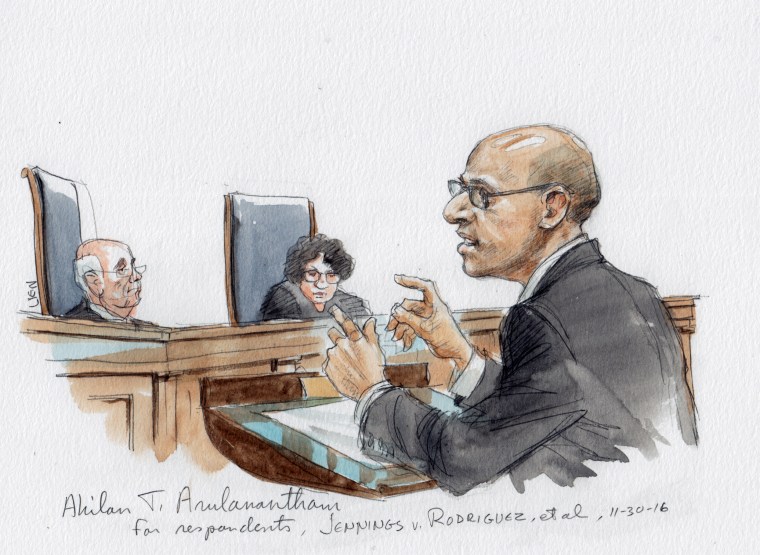 "You can't just lock people up without any finding of dangerousness, without any finding of flight risk, for an indefinite period of time, and not run into due process," Justice Elena Kagan said during oral arguments.
Chief Justice John Roberts seemed to mull whether a lower court should handle the matter.
"Our job is to read the statute and if it presents — if it's unconstitutional, that's our job," he said. "But we can't just write a different statute because we think it would be more administrable."
Trump made a name for himself in championing a harsh line on illegal immigration. But he already faces a number of practical and resource limitations to carry out his pledge to swiftly deport as many as 3 million undocumented immigrants.
And if the justices side with the lower courts and find that immigrants should be able to fight their detention, the result would make it nearly impossible for Trump to keep his campaign promises at the rate he has proposed, said Holly Cooper, co-director of the Immigration Law Clinic at the University of California Davis.
"If Trump wants to implement his plan, he would have to create enormous infrastructure to do so," Cooper said.
Related: SCOTUS to Decide if Indefinite Immigrant Detention is Illegal
Trump's primary impediment would be a notoriously backlogged immigration court system that has all but stalled deportation proceedings on a massive scale.
According to the Syracuse University-based Transactional Records Access Clearinghouse, cases take an average of two and a half years to complete. The Obama administration has scrambled to hire more immigration judges to clear out the log jammed dockets. But still there are a record 521,676 cases still pending in the immigrant courts.
The extreme backlogs are a main contributor behind why immigrants, even green card holders and asylum seekers, have languished behind bars for years to fight their deportation.
Michael Tan, staff attorney for the American Civil Liberties Union's Immigrant's Rights Project, which brought the class action lawsuit says the case became all the more urgent since the presidential election, in part because Trump has pledged to implement a hiring freeze within his first 100 days in office.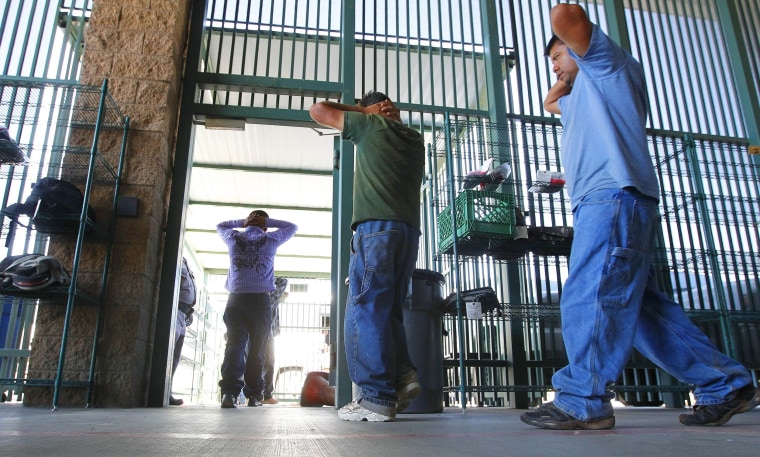 Without more immigration judges, coupled with Trump's plan to step up deportations, it means more immigrants in detention for longer durations, Tan says.
"A federal hiring freeze would effectively paralyze people's cases and will take all the longer to be decided," he added.
The Obama administration on Wednesday defended its broad authority to use detention as an enforcement tool. From a practical sense, the government has maintained that it is necessary to keep immigrants eligible for deportation in federal custody while their cases are processed.
The U.S. is already detaining more than 40,000 immigrants nationwide under Obama, the highest the country has ever seen.
Related: Donald Trump's Deportation Plan Must Still Overcome These Roadblocks
Should the Trump administration exceed that capacity, Aaron Reichlin-Melnick, a staff attorney with the American Immigration Council, said the bond hearings would provide immigrants an extra layer of protection in ensuring that the people with strong legal cases to remain in the U.S. aren't wrongfully deported.
"The bail and bond structures are so important that we enshrined it in the Constitution," Reichlin-Melnick said. "It should not be taken away lightly."