The U.S. Supreme Court Monday ducked a ruling on the highly contentious issue of contraceptive coverage for religiously affiliated non-profits, while endorsing the outlines of a potential compromise.
It was an outcome dictated by a court of only eight justices who appear evenly split on the central questions in the case.
The highly unusual decision sent the issue back to the courts of appeal, but did so with a strong endorsement of a possible compromise that would allow employees to receive insurance coverage for birth control without requiring the non-profits to play any role in providing it.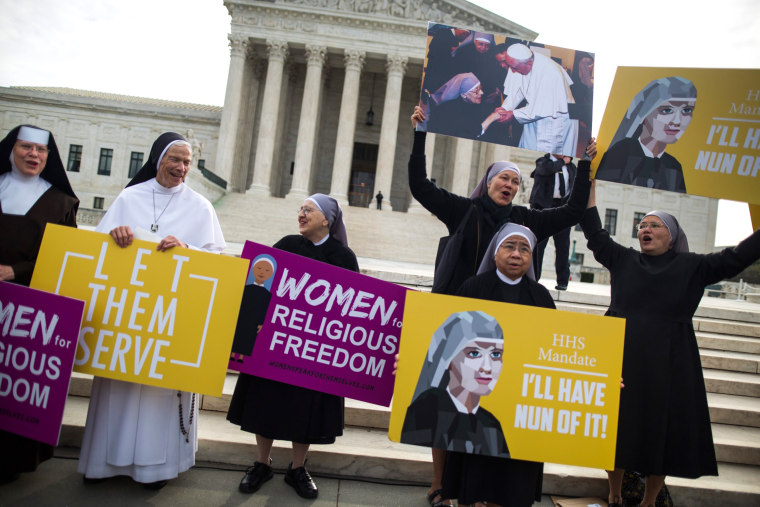 "Today's opinion does only what it says it does: "afford[s] an opportunity" for the parties and Courts of Appeals to reconsider the parties' arguments in light of petitioners' new articulation of their religious objection and the Government's clarification about what the existing regulations accomplish, how they might be amended, and what such an amendment would sacrifice," they wrote.
Related: Supreme Court Appears Headed for Tie in Obamacare Case
Monday's decision involved two dozen religiously affiliated schools, seminaries, hospitals, and charities from around the nation that challenged a provision of Obamacare requiring them to include coverage for contraceptives in their health care plans. One of them was The Little Sisters of the Poor, a Catholic-affiliated charity.
Houses of worship and their auxiliaries are completely exempt from the requirement. The law allowed religiously affiliated organizations to opt out of directly providing contraceptive coverage.
Related: Supreme Court Vacancy Complicates Debate Over Obamacare, Birth Control
But the groups claimed that the opt-out accommodation made them complicit in providing access to birth control and abortion, which violates their religious views.
In its three-page, unsigned opinion, the Supreme Court noted that the groups and the government indicated, after the case as argued, that a potential compromise could be possible. The groups would simply arrange for insurance plans that did not cover contraceptives, and the plan providers would then be responsible for arranging for the coverage on their own.
The justices explicitly said they were not deciding the underlying legal issues — whether the existing rules burdened the groups' religious freedom, or whether the government nonetheless had a compelling need to enforce the rules.
Religious organizations applauded Monday's ruling.
"The fines that threatened the Little Sisters with the end of their work caring for the poor elderly will not be imposed. Instead, the government will have to find a way to fulfill their mission -- massively increase access to contraception, including abortifacient drugs — while respecting the deeply held religious beliefs of these good women and not hijacking their insurance plans," said Grazie Pozo Christie of The Catholic Association.
Monday's ruling allows the government to provide contraceptive coverage to the dozens of groups involved in the lawsuit, but it also says the government cannot impose fines on those groups for refusing to comply the original coverage rules.