In April, Immigration and Customs Enforcement raided a meatpacking plant in rural Tennessee, arresting 97 people. In June, 114 people were arrested at a gardening business in Ohio. And in the latest raid, last month in Sumner, Texas, ICE agents arrested 159 people at a trailer manufacturing company.
Each crackdown set off a triage response by immigration lawyers and advocates, who say the routine has become familiar, but not any easier, in recent months. As the Trump administration targets companies illegally employing immigrants in rural areas, national and state groups have scrambled to send resources to small towns where nonprofits and lawyers are quickly overwhelmed. In each case, they set up crisis centers in churches, provide pro bono legal aid or consultations, distribute donated items and seek to reassure frightened residents.
"We saw the first red flag in Tennessee, then we saw it happen Ohio, we saw it twice in Utah about six weeks ago, then we also saw it in Nebraska and now here in northern Texas," said Carlos Rojas, a volunteer from New Jersey with the immigrant rights group Movimiento Cosecha. "We have seen so many heartbreaking stories."
Felix Villalobos, the managing attorney at the immigration advocacy group Raices's Dallas office, was among those who raced to arrange legal help for the affected families in Sumner, Texas, about two hours northeast of Dallas, after the Aug. 28 raid.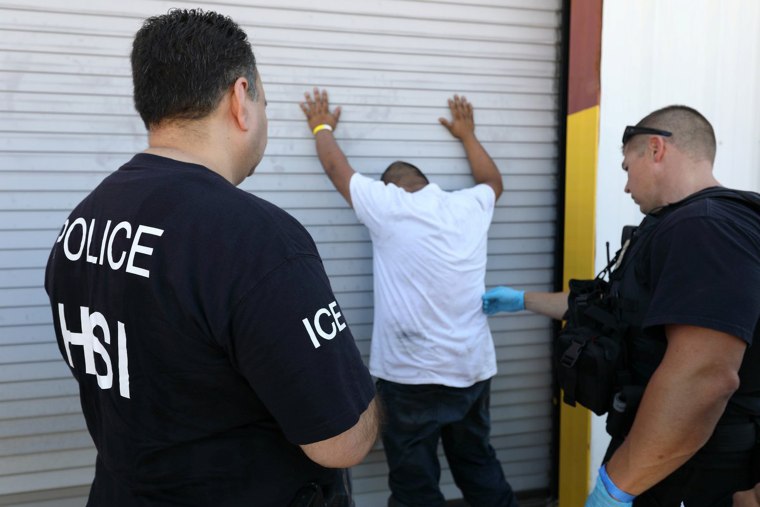 Villalobos said there were few legal resources in that area. "We immediately mobilized so we could provide free consultations to those that were affected and connect with a local church in that area," he said.
Raices has offered legal consultation to more than 170 people affected by the Sumner raid and has helped pay bond for about 20 of the detainees, with an average bond of $5,000.
Over the past several months, advocates say they've seen a pattern in ICE's workplace targets, which followed the Trump administration's pledge to step up arrests at companies accused of employing immigrants who are not authorized to work in the U.S.
"They focus on small employers in rural communities where they expect to encounter less resistance," said Jessie Hahn, a labor and employment attorney with the National Immigration Law Center who worked on the response to the Tennessee raid in April. "Everyone involved will have less access to legal counsel and the ability to fight back."
ICE did not immediately respond to a request for comment on the raid tactics.
THE SUMNER RAID
Load Trail, the trailer manufacturer in Sumner, hit the government's radar when Homeland Security Investigations received information that the company may have knowingly hired people who were in the country illegally, some of whom may have been using fraudulent identification documents, according to a statement from ICE. On the day of the raid, ICE executed a search warrant at Load Trail, with more than 300 federal agents and other staff descending as helicopters circled overhead. Load Trail employee Dennis Perry told The Dallas News that agents "drew their guns and told everyone to hit the ground."
At a news conference after the raid, Katrina W. Berger, special agent in charge of Homeland Security Investigations' Dallas office, called it a "big deal" and said it was "one of the larger worksite enforcement operations conducted at one site in the past 10 years."
Berger added that the raid should serve as a warning to other employers: "You may have gotten away with it, but we're watching and we're coming," she said.
That type of rhetoric is adding to the fear in immigrant communities in rural areas that have been left "dismantled" by large-scale raids, said Rojas, the volunteer with Movimiento Cosecha.
"Immigrants are scared of going outside, they're scared of picking up their children, they're scared of going to work," he said.
Nancy, 36, whose husband José was arrested in the Load Trail raid and has not been granted bond, said his absence has devastated her and their six children, who range in age from 6 months to 16 years.
"They destroyed me," she said through tears in Spanish.
Nancy, who spoke on the condition that her last name not be used because of her husband's pending immigration case, said that to comfort her 6-month-old son she has been keeping one of his father's shirts next to his crib. Her 3-year-old asks every day when his father is coming home, she said.
STRETCHED RESOURCES
While legal resources flow into communities like Sumner in the immediate aftermath of a raid, the difficulty is in sustaining the long-term legal and mental support families need as their cases make their way through immigration courts.
As one raid follows another, lawyers and nonprofit leaders say their resources are being stretched increasingly thin, with volunteers still responding in a small town in one state when ICE targets a town hundreds of miles away.
"After the initial emergency nature dies down over time, there's still so much work that has to be done," said Hahn, with the National Immigration Law Center.
One question many in Sumner want answered as the investigation there unfolds is whether Load Trail falsely promised undocumented workers that they would receive visas. Rojas, of Raices, said workers were told that if they agreed to have amounts totaling thousands of dollars deducted from their paychecks over the course of months, they would receive legal worker visas. He said he has seen worker pay stubs that showed $200 deductions for visas, though those workers were not eligible for visas.
"To our knowledge, that's all been a fraud," Rojas said.
An ICE representative declined to say whether the agency was investigating the paycheck deductions.
Load Trail did not respond to a request for comment.
The company issued a statement after the raid saying that the family-owned business "has been a pillar of the northeast Texas community for over 20 years."
"The company employs over 700 people, and has supported our community through a broad range of charitable causes," the statement continued. "Load Trail always works diligently to abide by all laws. The actions today by the Federal Immigration Customs Enforcement Agency (ICE) are disappointing, as are the inaccuracies found in most reporting so far. Though we are surprised by today's developments, we intend to fully cooperate with the government's investigation — and to make sure the full and accurate Load Trail story is made known."
Like dozens of other family members of Load Trail workers who were arrested, Nancy is waiting for her husband's phone calls from a Texas detention center and following up with their family's lawyer. While her oldest children know about the immigration raid, some of the younger ones just know that their father is in some kind of trouble and repeatedly ask when they will see him again.
Soon, she tells them.
"Sometimes they don't want to eat," she said. "They say they don't want to eat until their father comes home and we can all eat together."