A fistfight erupted between pro-Trump demonstrators and counter-protesters on the sands of a Southern California beach on Saturday, while Philadelphia police were looking into an officer's use of force in that city as "Make America Great Again" rallies were held across the country.
Six people were arrested in Huntington Beach, California, after what California State Park Police Capt. Kevin Pearsall called "a disagreement of beliefs" between some in the crowd of 2,000 pro-Trump demonstrators and some of a small group who showed up in opposition.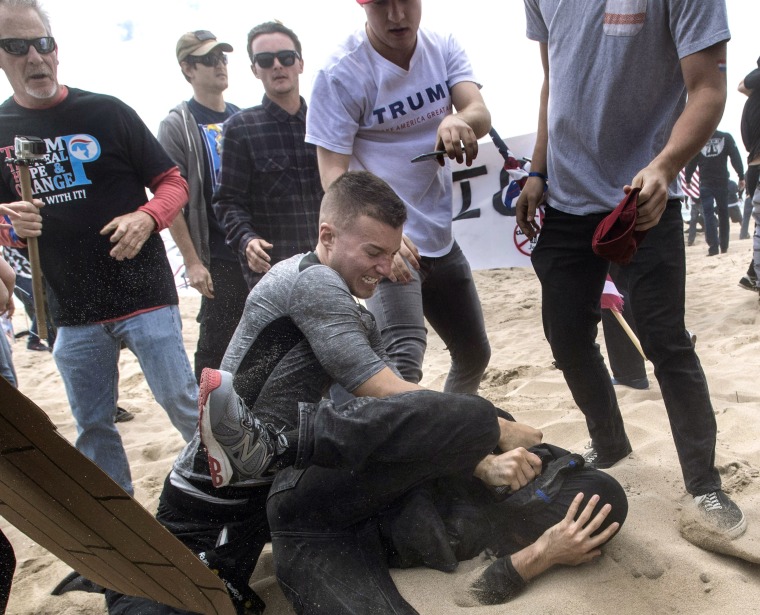 Some of the arrests were for "illegal use of pepper spray," Pearsall said. NBC Los Angeles reported that pepper spray was allegedly used in one instance by an anti-Trump protester who claimed he was defending his friend.
Video of the incident shared on social media shows what appears to be a skirmish between several Trump supporters and counter-protesters wearing masks.
Police estimate around 2,000 attendees gathered at the rally, with 30 to 40 people showing up in opposition.
In Philadelphia, supporters of President Trump held a "MAGA" rally on the steps of Independence Hall. Waving American flags and Trump/Pence signs, supporters praised the president and his administration's commitment to the military and the police, according to NBC Philadelphia.
Nearby, counter protesters blared bullhorns and carried flares as they attempted to disrupt the rally. Philadelphia police were on hand to prevent the protests from turning violent, according to NBC Philadelphia, and two people were cited for disorderly conduct before the rallies dispersed.
Video of an event Saturday appeared to show a police officer swinging a bike at someone at one of the events. It was not clear to which group the person belonged, or what occurred before.
Philadelphia police public information officer Sgt. Eric Gripp told NBC Philadelphia that police are aware of the video and are looking into it.
Some of Trump's supporters said they turned out Saturday because they feel the president is being unfairly portrayed as racist and opposed to Islam.
"We are here to show that we are not racists, we are not Islamophobic, we aren't bigots," Kelly McHuth of Auburn, Massachusetts, told NBC Boston at the rally in that city.
At a pro-Trump rally in Omaha, protesters carrying anti-fascist signs caught up to the marchers, and were blocked by police on bikes, NBC affiliate WOWT reported. Police said eight people were arrested overall, and most of those arrested were counter-protesters, not Trump supporters. One woman threw a smoke grenade, police said.
At Oregon's Capitol Mall in Salem, state police said there was one arrest after a 31-year-old man sprayed a trooper with pepper spray after police were called to a disturbance between two opposing groups. NBC afilliate KGW reported that a fistfight broke out.
The man who was arrested, Matthew Curtis Heagy, was also charged with being a convicted felon in possession of a firearm, after troopers found a concealed gun on him, according to police. The gun was never displayed during the incident, police said.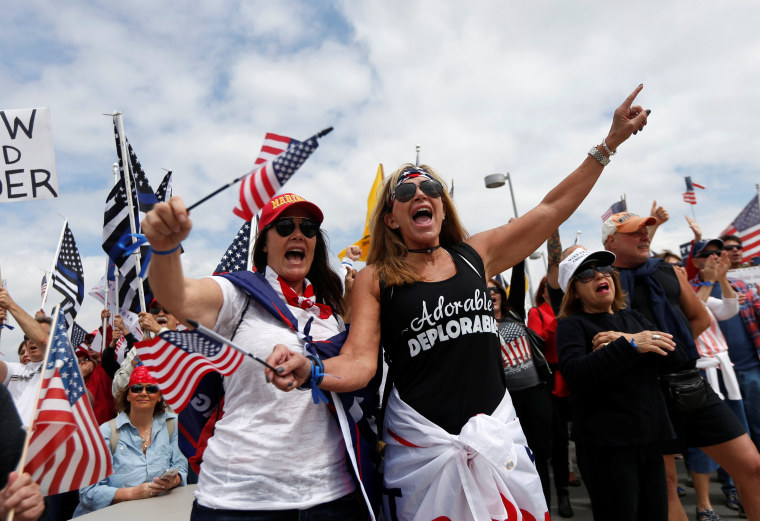 An organizer for the pro-Trump rally in Salem told KGW that he was disappointed that a fight broke out. "We are really looking to work with everybody and not just people on our side," Frank George IV told the station.
There were no arrests or incidents reported at a pro-Trump rally in Boston, although at one point competing groups were separated by a line of police, NBC Boston reported. Around 2,000 people turned out at a pro-Trump rally in Seaside Heights on the Jersey Shore. Police said no arrests were made.
President Donald Trump tweeted his thanks to supporters for holding rallies Saturday, reiterating his signature promise to "Make America Great Again."