SAN DIEGO — A father and son have been indicted on charges of smuggling illegally harvested sea cucumbers worth more than $17 million into the United States and selling the Chinese delicacy on Asian markets.
Depending on the species, sea cucumbers can go for as much as $300 a pound in China and Hong Kong, authorities say.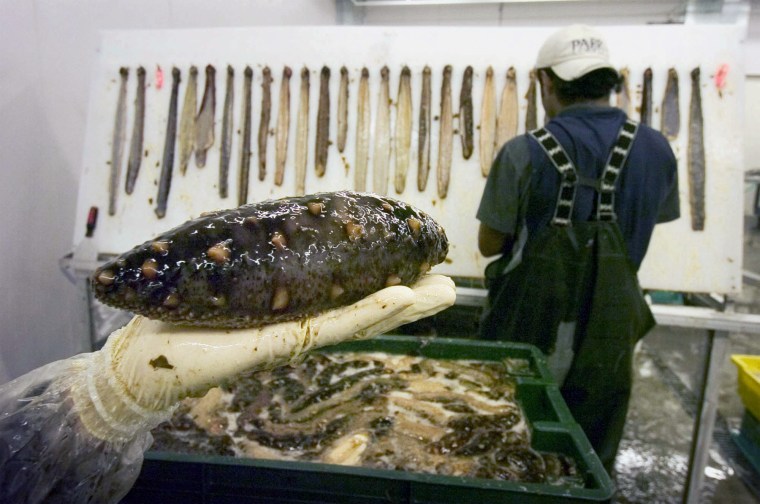 Ramon Torres Mayorquin and his son, David Mayorquin, were charged in federal court in San Diego of conspiracy, false labeling and unlawful importation of wildlife, according to The San Diego Union-Tribune. Their company, Blessings Inc. of Tucson, Arizona, was also charged.
The sausage-shaped marine animals are prized by some Asian communities as a culinary delicacy and folk-medicine ingredient.
"Sea cucumbers are taking up quite a bit of our time down at the border," said Erin Dean, resident agent in charge of the U.S. Fish and Wildlife Service's Southern California region.
"It's a high-valued commodity that's being smuggled in small quantities across the border, and then consolidated here in the U.S. and then, we believe, being shipped out to Asia," she said.
Buying and selling sea cucumbers can be a legitimate business if people have the proper permits and operate in season. The Mayorquin family had a permit, but federal authorities said they also operated outside of the law.
Between 2010 and 2012, the family knowingly agreed to purchase roughly $13 million worth of illicitly harvested sea cucumbers from poachers operating off the Yucatan Peninsula, according to the indictment filed Wednesday. They then allegedly imported the product and sold it to Asian markets for about $17.5 million.
Ramon Torres Mayorquin allegedly received the shipments in Tijuana and smuggled them to the United States at San Diego's Otay Mesa border crossing. David Mayorquin organized the sales to China and other locations.
To hide their trail, prosecutors said the men routinely falsified documents and even worked with conspirators to bribe Mexican officials. In one such case, they allegedly paid at least $32,000.
No one answered the phone at Blessings Inc. after business hours Thursday.