The Seagram's heiress who belongs to a self-help group accused of sex-trafficking has been quietly paying the legal fees for co-defendants and witnesses in the sensational case, federal prosecutors say.
The big bucks being paid out by Clare Bronfman, 39, could pose a conflict of interest because "it may subject an attorney to undesirable outside influence; and raises an ethical question 'as to whether the attorney's loyalties are with the client or the payor,''' prosecutors say in filings in Brooklyn federal court.
Bronfman, who has homes in New York, Fiji and California, has plenty of money; her father was billionaire liquor mogul Edgar Bronfman, and she's out on a $100 million bond on money laundering and identity theft charges in the explosive NXIVM case.
Clare Bronfman was on the board of NXIVM — pronounced "nexium" — and is charged with helping to run what prosecutors say was a criminal enterprise.
NXIVM founder Keith Raniere, court papers say, coerced female members into acting as his sex slaves in a secret society within the group called DOS. Many of them were branded with Raniere's initials, prosecutors say.
Another co-defendant, former "Smallville" actress Allison Mack, is charged with recruiting women into DOS, and then making sure they did as they were told.
In a court filing Monday, Mack's lawyers argued the case against her should be dismissed, contending in part that while she did recruit women into DOS, she didn't know that they would be pressured to have sex with Raniere. In fact, she told two of the women upon joining that they "had to be celibate for six months," the filing claims. They also argue the charges against Mack are "vague and deficient," and her "conduct simply does not fit the crimes with which she is charged."
Her co-defendants have said they plan to file a motion to get charges against them dismissed as well.
In all, six people are charged in the racketeering case.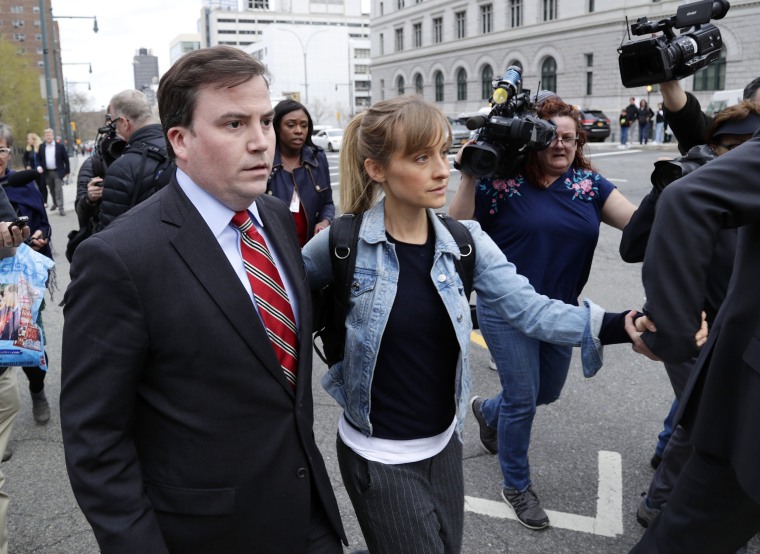 In a filing Friday, prosecutors said they've discovered that Bronfman is "the primary contributor" to an irrevocable trust fund that's been paying the legal fees for her co-defendants.
"The government has learned that the legal fees of multiple witnesses and potential witnesses are also being paid by Bronfman or the Trust, and that there have been efforts to pay the legal fees of other witnesses," the filing reads.
Prosecutors say that arrangement could be problematic — and already has been.
They said one witness was referred to a private attorney earlier this year by one of the defendants in the case. The lawyer "explained to Witness #1 that his fees were being paid for by Clare Bronfman. The attorney told Witness #1 that he recommended that she invoke the Fifth Amendment in response to the government's questions in the grand jury," the filing says. He also told her that if she didn't plead the Fifth, he "would not feel comfortable" representing her.
Prosecutors asked the judge presiding over the case to hold a hearing on the issue. The judge ordered the defendants to file individual responses by Wednesday.
Marc Agnifilo, the lawyer for Raniere, said the filing is much ado about nothing.
"As I informed the court at the inception of the case, an irrevocable trust has been created with an independent trustee and legal fees are paid from the trust. To the extent that Ms. Bronfman put some, most or all the money into the trust, she has absolutely no control over how the trustee pays out on the legal fees," Agnifilo told NBC News on Monday.
"The government is frustrated that no one has pleaded guilty, and it is blaming that on potential conflicts when the real reason no one has pleaded guilty is because no one is guilty."
Bronfman's lawyer Susan Necheles did not immediately respond to requests for comment. In a statement to NBC in July, she defended her client and NXIVM.
"Clare Bronfman did nothing wrong. NXIVM was not a criminal enterprise but instead was an organization that helped thousands of people," the statement said. "The charges against Clare are the result of government overreaching and charging an individual with crimes just because the government disagrees with some beliefs taught by Nxivm and held by Clare. This is not how things should be done in America. We are confident that Clare will be exonerated. "
The case is due back in court on Thursday.