Four people were killed after a medical helicopter crashed while flying to a hospital in California Thursday night, officials said.
The victims were the pilot, a nurse, a paramedic and a patient, Central California EMS Director Dan Lynch told reporters.
The crew worked for SkyLife, a medical transport service jointly owned by American Ambulance and Rogers Helicopters. The company's staff of about 600 people were celebrating at their annual Christmas party when they got the news.
"People are absolutely devastated," American Ambulance president and CEO Todd Valeri said "We're just consoling one another, telling stories, crying."
The company was still trying to contact families of the victims, Valeri said.
The SkyLife helicopter was traveling from Fresno to San Joaquin Community Hospital in Bakersfield — a 10-minute flight — and a search was started at 7:37 p.m. after there was no contact with the aircraft for 30 minutes, NBC station KGET reported.
Searchers later found a debris field and there were no survivors, Kern County Sheriff's Office Lt. Bill Smallwood officials told NBC News. Bad weather and rain hampered the efforts of searchers, an official with the Kern County Fire Department said.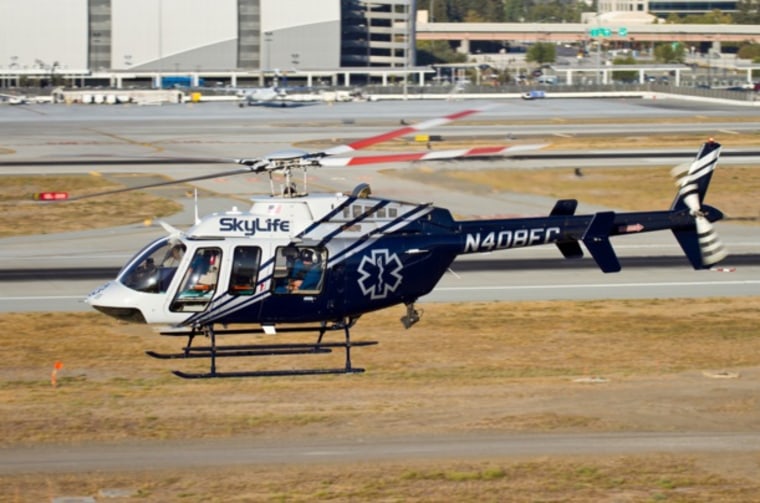 Federal Aviation Administration spokesman Ian Gregor identified the aircraft as a Bell407, with tail number N408FC.
Nothing is known yet about what caused the crash in a rural area of mostly orchards near Sherwood Avenue and Highway 65, north of Bakersfield. The helicopter went down in dense fog in an area known to have overhead powerlines, Valeri said.
"These were very experienced full-time crew members," he said, adding that the company had never had an accident of this magnitude since it was founded in 1991.