The Coast Guard has searched nearly 31,000 square nautical miles as they look for two teenage boys who went missing while fishing off the coast of Florida four days ago, authorities said Tuesday.
Austin Stephanos and Perry Cohen, both 14, were reported missing on Friday after they set out on a 19-foot single engine boat from Jupiter, Florida, earlier that day.
Their boat was found on Sunday, capsized and adrift in the Gulf Stream current, about 180 miles north of where they set off.
"We continue to search for the missing boys," Coast Guard Capt. Mark Fedor said in a statement Tuesday. "We're constantly reevaluating the situation to determine our next course of action, however as each hour goes by, the situation becomes dire."
Related: 'I Know They're Out There," Family Says As Search Continues for Missing Boaters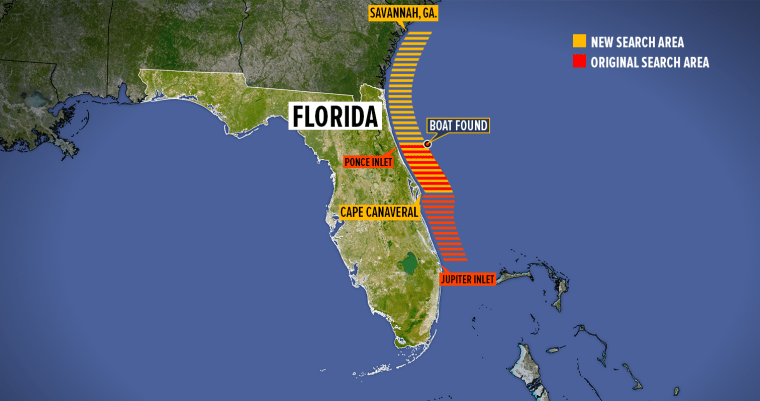 Six Coast Guard cutters, several small boats, and HC-130 Hercules airplanes are involved in the search, which has stretched from Jupiter to Charleston, South Carolina, the Coast Guard said.
The search on Tuesday focused on an area about 100 nautical miles off the coast of where the Florida and Georgia borders meet, the Coast Guard said.
More than 30,992 square nautical miles have been covered, the Coast Guard said, and crews have run 39 search patterns.
The boys' parents say they are athletic and are experienced boaters. The boys' families pleaded for help Monday, asking people to scour the shores for debris or other clues. And football legend Joe Namath, a family friend, announced a $100,000 reward.
A Yamaha engine cover and white YET cooler were on the boat and were not found when the vessel was discovered, Perry's mother, Pamela Cohen, said.
A helicopter spotted a cooler off the Georgia coast, but the Coast Guard said Tuesday it does not appear related to the missing boaters.