Search teams Friday were scouring the area around a steep, slippery trail on Mount Rainier for an experienced, 70-year-old hiker who disappeared Wednesday, park officials said.
Karen Sykes, a writer who penned the "Hike of the Week" column for the Seattle Post-Intelligencer for years, left a hiking companion on part of the Owyhigh Lakes trail Wednesday afternoon and never returned, Mount Rainier National Park public information officer Mimi Gorman told NBC News.
Sign up for breaking news alerts from NBC News
When Sykes failed to appear, her companion went to the trailhead and called authorities to report her missing at around 10:30 p.m. Wednesday, and the search began Thursday morning, Gorman said. Sykes disappeared on a section of the trail about 5,000 feet up.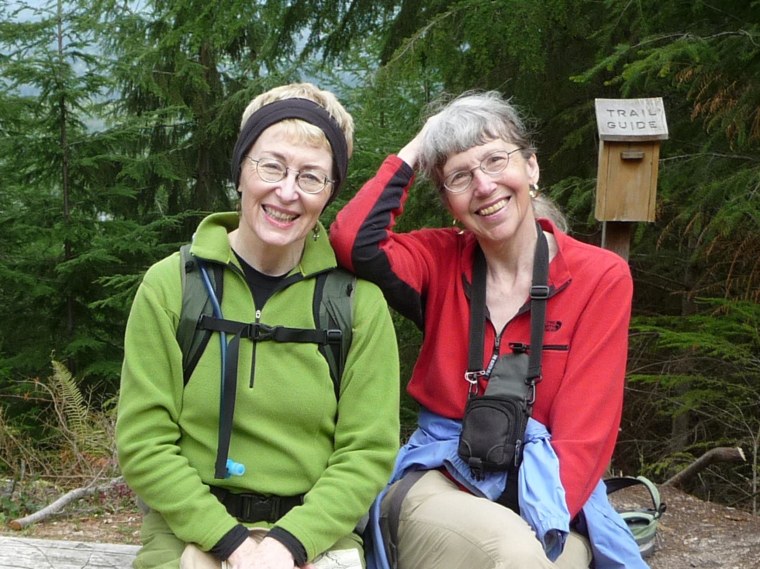 Search teams on foot Thursday searched but found no sign of the missing hiker. On Friday, the weather was clear enough for an MD530 helicopter to join the effort, and rescuers focused on the wilderness adjacent to the trail, Gorman said.
"The search area is pretty steep; it's rugged terrain," Gorman said. "Because this trail is 30 percent snow covered, there's even a concern for our experienced searchers that are out there."
One searcher punched through a snow bridge and was injured Thursday, Gorman said. Rescue teams were scheduled to continue looking until 9 p.m. Pacific time Friday, and then resume the search Saturday morning.
Sykes was carrying equipment to camp overnight, Gorman said.
Sykes planned on writing about the hike for Visit Rainier, an tourism website to which she contributes. A profile on the website said Sykes is a native of Seattle who has been hiking for 35 years, is a passionate photographer and the author of two books on hiking.
"If anybody can survive the wilderness, it's her," Mary Kay Nelson, executive director of Visit Rainier, told NBC News. "Karen is what I would consider an utmost expert, and Mount Rainier is her backyard. We're just hoping for the best."
Sykes' disappearance comes three weeks after six people vanished and are presumed dead on Mount Rainier. Officials said two guides and four climbers, including an Intel Corp. vice president, likely fell 3,000 feet to their deaths on May 28.
Conditions have been too dangerous for crews to attempt to recover the climbers' bodies, officials said.
— Phil Helsel