Authorities in Utah identified the last unaccounted for person in Monday's devastating flash floods that swept away two vehicles as a 6-year-old boy.
Searchers were looking for Tyson Lucas Black, who just turned 6 in August, Hildale Mayor Philip Barlow told reporters Wednesday.
Twelve people have already been confirmed dead after the "wall of water" swept away two vehicles containing members of two families in the small polygamous town on the Utah-Arizona border. Flash floods Monday also claimed at least four lives in nearby Zion National Park Monday.
The National Guard and state resources are assisting in the search. "I'm overwhelmed, not just with the event itself but with the outpouring of help," Barlow said.
The two vehicles swept away contained three sisters who were part of two families and their children, 13 kids in all, Barlow said.
Josephine and Naomi Jessop and seven children in a passenger van died, and one their sons in that vehicle survived, Barlow said. The children ranged in age from 5 to 11 years old.
Della Black and two of her children were in an SUV and was found dead, Barlow said. Two sons survived and another child, Tyson, is the last person missing.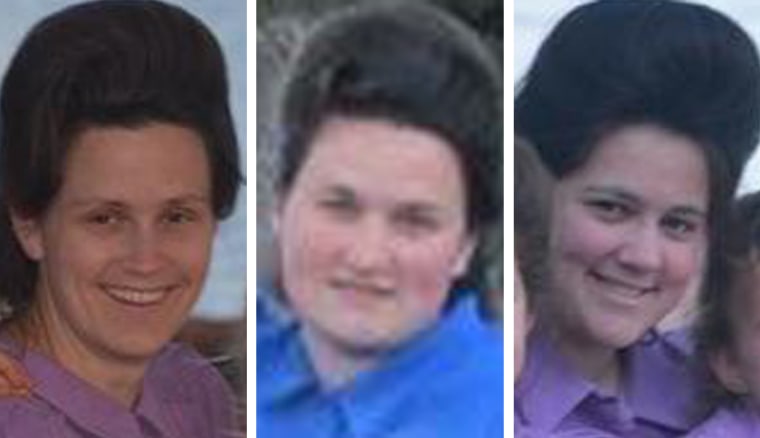 Black and the Jessops are sisters. Their brother, Brian Johnson, told NBC News that Naomi was a mother of three, while Josephine had four or five. Della, he said, had five or six. He had not seen them for around seven years, he said.
Josephine's eldest son was the only one of her children to survive because he got out of the van to get help, he said.
"We are in shock, really," Johnson said. "We're just trying to figure out what's going on with these funerals."
The family was part of the Fundamentalist Church of Jesus Christ of Latter-Day Saints in Texas in 2008 when it was raided by the government, he said.
After the raid, Johnson had taken them in and they all lived together briefly before he was kicked out of the sect, he added.
"They didn't have a chance to live really," he said. "I wished that I had been able to see them more."
A total of 16 people — three adults and the rest children — were returning from a park at around 5 p.m. local time Monday (7 p.m. ET) when they found the road blocked by floods, Barlow said.
Heavy rains fell in the canyons just north of Hildale and its sister town of Colorado City, Arizona, sending waves of water barreling through the streets. The towns sit at the foot of picturesque red rock cliffs about 315 miles south of Salt Lake City.
"I've lived here all my life, and I've never seen anything like this," Mayor Barlow said.
Photo Gallery: Flash Floods Hit Utah
Watching in horror from her home was Virginia Black, who made a video of the once-in-a-century flash flood. "There goes the van!" says Black in a high-pitched voice. "It went over the thing. Oh dear." It is not thought that she is n related to the Black family that died.
Downstream, people rushed to where the vehicles came to a stop. One witness described a gruesome scene of body parts, twisted metal and a young boy who somehow survived.
"The little boy was standing there," Yvonne Holm recalled. "He said, 'Are you guys going to help me?'"
Three children were found alive. The names of those killed were not released Tuesday by officials.
At nearby Zion National Park, authorities found four bodies and searched for three missing hikers who set out Monday to rappel down a narrow slot canyon.
They left before park officials closed the canyons that evening because of flood warnings, park spokeswoman Holly Baker said.
The hikers, from California and Nevada, were all in their 40s and 50s, Baker said. She had no details on their identities.
The search effort was scaled back Tuesday night but would resume in earnest in the morning, the Utah Department of Public Safety Division of Emergency Management said.
Utah Lt. Gov. Spencer Cox told residents that the state is doing all it can to help. He called the flash floods "one of the worst weather related disasters in the history of the state of Utah."
"We just want Hildale to know that we love you, that we're thinking about you, and that we're here to serve you," Cox said at a press conference. "I hope this will bring the state and these communities closer together as we work together to bring to an end this very difficult time.
Hildale served as a home base for polygamous sect leader Warren Jeffs.
Members of the sect, the Fundamentalist Church of Jesus Christ of Latter-Day Saints, whose members believe polygamy brings exaltation in heaven, are believed to be discouraged from watching TV, using the Internet or having much contact with the outside world.
More than four years after Jeffs was sentenced to life in prison for sexually assaulting underage girls he considered brides, the community is split between loyalists who still believe Jeffs is a victim of religious persecution and defectors who are embracing government efforts to pull the town into modern society.
Correction: An earlier version of this story stated that Sheldon Black Jr. and two of his sons had died. They survived. Black's wife and three of his other children were killed.