Oklahoma officials looking for a missing 4-year-old girl found the remains of a child Tuesday, the Oklahoma State Bureau of Investigation said.
"At this time, the OSBI cannot confirm the remains are those of Athena Brownfield," the bureau said in a statement. "The remains will be transported to the Medical Examiner's Office in Oklahoma City for positive identification." 
The couple who had been taking care of Athena Brownfield have been charged in connection with her disappearance.
The remains were found outside Rush Springs, a town in rural Grady County, about 60 miles south of Oklahoma City. Rush Springs is about 25 miles from Cyril, which is where a postal worker spotted Athena's sister wandering by herself this month.
On Monday, after a week of looking for the girl, investigators said their search had shifted to a "recovery operation" to find her remains.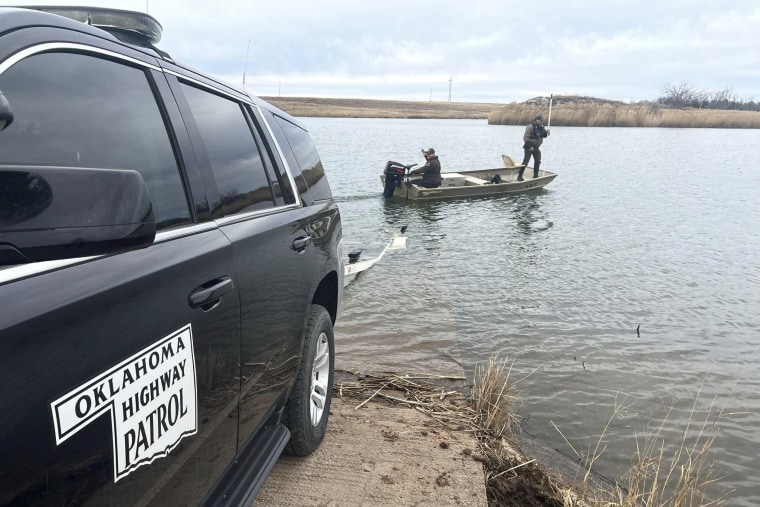 Authorities and volunteers have been searching for Athena since Jan. 10, when a postal worker spotted her 5-year-old sister alone near the girls' home in Cyril, the State Bureau of Investigation said.
Ivon Adams and his wife, Alysia Adams, have been arrested in connection with the case. The State Bureau of Investigation has said the couple are caretakers for the girls.
Alysia Adams, 31, was arrested Thursday by the Grady County Sheriff's Office on two counts of child neglect and booked into the Caddo County Jail on two counts of child neglect, the agency said.
Ivon Adams, 36, was arrested Thursday in Arizona and is scheduled to be extradited to Oklahoma on charges of murder and child neglect, the state bureau said.
It was not clear whether either had attorneys. 
Alysia Adams was related to Athena and her 5-year-old sister, the state bureau said, adding the two siblings had been in her care for at least a year.
Officials have said the sisters' biological parents were cooperating with the investigation and had been interviewed by authorities. Athena's sister has been taken into protective custody, the state bureau said.