Back in the day, their slogan said it all: "Sears, where America shops."
But on the day that Sears Holdings declared bankruptcy, Jon White, who worked at the retail giant's stores in and around Atlanta for nearly four decades, made a sad confession on Monday: "There was a saying that 'if Sears didn't have it, we didn't need it.' But we don't shop at Sears anymore, except if it's a major purchase like an appliance."
White, who is 70 and worked at Sears for 38 and a half of those years, said it pained him to admit that.
Yet, it's why the fact that Sears is now facing insolvency did not come as a surprise to him or any of the dozens of former co-workers he remains in touch with as president of the Atlanta chapter of the National Association of Retired Sears Employees, which is the association's largest group in the country.
"Many are surprised the company was able to stay afloat for as long as it did," he said.
White said he started out as a manager training in the Decatur, Georgia, store. He remembers his years at Sears as good times. He said the company had "terrific" profit-sharing and pension plans "and we treated our co-workers more like family."
"I spent most of my career in the Duluth, Georgia, store," he said. "In March, or maybe it was April, we had a reunion with the people who worked at the store when I did in the '80s. We had a lunch and then we went to the store and, really, it was sad."
Because it was empty.
"It used to be full of customers," he said. "The store used to generate $54 million in sales."
While market experts blame the rise of internet shopping for the decline of brick-and-mortar stores like Sears, White said "that's been the trend even before the start of the internet."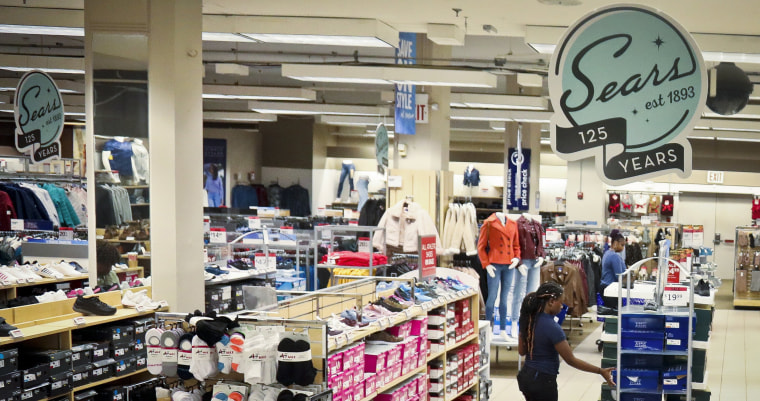 Sears failed to recognize the threats posed by competitors like Walmart and Amazon, he said.
"Sears never really got that," White said, referring to e-commerce. "Just look at the Sears website and you can see it's not user-friendly. People shop on the internet and don't go to the malls like they used to anymore."
White, who retired a decade ago, said for him the writing was on the wall when Sears, then known as Sears, Roebuck & Company, sold its credit card business, which provided more than half of the company's profits, to Citigroup in 2003 for $3 billion cash.
"That was a big moneymaker for us," he said.
Lee "Skip" Baliles, who worked for Sears for 30 years and now serves on the Loganville, Georgia, city council, said, "Sears has been great for America for a lot of years."
"It put food on my table for 30 years, and for that I am grateful," he said. "It was considered the premier retailer in the country."
But Baliles tied the company's downfall to what he and some other workers saw as a big boondoggle: the Sears Tower, the 110-story tower in Chicago that opened in 1973 and was, for 25 years, the tallest building in the world. It's now called the Willis Tower.
Sears had 350,000 employees when it moved into the sky-high flagship headquarters — the most in the world for a retail company.
By 1994, however, when the company sold the building and moved its headquarters to a new facility in suburban Hoffman Estates, Illinois, it had been eclipsed by Walmart, according to news reports.
Sears now employs about 90,000 people, according to published reports.
Baliles said he hopes going into bankruptcy will give Sears some breathing room so it can stage a comeback — although he thinks that's unlikely. The company is more than $5 billion in debt.
GM and Chrysler went through bankruptcies, Baliles pointed out, and "they're both thriving, but I don't know if I would bet on Sears now."
"I believe that if they'd taken this step five years ago they would have had a better chance of surviving," he said.
Last month, Sears CEO Eddie Lampert blamed the company's woes on its retirees. He said the $4.5 billion it had contributed to the pension fund since 2005 could have been used to "compete with other large retail companies, many of which don't have large pension plans."
That was not music to the ears of Ron Olbrysh, 77, who is chairman of the Chicago-based National Association of Retired Sears Employees.
"Recently we've have a good relationship with the folks out in Hoffman Estates," he said. "Unfortunately, the big decisions were made by Eddie Lampert at his Florida mansion."
That said, Sears' decision to declare bankruptcy means the company's long-term pension obligations for some 90,000 retirees should be covered by the federal Pension Benefit Guaranty Corp., said Olbrysh.
What's in jeopardy are the life insurance plans that Sears had been covering — and which the federal government won't be funding.
"Our retirees could continue paying it themselves, but the average age for most of them is 80, so the cost would be prohibitive," he said.
Olbrysh, who started at Sears in 1972 as a trademark attorney, said the company's downfall was long in the making.
"Walmart came on the scene and we completely ignored that," he said. "When Amazon came on the scene, we thumbed our noses at it."
But Olbrysh still gets some satisfaction when he looks out at the Chicago skyline and sees his old office building in the distance.
"Many people still refer to it as the Sears Tower," he said.