Nine firefighters were hurt after an explosion leveled several buildings in Seattle early Wednesday following reports of a natural gas leak, officials said.
The Seattle Fire Department said eight firefighters and a battalion chief were transported to the hospital with minor injuries when a "massive explosion" struck a section of the northern neighborhood of Greenwood.
By Wednesday afternoon all nine had been released from the hospital "in good spirits," the city's fire chief said, and officials were thankful their injuries were not greater. The firefighters were waiting for gas crews when the building exploded shortly before 2 a.m.
"I'm very surprised that our firefighters were not seriously injured from this event," Seattle Fire Chief Harold Scoggins said.
"But they put themselves in the right position in case something like this would to occur, which is what led to them not being seriously injured … I'm proud of the work that they did," Scoggins said.
A resident described the blast as a "loud boom." As many as 36 buildings were damaged in all, many with broken glass, Seattle Mayor Ed Murray said. Three businesses in the building that exploded were leveled.
The initial call of a gas leak came in at 1:04 a.m. (4:04 a.m. ET), and the explosion was felt about 40 minutes later, said Seattle Fire Department spokeswoman Corey Orvold.
The cause has been determined to be accidental, Scoggins said..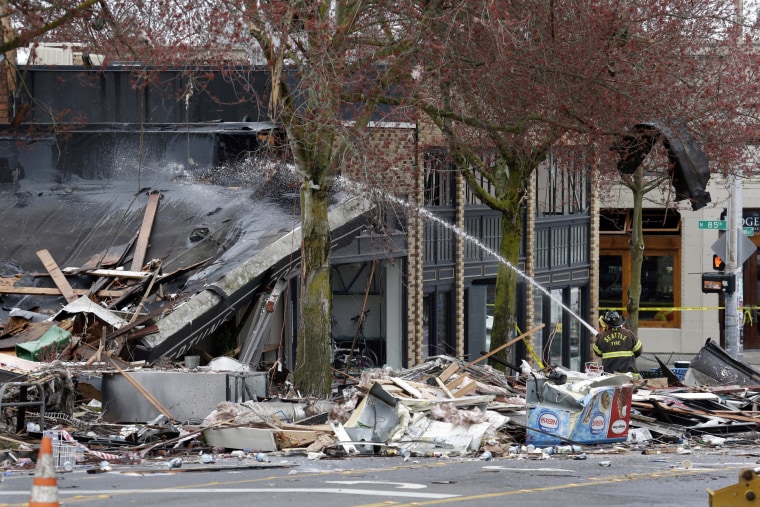 Officials evacuated an apartment building and another multi-family dwelling as dozens of residents said on Twitter they had been woken by the explosion.
"It shook the house," 40-year-old Josh Koolbaugh, who lives a couple of hundred feet away, told NBC News by phone. "It sounded like an extremely loud boom."
Koolbaugh, who works for Boeing, walked to the scene after the blast woke him and his wife.
"I saw three buildings that were all leveled," he told NBC News. "There's nothing but rubble and bricks and there was a fire in the middle of the rubble … it's like something out of a movie."
He said at least three buildings had been destroyed: a local coffee shop, a restaurant and a grocery store.
Emily Pfeifer, a 23-year-old graphic designer who lives four blocks away, said she "heard a low boom and was rocked from a dead sleep, like a single gentle shove."
She added: "The rocking was accompanied by the sound of things shaking briefly in my room. With the sound and movement at the same time. I thought a car must have hit my building."
Murray said the city would do all it can to help in the recovery and cleanup in the neighborhood of Greenwood. Damage to the building that exploded is estimated at $3 million, the fire department said.
"This is a significant devastation of a neighborhood business district in the city of Seattle, and it's going to take a lot of work to help these businesses become vibrant and vital again," Murray said. "But we are committed to that as a city."
A Puget Sound Energy spokesman said control valves that feed the area where the explosion occurred had been turned off amid the investigation. There was no reason to believe there were any other leaks, he told NBC affiliate KING.