The Seattle news helicopter that crashed this week, killing both people aboard, got a few feet off the ground and spun completely around before it plunged into the ground in a fireball, federal investigators said Friday night.
In a preliminary report into the crash Tuesday, which also seriously injured a man on the ground and threw the heart of downtown Seattle into chaos, the National Transportation Safety Board offered no explanation for the incident — something that might not emerge for as long as a year.
Witness accounts and video from three Seattle police security cameras in the area indicate that the helicopter, which was being operated by ABC affiliate KOMO-TV, began rotating counterclockwise almost immediately after it took off at 7:40 a.m. (10:40 a.m. ET), according to the report.
It then pitched downward, still rotating, and completed a full 360-degree spin as it pitched nose-first into an occupied vehicle and terrain near a busy intersection, where it burst into flames as it lay mangled while rush-hour traffic streamed by, the report said.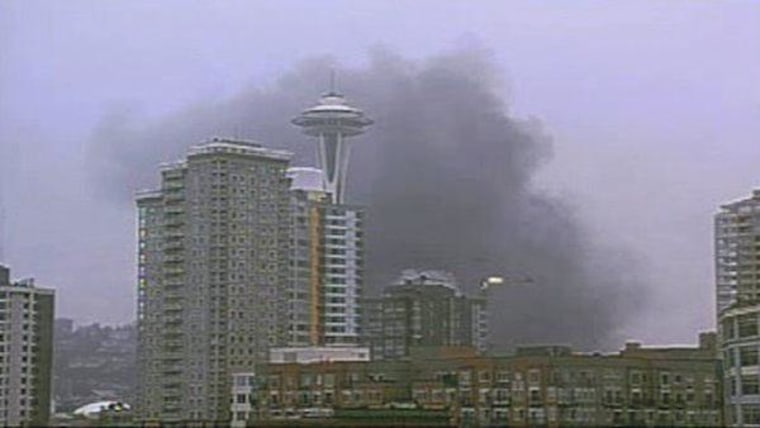 Wreckage was thrown as far as 340 feet away, it said.
The aircraft, which was also used by NBC affiliate KING-TV, was a temporary replacement the station was using while its own chopper was in the shop, the station said this week.
In photos the NTSB posted Friday, investigators were depicted disassembling and examining the helicopter's tail rotor, which helps the pilot control the aircraft's direction.
Killed in the crash were Bill Strothman, 62, of Bothell, Wash., a retired KOMO staff news photographer with 13 Emmy awards who was working freelance, and Gary Pfitzner, 59, of Issaquah, Wash., a contract pilot well-known to the station's employees.
Pfitzner's funeral was scheduled for noon Saturday in Issaquah and will be open to the public, KOMO announced.
Strothman will be buried the following Saturday in Bothell.
— M. Alex Johnson