One of Seattle's largest synagogues spent Saturday cleaning up Holocaust denial graffiti in what leaders say is the first time the house of worship has been the subject of such blatant anti-Semetic attacks.
The disturbing message — "Holocaust is fake history!" with the letter "S" replaced by a dollar sign — comes as Jewish community centers and cemeteries across the country are grappling with a rise in bomb threats and vandalism.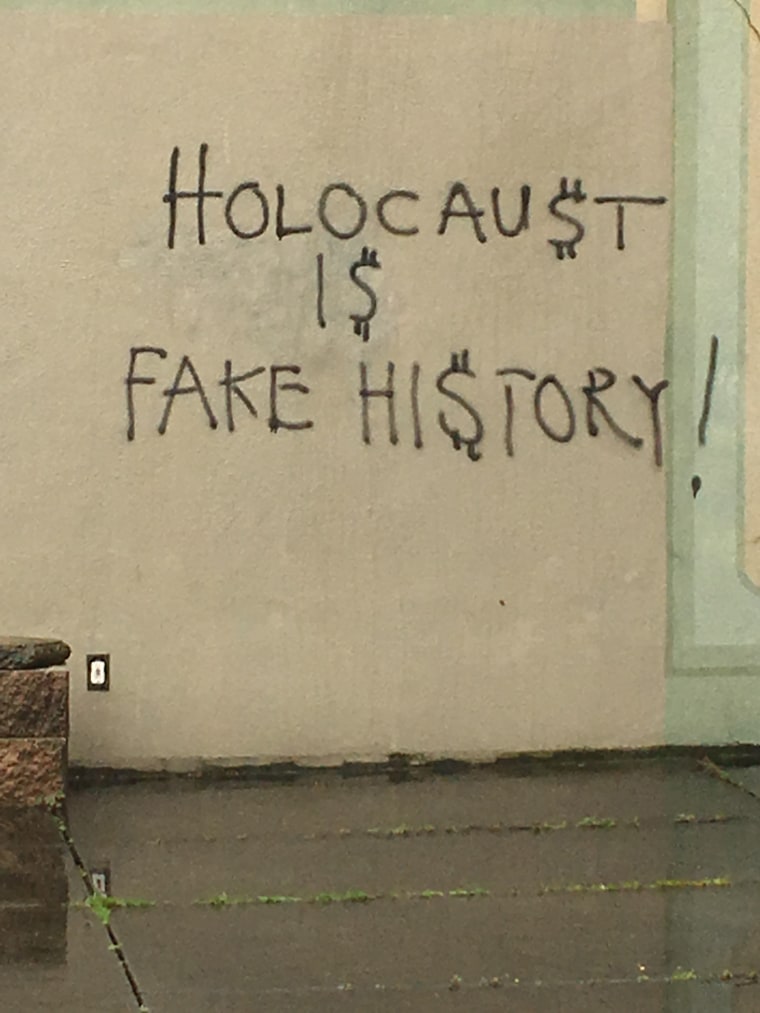 "There were two things we felt: shock and sadness, and resistance," Senior Rabbi Daniel Weiner, of Temple De Hirsch Sinai, told NBC News. "We were shocked that this had reached our own community and that such things, such stereotypes had become frequent. But we are also adamant to not give in to the intolerance and growing climate of hate in Seattle and our nation, and will resist."
Weiner said that a Seattle police officer who was walking off-duty in the area spotted the message at 5 a.m. Friday and immediately contacted the synagogue and opened an investigation. Police have increased their patrols and the case has now moved to the Seattle Police Department's bias crimes unit as the search for suspects continues.
NBC News reached out to Seattle police for comment Saturday.
Weiner said a neighbor of the temple saw the vandalism and immediately rushed to put up a "Love Wins" sign written on a bed sheet to obscure the graffiti. He thanked the neighbor personally, but took the message down.
"We wanted people to confront this reality," Weiner said."It is difficult to pinpoint a direct causative link between these crimes and politics, but I know that those who remained silent before are now empowered to lash out at the communities they have an issue with."
The synagogue, which was founded in 1889 and is one of the biggest in the Pacific Northwest with more than 1,500 families, also faced a scare from a suspicious package left on its doorstep later Friday. Leaders chose to err on the side of caution, calling the Seattle police to investigate.
The police cordoned off the perimeter and instead found a book donated to the temple inside, police officials said.
Seattle authorities stood by Weiner and the temple, lambasting the graffiti.
"We will not be intimidated," said Rep. Pramila Jayapal, D-Wash., adding that she introduced a House resolution calling on the Department of Justice to fully fund hate crime investigations affecting Jewish, Sikh, Indian and Muslim-Americans and other communities of color.
The synagogue already beefed up its security amid the reported rise in anti-Semetic attacks, but this latest display has made vigilance even more necessary, Weiner said.
"We intend to turn this into something good and not back down from supporting one another in other minority communities," he added.