SeaWorld said a killer whale calf was born Wednesday at its park in San Antonio, Texas — the last orca to be born in the company's care.
SeaWorld — which has two dozen orcas at its parks in San Antonio, San Diego and Orlando, Florida — said the calf was born Wednesday afternoon to Takara, the 25-year-old matriarch of the orca pod, who was already pregnant when the company announced that it was ending orca breeding last year.
"This is an exciting and emotional day for us at SeaWorld, and we are all so proud to share this new killer whale calf with the world after a year and a half of planning and observing and providing all the special care," said Chris Bellows, vice president of zoological operations at the San Antonio park.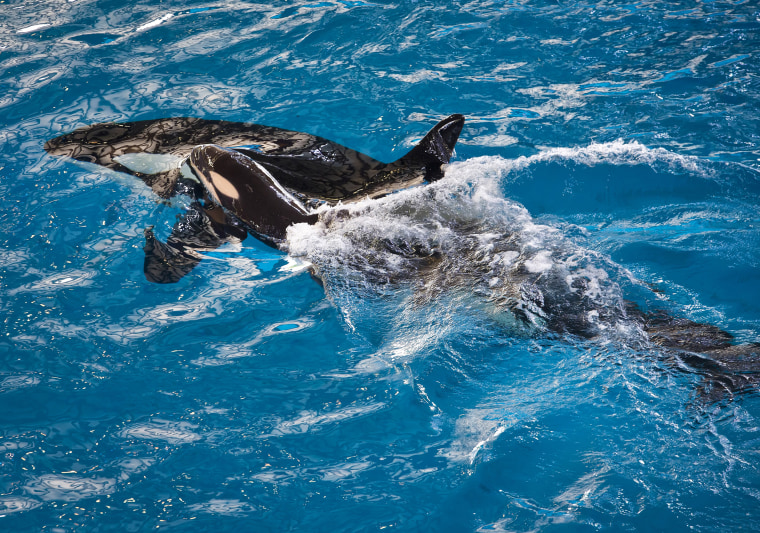 SeaWorld — under pressure since a 2013 documentary laid out the argument that captivity was harmful to orcas both physically and emotionally — announced in late 2015 that it was ending its killer whale shows by 2019.
Last year, saying "society is changing," it announced that it was ending the orca breeding program.
"Although this will be the last opportunity for SeaWorld guests to see a baby killer whale up close as it grows and matures, SeaWorld will continue to care for the orcas at its parks for decades to come," the company said in a statement Wednesday.
A spokeswoman said the calf will be named "in the coming weeks."
The company said last year that it couldn't release its orcas into the wild because most were born and raised in captivity and "will likely die" if set free.
But the activist group People for the Ethical Treatment of Animals said Wednesday night that it wasn't an either/or proposition. It called on SeaWorld to "retire" Takara and her calf "to a seaside sanctuary, where they may someday be reunited with Takara's mother, other children, and grandchildren."