Secretary of State Rex Tillerson called Friday for tougher sanctions — aimed mainly at China and other countries that continue to trade with North Korea — as a way to pressure Pyongyang to dismantle its nuclear program.
Tillerson, who chaired a special meeting of the United Nations Security Council, said the U.S. prefers a diplomatic solution. However, he stressed the U.S. reserves the option of military action to counteract North Korean aggression if necessary.
"All options for responding to future provocations must remain on the table," he said. "Diplomatic and financial levers of power will be backed up by willingness to counteract North Korean aggression with military action, if necessary."
It was a stern speech calling for united diplomatic and economic action — and ramping up the pressure on China, North Korea's economic lifeline. Tillerson was slated to meet with the Chinese foreign minister later on Friday.
"Our goal is not regime change," Tillerson said, nor does the U.S. want to destabilize the region.
However, he stressed the need for action.
"In light of the growing threat, the time has come for all of us to put new pressure on North Korea to abandon its dangerous path," he said. "I urge this Council to act before North Korea does".
Tillerson's comments come on the heels of President Donald Trump's interview with Reuters in which he said the U.S. could be headed toward a "major, major conflict" with North Korea over that nation's nuclear and missile programs.
"We'd love to solve things diplomatically but it's very difficult," Trump told Reuters.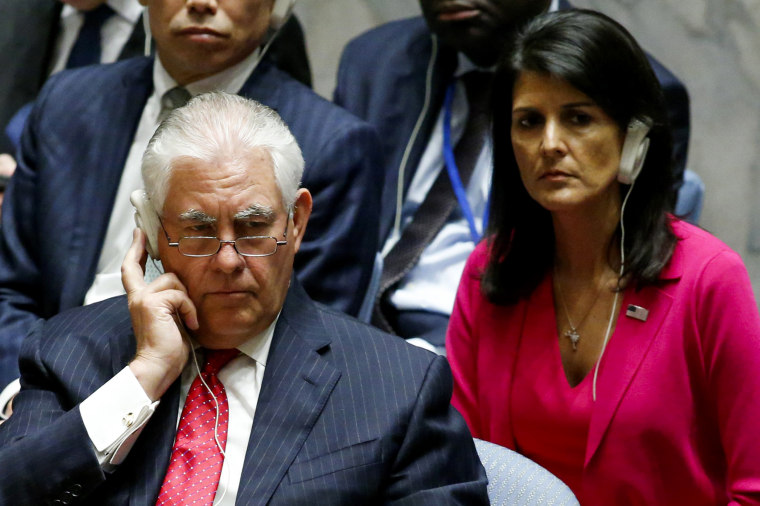 Tillerson's meeting with the Security Council members also comes a day after Trump told Reuters on Thursday that he wants South Korea to pay for the $1 billion Terminal High Altitude Area Defence (THAAD) system.
China reiterated their position on THAAD on Friday saying it undermines stability and asked that the U.S. immediately stop the deployment process.
Tillerson on Friday urged the Security Council members to start enforcing UN existing sanctions and added that the rest of the world needs to increase North Korea's isolation and levy new sanctions on the regime while tightening those that are in place.
Failing that, America is prepared to levy its own sanctions aimed at punishing countries that trade with North Korea.
The Treasury Department would stop those nations' banks from doing any trading within the U.S. -dollar financed international banking system if those governments continue propping up Pyongyang.
This is the same strategy that the Obama White House used against China and others to get Iran to the bargaining table over its nuclear program. It is also a strategy now strongly supported by Armed Services Chairman John McCain and other Senate leaders in their conversations with the White House.
China accounts for 90 percent of North Korea's trade.
China warned on Friday that the situation with North Korea's nuclear and ballistic missile programs is at a "critical point". China's Foreign Minister Wang Yi said Beijing would fully implement all U.N. sanctions on North Korea.
Tillerson addressed the Council after a photo op with South Korea and Japan's leaders and will meet with other Security Council leaders today. He will also hold a closed lunch with the 15 members before returning to Washington D.C. on Friday night.