Almost a third of a million people were still without power on Monday afternoon after a ferocious Nor'easter hammered the East Coast — and many residents were bracing for round two with a second storm forecast to roll into the region late Tuesday.
At 11 p.m. ET, the number of customers without electricity in Massachusetts, New Jersey, New York, Pennsylvania, Maryland and Virginia had fallen below 300,000, according to each state's respective power companies.
At least nine people died, including an 11-year-old and a 6-year-old.
The lack of heat forced some people from their homes, while others were forced out by flooding.
"We've been suffering, because we have no light, no nothing. We have dogs and it's just been miserable," Veronica Tarter of Pikesville, Maryland, told NBC affiliate WBAL of Baltimore. "Most of my food I have to throw away, and I have two refrigerators." Tarter said.
Shelters have opened and school has been canceled in some regions with no power.
The storm also downed a 227-year-old Canadian Hemlock believed to have been planted by President George Washington at Mount Vernon, Virginia. It also uncovered a shipwreck in New England — uncovered every few years by extreme weather — believed to be more than 160 years old, according to The Boston Globe.
Related: Powerful storm leaves 9 dead, swaths of East Coast in the dark
But as some East Coast states cleared the debris from Friday's storm and worked to restore power, 33 million people from eastern Pennsylvania to Maine were yet again under a winter storm watch, according to The Weather Channel and the National Weather Service.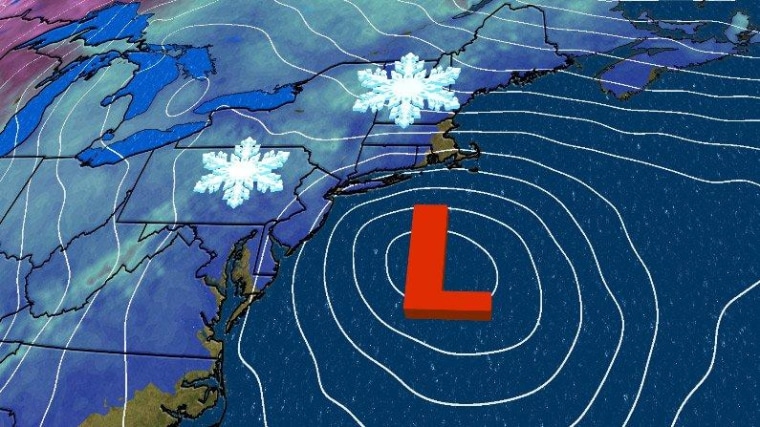 The second Nor'easter is expected Tuesday evening, starting with heavy, wet snow and gusting winds and moving up the coast. The system is expected to continue into Wednesday and Thursday with heavy snow forecast for New England.
The storm was still lingering over the Great Plains on Monday afternoon, causing whiteout conditions in South Dakota, where 140 miles of Interstate 90 from Murdo to Mitchell were closed in both directions, the state Transportation Department said.
Authorities in Minnesota, where Minneapolis was expected to get as much as 6 inches of new snow, issued a no travel advisory in southwestern parts of the state because of limited visibility from blizzard conditions.
And "this whole storm is progressing towards the north and the east," said Ari Sarsalari, a meteorologist for The Weather Channel, adding: "The good news with this one is it's not going to be quite as bad."
NBC News meteorologist Sherri Pugh said it would be "later this week that energy gets transferred into a coastal storm, and that's our Nor'easter."
"That doesn't mean it's bringing blizzard conditions here," Pugh said. "It's a different impact in the two regions."
The storm carries the risk of even more downed power lines and trees, as well as minor to moderate coastal flooding.
"The snow could reach closer to the coast," Pugh said. "It's the kind of snow amounts that could cause travel problems and power outages."
But Pugh said that this nor'easter was moving quicker than the last and that "hopefully we won't have hours and hours of that high-tide flooding."
Although the winter weather isn't expected to be as strong as the storm that ravaged the East Coast last week, it was expected to bring snow to Philadelphia, New York and Boston — areas that mostly saw rain last time.
Big cities could be affected, but because it's still not clear where cities will get rain or snow, it's too early to determine how many inches the Northeast can expect, Pugh said.