NEW YORK CITY — Hundreds of thousands gathered around the nation Saturday, brandishing signs and sporting pink hats, at Women's Marches in cities across the U.S. in the second such protest since Donald Trump entered the White House.
The largest marches appeared to take place in Washington D.C., New York City, Chicago and Los Angeles, but groups also amassed in Milwaukee, Denver, Dallas, as well as Montgomery, Alabama, and many other towns and cities all over the country. Some, though not all, were officially sanctioned by the larger Women's March organization.
"We are proud that the movement ignited one year ago today is strong, loud, and undeterred," the organization said in a statement on the eve of the March. "It's exciting to see how many people are still eager to organize marches and hit the streets."
This second march seemed to take on a new importance, as people in the streets in major cities registered attendees to vote and people spoke of their responsibility as a member of a constituency. While most marchers came to share their opposition to the Trump administration, they also spoke about the importance of voting in the upcoming 2018 midterm election.
Jessica Weinberg of Manhattan, who was at Saturday's march helping to register new voters, beamed as a legion of women — many wearing the signature pink hats against the brisk wind — and men clogged the side streets feeding into Central Park.
"I was here last year when they expected 100,000 to 150,000 people and they got 400,000," she said. "I would not be surprised if they got more than that this year. Look at this crowd!"
Deep in the crowd, Susanne Burger, a resident of Westchester, New York, and co-founder of Westchester Citizen Therapists, shared her concerns surrounding gerrymandering and voter disenfranchisement at the march.
Related: The anti-Trump 'Resistance' turns a year old — and grows up
"Marching builds a sense of empowerment and hopefully that will carry over to voter registration and a persistent effort to turn this around. Because this is not acceptable," Burger said, as she carried a sign that read "How to survive Trumpism: stay informed, be vigilant, take action, VOTE."
In Washington D.C., they called the event the "March on the Polls." The event's Facebook page said the point was to encourage women to engage "in the political process, including running for office, and it is vital that women and their allies continue to take an active role in 2018 elections."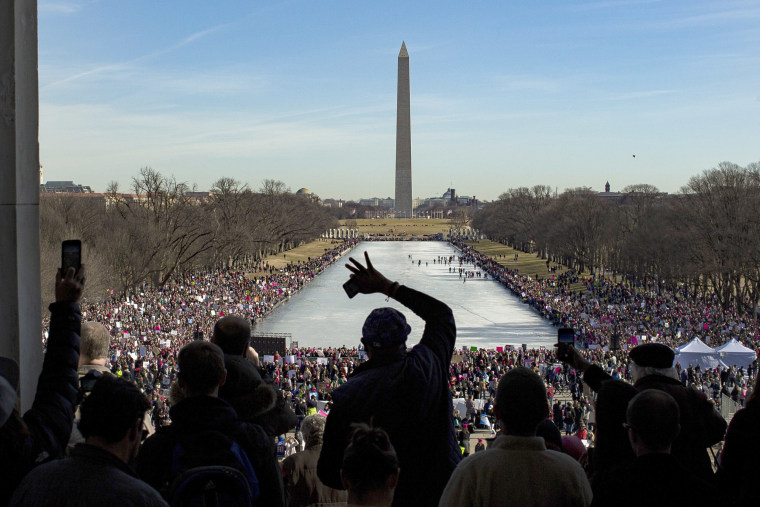 Sen. Kristen Gillibrand, D-N.Y., and Sen. Tim Kaine, D-Va., spoke to the crowds in Washington D.C., taking a break from the continuing government shutdown negotiations.
"If you care about winning back the House, flipping the Senate, then I urge you to support Democratic candidates all across the country," Gillibrand told a cheering crowd. "Whatever issue is most important to you, each one of you is an agent of change."
"This is our moment to stand tall, to fight back and be heard," the senator added.
Meanwhile, in Chicago, a crowd of more than 300,000 chanted, "Elect Women!" and "Vote!" and carried signs that said, "Grab 'em by the polls," "Don't boo, vote," "KISS my ballot," "First we marched, now we run" and "Stay angry and flip Congress in 2018."
Related: Trump blasts Roe v. Wade in satellite address to anti-abortion rally
"In addition to marching, we have to be involved by getting everyone to vote," explained Laura Ring, a member of the League of Women Voters of Chicago who was out on the street registering demonstrators to vote. "Last year we were reacting, this year we have an opportunity to organize, come together, and take action. It feels more concrete this year."
Kim Warnke, 40, joined the protests in Chicago and further highlighted the importance of voting.
"Over the last year, our worst fears were realized, so there is an emphasis on the March to the Polls," she said. "We have to use our political power, which is the most effective way to resist. This march isn't our actual work, it's what we do between the marches."
While some reminded themselves about the importance of their vote, others, such as 8-year-old Sierra Bayer, said the march inspired them.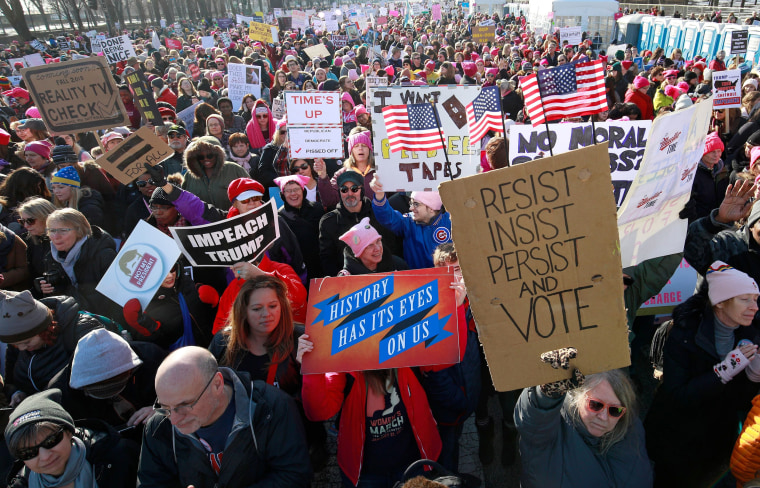 "I want to run for president when I'm old enough," Sierra said while at the Chicago march. "And it's great to be around so many people who would support me."
But many at the demonstrations still shared their broad concerns about the direction of the country under the Trump administration, especially as it related to women's rights, immigration, diversity and freedom of the press.
Maria Cellario, 72, attended the march in New York City with a three-foot sign strung around her neck that said, "I'm an immigrant, a woman, and a voter." A native of Buenos Aires, she said that the Trump administration is eerily familiar.
"These attacks on the free press are scaring the hell out of me," she said, noting that the Argentinian government came after her father's newspaper, forcing her family to flee to the U.S. in 1953.
Trump is "taking away our freedoms in a country that I've come to love," she added. "He's attacking what it means to be American."
Meanwhile, Trump referenced the weather and the economy in a tweet about the march.
On the West Coast, activists flooded the streets of San Francisco and flocked to the iconic Pershing Square in downtown Los Angeles, where celebrities like Eva Longoria and Olivia Munn urged marchers to support Hollywood's "Time's Up" initiative to end sexual assault.
Actress Viola Davis also shared her own experience with sexual assault and told a crowd of thousands that she was marching on behalf of women who were still suffering in silence because of the stigma around sexual abuse.
"I stand in solidarity with all women who raise their hands because I know that it was not easy," she said. "I am aware of all of the women who are still in silence."
Sister marches were also held Saturday in Toronto and Rome and dozens were planned for Sunday in major cities around the world.
In Rome, actress and director Asia Argento, who accused Hollywood producer Harvey Weinstein of sexual assault, shared her story with the crowds in Rome. Argento and many other women accused Weinstein of rape and sexual misconduct. (He has "unequivocally denied" "any allegations of non-consensual sex," according to his spokesman.)
"Women are scared to speak and because I was vilified by everything I said, I was called a prostitute for being raped," Argento said. "I wonder how women who received such violence would find the courage to come out as I did, when they saw what happened to me, so I am here to assess the necessity of women to speak out and change things."
Chelsea Bailey, Phil McCausland and Corky Siemaszko reported from New York. Safia Ali reported from Chicago.