The staff of an Arizona diner received the ultimate secret Santa gift when a guest left a $2,000 tip on a $17 tab Saturday morning.
"We were just in complete shock," Diana Myers, a server at the diner, told NBC News. "We definitely felt thankful, excited and blessed."
When the guest visited 5 & Diner, located in Scottsdale, he sat and quietly enjoyed a simple breakfast of bacon and eggs, she said.
Following the meal, he provided the generous tip with only one request written at the bottom of the check: "Please split with the staff. Merry Christmas!"
The tip will be divided among nine people, providing a little more than $200 for each staff member.
"The guest wasn't a regular, he was completely anonymous," Myers said. "The gentleman that served the guest was stunned when it took place, it hadn't sunk in for him yet."
The mystery man left immediately after the meal, the staff said.
The workers didn't get a chance to thank their mystery tipper, but server Delia Meeks still wishes to express her gratitude, she told NBC affiliate KPNX.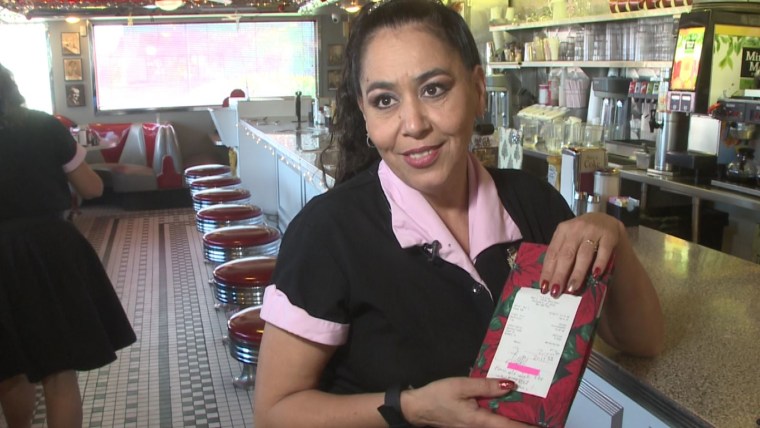 "If he hears this, come back so we can thank [you] in person," Meeks said. "We are all very happy and excited about what he did."
He was dubbed "Secret Santa" by the staff.
"Not sure exactly what I'm spending the money on, but I will definitely have a great Christmas with my son," Myers said.
Meeks plans to use the extra money towards Christmas gifts, she said.
"With everything that is going on in the world nowadays," Myers said, "it's definitely a wonderful feeling."