The head of the Secret Service said Tuesday the increasing violence and heated exchanges as attendees and protesters face off at political rallies has made his agents' jobs tougher.
"There's no question that some of these events create even more challenges for us," Secret Service Director Joseph Clancy told lawmakers at a House Appropriations committee hearing Tuesday.
Related: Secret Service Rushes Stage to Protect Donald Trump at Ohio Rally
Secret Service agents were forced to jump on stage on Saturday and form a wall around Republican presidential candidate Donald Trump after a disturbance broke out behind him during a Dayton, Ohio, event. The suspect, who jumped the bike racks and tried to climb onto the stage, was identified as Thomas Dimassimo, 32, and was charged with disorderly conduct and inducing panic — both misdemeanors, Chief Mike Etter of the Dayton Airport Police Department told NBC News.
It was the first time at a Trump event that the Secret Service was forced to take to the stage to protect the candidate. The incident took place one day after Trump cancelled a Chicago rally as hundreds of protesters awaited him and skirmishes broke out between those who oppose Trump and supporters.
Related: Sheriff Mulled If Trump's Conduct at North Carolina Rally Qualified as 'Inciting to Riot'
Just days earlier, a man was charged with assault for punching a protester at a Fayetteville, North Carolina, event Wednesday night, and Breitbart reporter Michelle Fields accused Trump campaign manager Corey Lewandowski of yanking her arm aggressively when she tried to ask the candidate a question on Tuesday evening.
Late last month, after an interruption by several attendees associated with Black Lives Matter, a fight between a Time photographer and Secret Service agent broke out around the press area at a Donald Trump rally in Radford, Virginia. The Trump campaign, at the time, said it was aware of the incident and directed further questions to local law enforcement.
Related: Security at Trump Rally Chokes, Slams Photojournalist to Ground
The Secret Service responded similarly.
"The Secret Service is aware of an incident involving an employee of the Secret Service that occurred earlier today in Radford, Virginia. At this time, our local field office is working with their law enforcement partners to determine the exact circumstances that led up to this incident," the agency said in a statement. "The Secret Service will provide further details as warranted once additional facts surrounding the situation are known."
PHOTOS - In the Shadows: Secret Service Agents on the Campaign Trail
Such tension has led to an national increased focus on both heated rhetoric on the trail and security at campaign events.
The Secret Service reiterated that it is not involved in removing disruptive protestors.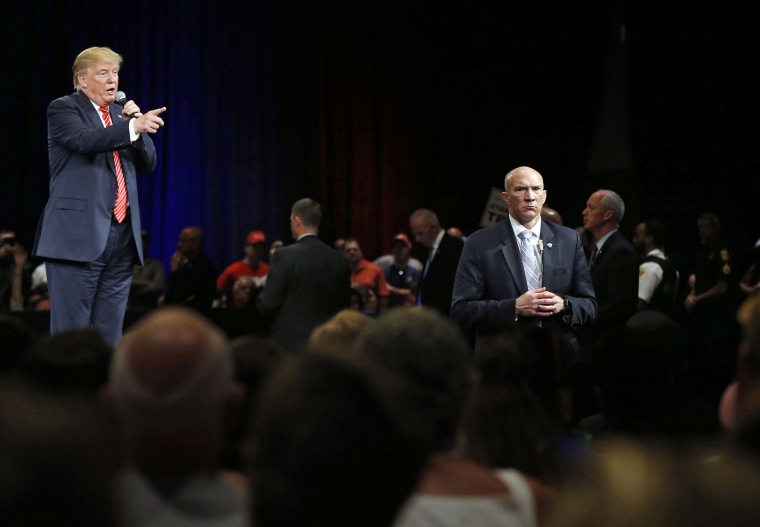 "We are there to protect our protectee," Clancy said. "If there are people that are disrupting the event, that is not our primary responsibility."
That responsibility, Clancy said, is up to event security or local law enforcement
"We do not interfere with people's First Amendment rights. People have the right to voice their opinions and it's for the host committee to decide whether that's disruptive to that event."