WASHINGTON — A man committed suicide in front of the White House on Saturday after he pulled out a concealed handgun, authorities said. No one but the shooter was injured.
The U.S. Secret Service said that medical personnel were called to respond to the male victim, but he was declared dead at the scene.
The Metropolitan Police Department, who are leading the investigation into the shooting with the support of the Secret Service, identified the shooter on Sunday as Cameron Ross Burgess, 26, of Maylene, Alabama. The police department did not disclose any potential motives for the suicide.
"The subject approached the vicinity of the North White House fence line and removed a concealed handgun and fired several rounds, none of which appear at this time to have been directed towards the White House," the Secret Service said in a statement shortly after the incident on Saturday.
Bystanders were the first to come across Burgess after the shots were fired, finding him "on the ground with a gunshot wound to his head and a gun by his right hand side," according to an MPD incident report.
The Secret Service alerted the public to the shooting following reports of a lock down at the White House.
As they responded to reports of a gunshot near the north lawn, the Secret Service told those in the White House to shelter in place. As they investigated the incident, agents could be seen sprinting across the north lawn and the executive driveway with their guns drawn.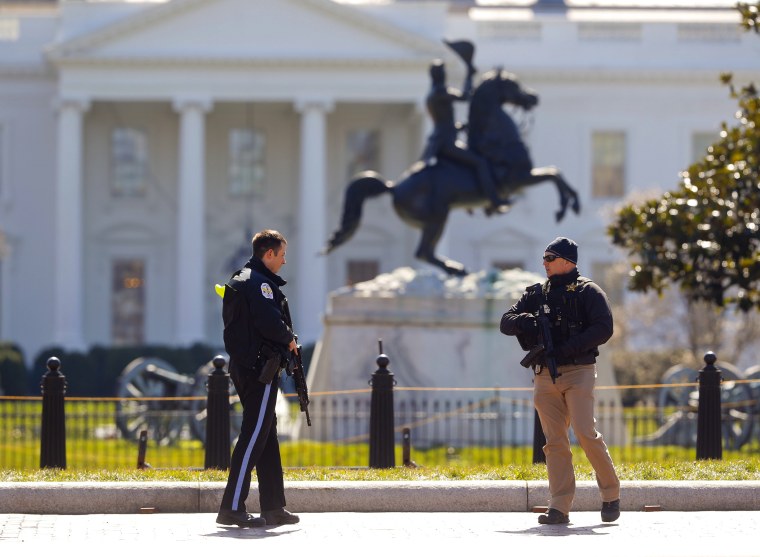 The shelter in place order was lifted after approximately 45 minutes.
As a precaution, the Secret Service shutdown all roads along the White House perimeter. Traffic around the White House was impacted by the order, the agency said.
President Donald Trump was at Mar-a-Lago in Florida and not in residence at the time of the incident. White House Press Secretary Sarah Huckabee Sanders said the president had been briefed on the situation.
Trump returned to Washington D.C. on Saturday afternoon to attend the Gridiron Club dinner, an annual gathering with members of the press and D.C. politicos.
Stacey Klein reported from Washington. Phil McCausland reported from New York.