Interstate 95, the main roadway between the East Coast's two largest cities, New York City and Philadelphia, will be closed for months after a tanker fire caused a section to collapse, Pennsylvania Gov. Josh Shapiro said Sunday.
An elevated section of northbound lanes in northeast Philadelphia collapsed, trapping the tanker truck and whoever was inside beneath 500 tons of concrete, steel and rubble, at about 6:20 a.m. Sunday.
Shapiro called the scene "a remarkably devastating site."
Corresponding elevated southbound lanes were found to lack structural integrity, prompting closure of the entire freeway, he said.
No deaths or injuries were reported, but first responders had yet to get to the tanker truck or any possible occupants, officials said. The fire was still smoldering but otherwise under control, they said.
A disaster declaration will be made Monday, Shapiro said, allowing the state to quickly tap federal funds and start rebuilding the roadway.
"We expect that to take a number of months," he said.
The cause of the fire was under investigation.
Officials urged Philadelphians to avoid the area and plan on alternate routes for Monday's morning commute as they work out a plan for temporary detours and added public transportation options.
"I-95, of course, is a critical roadway," Shapiro said. "It supports our economy and plays an important role in folks' everyday lives."
State Transportation Secretary Mike Carroll said the segment of freeway carries roughly 160,000 vehicles a day and is most likely the busiest interstate in Pennsylvania.
The Eastern Transportation Coalition, a partnership of 17 states, says the roadway and its associated corridor, which reaches from nearly the tip of Florida to the Canadian border, carries nearly $200 billion in goods and services related to ports along the route.
Shapiro said the tanker was carrying some kind of petroleum product.
There were 8,500 gallons of product in the tanker, a Coast Guard spokesperson said. The Coast Guard sent a boat to the scene to examine the impact on the water, but it seems no gasoline has made it to the Delaware River.
There was some "sheening," an iridescent appearance on the surface of the water, but it appeared confined to a nearby cove, the spokesperson said.
All lanes of the highway are shut down for about 10 miles between Academy Avenue (exit 32) to the north and the Betsy Ross Bridge (exit 26) to the south, state transportation officials said.
"The roadway is gone," unnamed officials told NBC Philadelphia.
Runoff from fuel or gas lines from the burning truck has also caused explosions underground, Philadelphia Fire Capt. Derrick Bowmer told reporters.
"We will be here for a while," he said. "We have fire coming out of those manholes."
A video a driver posted on social media early Sunday appeared to show plumes of black smoke rising above the highway.
Bowmer said that officials received a call about an accident at 6:22 a.m. and that it was not immediately clear whether anyone was injured.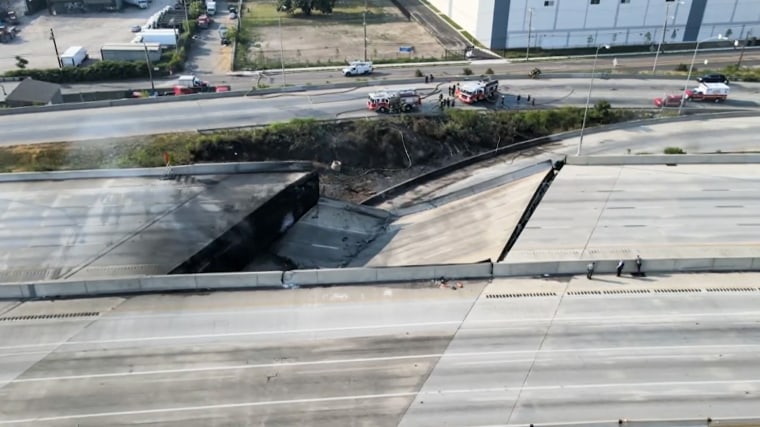 Philadelphia Mayor Jim Kenney told people on Twitter to avoid the area and plan for alternative travel routes, and he thanked first responders for their work.
Shapiro tweeted that he has been briefed and that first responders and transportation officials were on the scene. He added that he and Lt. Gov. Austin Davis were "closely coordinating" with officials in the state, throughout New Jersey and in the federal government.
"For now, please avoid the area and follow the direction of the first responders on the scene," he wrote.
President Joe Biden was briefed and has been in touch with Shapiro and the Philadelphia mayor's office, White House press secretary Karine Jean-Pierre tweeted.
Transportation Secretary Pete Buttigieg tweeted that he was "closely monitoring" the situation and coordinating with officials.
"I've been in touch with [the Federal Highway Administration] and spoke with Gov. Shapiro to offer any assistance that USDOT can provide to help with recovery and reconstruction," he tweeted.
The National Transportation Safety Board said it is coordinating with Pennsylvania State Police in an investigation of the cause of the fire. It was sending a team that includes specialists in motor carrier and hazardous materials safety, highway reconstruction and how first responders reacted to the emergency.
A spokesperson for the Pennsylvania Emergency Agency directed questions to local officials.
A spokesperson for the state police said in a statement that the agency is working with Philadelphia police to control and reroute traffic.
A spokesperson for the state Department of Transportation said that its officials are "actively engaged" in the response to the incident.